Aafter getting our dinosaur fix, it was time to visit a few more gorges.
Porcupine Gorge was the next destination on our mini lap, which fellow scribe Paul Graveson wrote about last month.
I hadn't heard of Porcupine Gorge before we planned our trip, but it was impressive and definitely worth a visit.
The gorge was carved into the landscape by the eroding action of Porcupine Creek, revealing layers of sedimentary rock that had been formed over hundreds of millions of years.
The sheer scale of the gorge allows you to visualise how much water would have to flow through to form the ravine.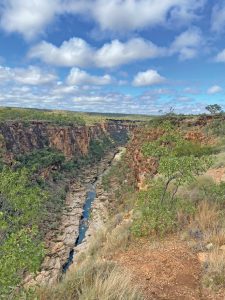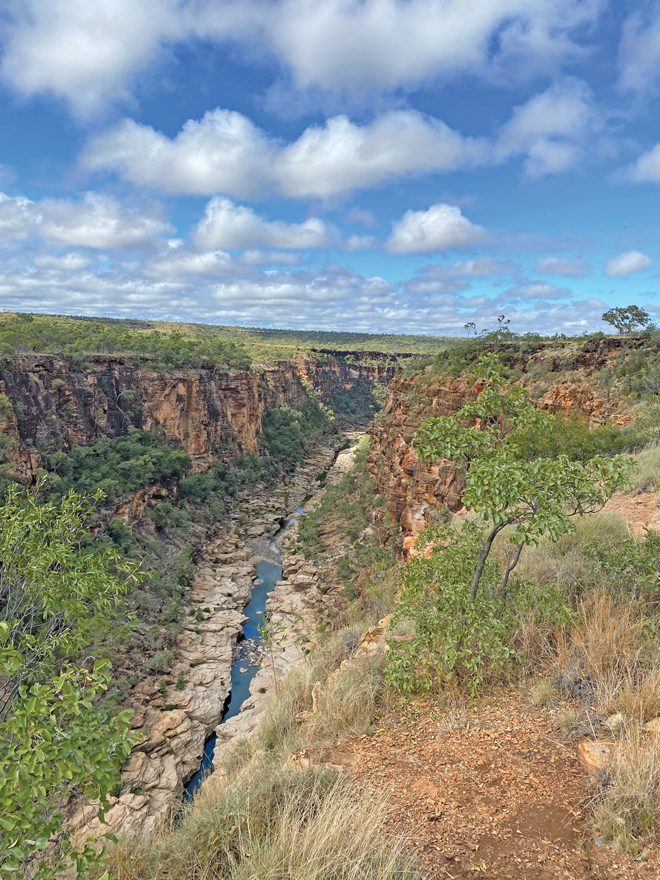 If you want to spend a night here – and one night is all that's needed – it's essential to book a camp site.
The Pyramid camping area has 22 designated sites, with drive through spots for caravans and camper trailers and others allocated for tents.
Some of the camp sites feature picnic tables, and composting toilets are available.
A fire in the designated fire ring is permitted at this camp area and we used it to cook our dinner – it was taxing sitting around a fire at night!
Because you're in a national park, remember to take your own firewood.
While we planned to stay overnight, a day use area is available as well and would make a good pitstop.
You could easily do the Pyramid lookout and walking track in an hour or two.
The track down to the creek it a little steep in places but is only 2.4km return.
Fortunately, we packed a few refreshments which were enjoyed in the gorge on the edge of Porcupine Creek while we took in the spectacular view and the kids played and explored the creek.
Our next destination, and where we would stay for a couple of nights, was Mount Surprise, around 350km north.
The road at the time was relatively good, though we did drive along large unsealed dirt sections.
Thankfully we'd had a bit of rain which helped settle the dust.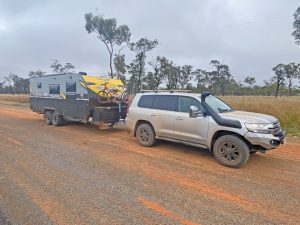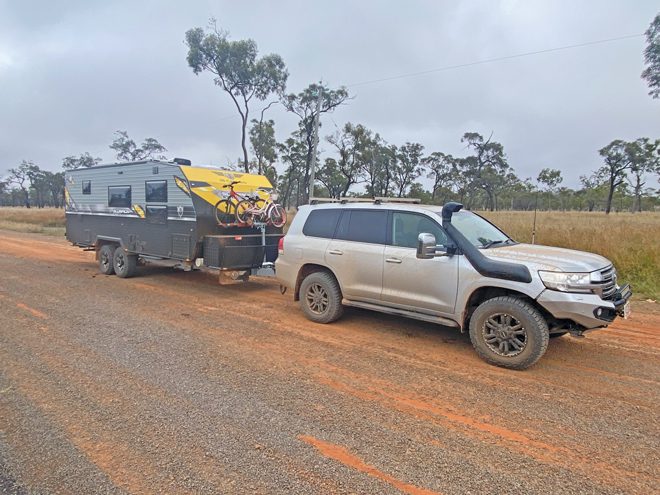 However, if you are planning on doing a trek which may mean driving on dirt roads, I suggest getting some form of dust reduction system fitted to your caravan.
We optioned up for a DRS on the JB Scorpion Sting, which cost around $900 extra.
Money well spent as we didn't have to cover any vents and no dust got inside.
Our van also has a new Thetford T1274E 274L fridge with has its vent on the inside, eliminating one outside vent.
Another thing to be aware of when travelling is accessibility to diesel.
On this trip we didn't carry extra diesel in jerry cans because we weren't going too far off the beaten track.
Though this did mean we filled up more often, our thinking being 'better to be looking at it on the fuel gauge than looking for it'.
Interestingly enough, there were a couple of petrol stations on the trip that had either run out or were close to running out of diesel.
It's also worth noting that you can get to Cobbold Gorge – our most northwestern point – via a more direct route which saves doubling back, but for us, as the road was a bit rougher and our travel buddies didn't have a full off-road van, we took a longer way.
There are several things to keep you occupied in Mount Surprise, including gem fossicking, walks, a rail tour and lava tube tours.
As time was limited, we decided on the rail tour.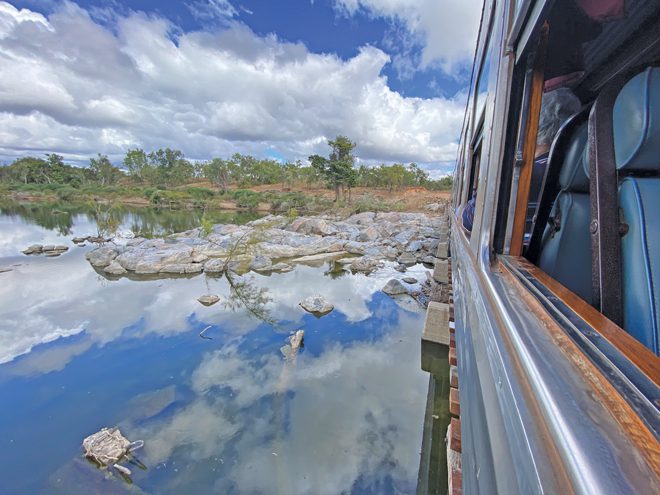 We boarded the Savannahlander – a 1960s classic 'silver-bullet' train – in Mount Surprise and enjoyed the two-hour rail journey to Einasleigh.
The trip allows you to take in the contrasting environment, with dry and dusty savannah landscapes and rocky flowing river crossings.
It was also good for the kids to experience this type of travel, where they could slide the glass window up and let the wind blow their hair.
After a refreshing beverage at the Einasleigh Hotel and a short walk to Copperfield Gorge, the return to Mount Surprise is by bus.
Before leaving, the tour goes through the small town and you're told how the population grows when they have a horse race on.
The bus tour back also stops on one of the river crossings, where you can enjoy billy tea and a biscuit.
Though we didn't have enough time to explore further, I wouldn't mind coming back this way and checking out a few of the free camps in the area.
Next month, we will take in the spectacular sites of Cobbold Gorge and the glass bridge.
Visit bnbfishing.com.au for Parts 1 – 3.