WITH a big, long wet season continuing into April over most of the Cape, and the Peninsula Development Road stilled closed, my wife Shelley and I decided to head out west for a couple of months to explore some more of Queensland's magical Channel Country. If you're not familiar with this region, it's characterised by vast 'downs' plains, with few if any trees except near watercourses, rocky 'jump ups' – all interlaced by a series of rivers, creeks and other channels.
Queensland outback
The Channel Country is in fact a desert that floods. Occasional heavy rain across the catchment causes these watercourses to fill and flow in a magnificent spectacle that totally rejuvenates the flood plains. Our visit followed some patchy summer rains that had certainly helped bring up water levels, with plenty of grass and other herbage.Queensland outback
We travelled in our Land Rover Discovery 4, towing our 12ft off road van, which enabled us get into some more out of the way places – without being silly. It seems like every outback town has lifted its profile in terms of catering for travellers – in terms of places to stay – and attractions, and doing a great job of it! One of the absolute highlights was the Sculpture Trail, which we started at the character-filled town of Aramac.Queensland outback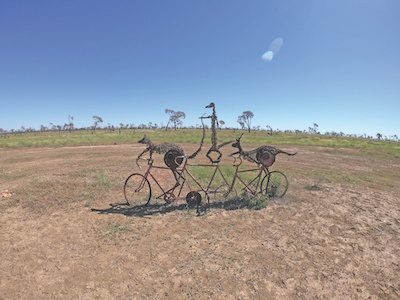 The sculptures, made of wire, motor bike tanks and other scrap metal, have been skilfully crafted into different iconic Australian animals and characters by artist Milynda Rogers. There is even one of Jonathon Thurston – an absolute cracker! The trail is actually 210km long, and we only did the 70km bitumen section between Aramac and Lake Dunn, as rain was threatening.Queensland outback
Here you can set up beside the lake under shady trees, and enjoy the great scenery, wildlife and even go kayaking and fishing. Longreach is a really vibrant outback town, with plenty of attractions that have been well covered elsewhere. And as in all the towns we visited, the people were just so friendly! Queensland outback
Station stays are becoming more and more popular, and one we really enjoyed was Noonbah Station on the Thompson River, about 240km south-southwest of Longreach. Being camped under the coolibah trees beside the channels was a very authentic outback experience. And as usual, we caught a great feed of yabbies.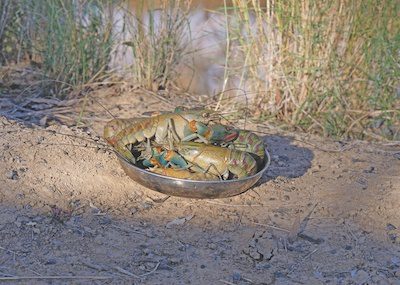 Par boiled potato and dog kibble proved to be very successful baits. Shelley cooked up the tails a few times in garlic butter to have with 'sundowners', and on another occasion, in a creamy pasta. Delicious! From here we drove down to Jundah in southwest Queensland, another town catering superbly for travellers, and we really enjoyed our stay. You can camp in the van park, or bush camp along the river under wonderfully shady trees.
Once again, the yabbies were abundant! From here we explored the expansive Welford National Park. What a magic place! Great tracks, history, and camping beside the iconic Barcoo River. And the wildlife; huge flocks of budgies, emus, Major Mitchell's cockatoos, mulga parrots, and so on, although surprisingly few kangaroos. In fact, we would have seen only around 30 or so live 'roos over more than 4000km of outback travelling.Queensland outback
One of the best tracks in the park goes into some picturesque sand ridge country, a stark change from the vast downs country. The sunsets were seriously spectacular! These are just a few of the highlights of our trip, and I can't wait to get back out there! This month though, I'm heading further into northern Cape York for some serious river and reef fishing and exploring, so stay tuned!