It's been a while since submitting an article to BNB, but let me tell you there are so many fun projects to enjoy and get into in retirement that you do get easily side-tracked. Life certainly isn't boring, with plenty of bar crossing work, caravanning and family duties, so when the weather plays havoc with your fishing plans, you just shrug the shoulders until the moons line up again.
Every day is still Sunday. Recently Mat Hubbard, who bought my surveyed 685 Cruise Craft Reel Affair off me about 18 months ago, rang and asked at very short notice if I was keen on a fishing trip off Central Queensland. I was all ears. commercial fishing
Mat has a commercial fishing licence attached to the boat these days, purely as a business transaction for reasons that I fully understand, and I was keen to see how the commercial thing worked and agreed to be the deckie. The other deckie was Ben, a pretty fit looking 36-year-old who has done heaps of deckie work in the fishing charter industry, and it dawned on me that Mat and Ben combined are 68, my age! commercial fishing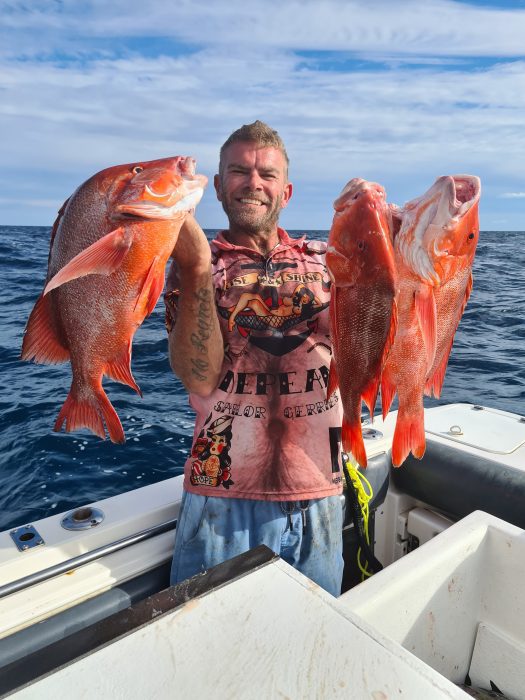 This was going to be interesting and I was determined to not let them down. I needn't have worried, as we all had our own skill sets and they combined well together to make it one of those memorable trips, although I wish Mat would get some decent music on his playlist. Some of those rapper musos really were crap to listen to.
The first day out was a long way north and nowhere near my usual grounds, so I didn't even need to produce the GPS marks I brought with me.  The first stop was on some very shallow ground but, only pickers, so off to another spot, as in commercial terms, time is money lost. Yep, a very different approach for me and I ran with it, as the next spot had us all floating baits down on tiny pea sinkers in only 12m of water and the fish were on the chew from the onset. commercial fishing
One outfit on the bottom was producing plenty of mixed fish while Mat was on fire floating his mono line outfit down. Mat on his 40lb mono floater was consistently catching the really good quality redthroat emperor and landed a couple of Spanish mackerel as by-catch.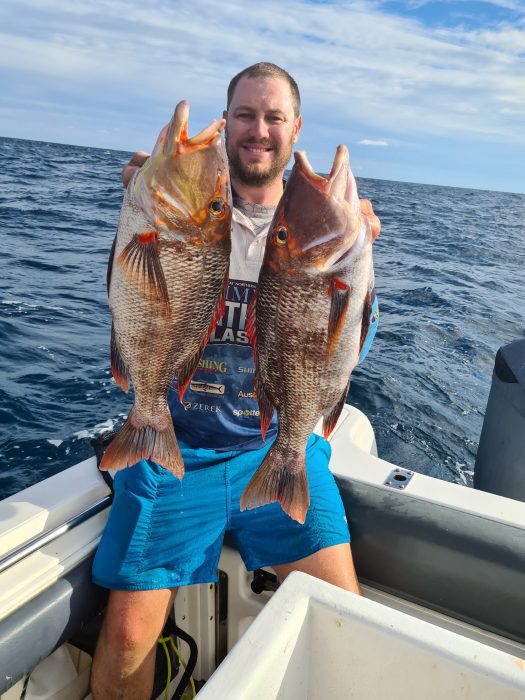 My heavier mono wasn't as supple a line and I was happy to swap to a braid bottom basher with a 4oz sinker to boost the fish numbers, and it didn't matter as long as we were contributing plenty of fish. The money fish were on the bottom, tuskfish and red emperor, so it was important to target that area, but the quality of the redthroat on the floater couldn't be matched and it was essential to keep them coming. commercial fishing
I quickly cottoned on to the new mantra, "if it pays it stays", and stuff I would usually cut up for bait like the iodine bream and hussar went into the box. Ben was awesome, as he kept up the supply of cut mullet, half pillies and yakkas and I was really enjoying the day.
In the light northerly we kept chipping away for what you would normally call a reasonable bag limit, but there were no trout on the neap tides and stacks of energy-sapping just undersize red emperor. Around dark we sounded for a nice rock to sit on as the wind swung northwest. commercial fishing
Typically, the fish all disappeared off the screen late in the day, but as soon as the anchor was set Ben was nailing some XOS hussar.
FOR THE FULL ARTICLE, CLICK HERE!