I know it's now December and the jolly old fat man is getting close to sliding down chimneys again but for this month I'll do a recap of the Fitzroy River Barra Bash held at the end of October. Records Barra Bash
There were around 80 teams that had signed up for this year's bash, which was another outstanding turn out. In all the years that it's been running, it has always had maximum team numbers participating. Records Barra Bash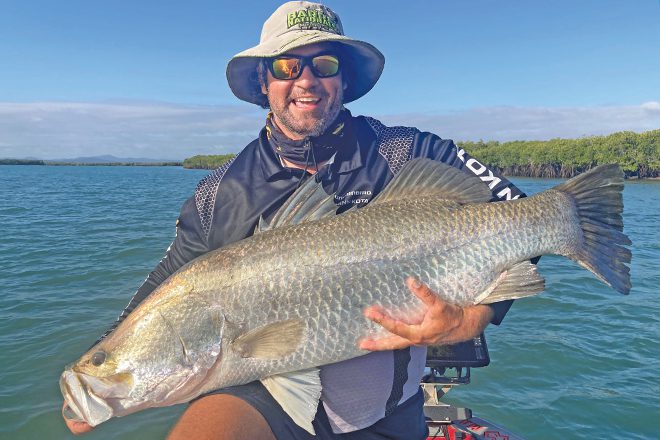 This has a lot to do with the organisation and professionalism of the Frenchville Sports Club that put this competition together. I competed this year with my good friend Luke Peisker as team Humminbird Minn Kota. We had a score to settle after our below average finish in the 2020 event. Records Barra Bash
The pre-fish leading up to game day was almost normal, with most teams on the water sounding around trying to find where the fish numbers would be holding. We went for a look around the town reaches and there were hardly any boats in between the bridges. Records Barra Bash
A quick lap around with the Humminbird Helix revealed very few numbers of barramundi, which was very odd as normally we find a few good patches. Day one was going to be a fairly tough day. For the run-out tide there was only a 0.5m difference between the high and low, so finding areas with tidal flow would be difficult though not impossible.
We settled on a spot holding good numbers of barra and were rewarded with a hook-up only three casts into the day after kick-off. I did my absolute best to mess that up and was left feeling frustrated after the hooks pulled. About an hour later I was lucky to put our first barra for the comp on the deck – at 93cm taken on a 5" Z-Man Diesel Minnow.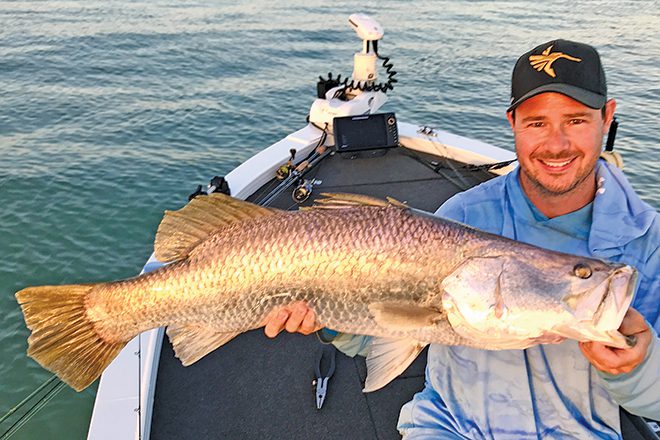 With the Fitzroy River comp, it's your best 10 barra for each day. It was run and gun for most of our first day and we were feeling fairly proud of ourselves because our bag came in at 630cm. We got our number 10 about a half hour before knock-off, so it was a big relief.
Along with us were three other teams who got their limit, which sat us in third position. The big talk of the day was that gun tournament anglers Craig Griffiths and Karim De Ridder of team Edge Rods had put together a record-breaking 10-fish bag, coming in at 938cm. That worked out to be an average of almost 1m per fish. Most anglers dream of catching a 1m barra and these guys had nailed four in the one day.
Day two had a bit of a different feel to it. A bit more tidal flow and mint weather conditions had us super keen to get our lures in the water. Luke was working a Zerek Live Shrimp back to the boat on about the third cast of the day when he came up tight. The barramundi jumped straight away and it was a horse.