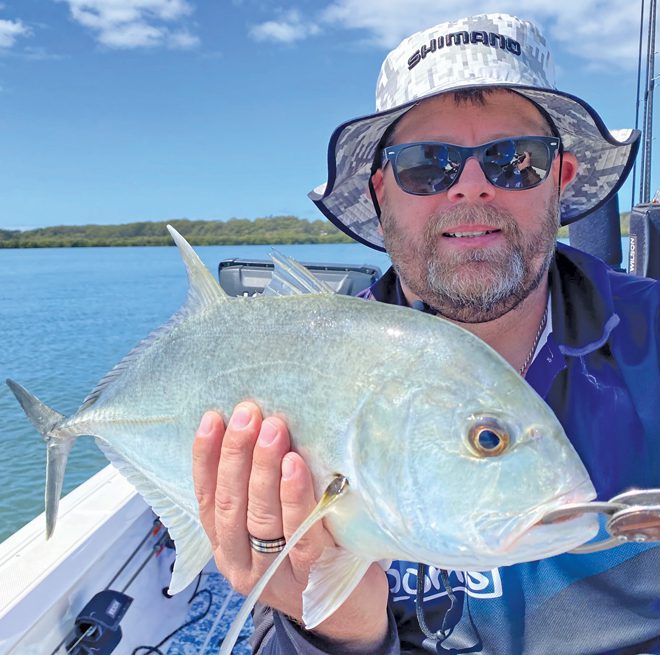 Wow, 2021 is really getting a bit of a roll on – it won't be long and we'll be writing articles about 2022. The fishing hasn't been too bad in southern Moreton Bay and there have been a few nice flathead captured. And there are also a few bream still kicking around the bay islands, and squire, which hopefully we'll start to see more of as we creep into November, and a few of those little speedster giant trevally turning up in the shallows – always a lot of fun on light gear. scoring fish moreton bay
So, all the species other than bream have been targeted using soft plastics or trolling hard-body lures. When chasing these fish in the shallows – which is water depth anywhere from around .5m to 6m – we've been using a 2-4kg rod with 2000/2500 reel spooled with 8lb braid and 10-12lb leader. With the jig head size, if casting soft plastics, basically it has been 1/8oz for that really skinny water and 1/4oz for that slightly deeper water. scoring fish moreton bay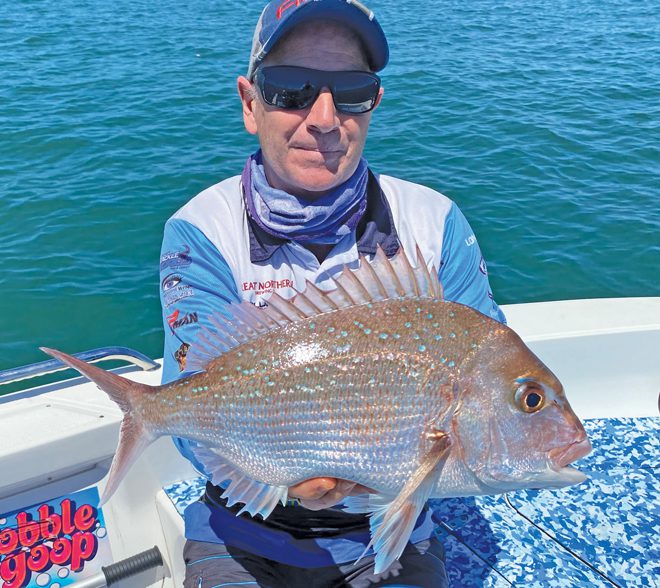 And when trolling hard-bodies for flathead, we've been using the exact same set up. When operating light setups and in particular 6-8lb braid, it can be unforgiving – if when casting you get the line caught around the rod tip or around your finger, or the bail arm flicks over on you when casting many times – that braid can just snap and you'll watch your lure sail off into the sunset. So be aware of that. scoring fish moreton bay
It's happened with a few customers – they have a good fish on, it takes a big run and the first thing they do it is tighten up the drag. That light line instantly snaps and they've lost the fish. The other problem I see is high sticking light 2-4kg graphite rods – these do not enjoy their tip to be bent right over, so be very careful about that or you'll end up with a two or three-piece rod.
If you're getting into plastics for the first time, you'll need to have a little more finesse when fishing with that sort of gear, especially when you get yourself an 80cm flathead. You have to play the fish all the way to the boat, that's what light tackle fishing is all about. One thing I've definitely noticed recently is that a lot of fish, especially flathead, are not diving straight onto the soft plastic. They bump it and mouth the plastic a few times over a few casts.
What this means is you need to know when you're getting a bump or a tap from a fish that's not willing to take a soft plastic. What you need to do then is, if you know where you've been casting and feeling those taps or bumps, continually cast in the same spot until that fish makes a mistake and you hook it up. This happens a lot when I'm out, especially with customers and many times – if they haven't done this a lot – they won't even feel a bump or the tap but when the lure comes in and it's squished up or it's not sitting on the hook right we soon know we've had a bite.
If you're interested in any off or on-water tuition classes or you want to do a fishing charter, give me a call on 0432 386 307 or send me an email at seanconlonsfishing@hotmail.com
You can also check out the Seano's Inshore Fishing Charters and Tuition Facebook page.
Until next month, stay safe on the water.