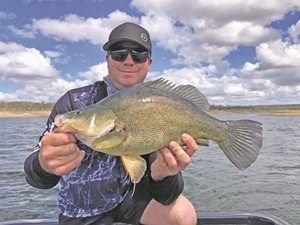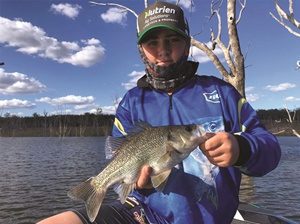 THIS time of year is certainly popular for getting out on the water. The weather is hot and the water is the place to be. Whether you're a fisherman, into your skiing, kayaking or camping, Lake Boondooma and Bjelke-Petersen Dam are two places that will be busy until it starts to cool down again.
The fishing over summer is usually fantastic, with both dams having the potential to keep you very entertained. If you like to troll, use bait or are an avid caster, the fishing potential is there for everyone. South Burnett summer
Lake Boondooma
Summer fishing at Lake Boondooma is very exciting, purely because you have so many different options available. If you're a troller, now is the time to be doing it. The fish sit up high in the thermocline and are easier to target.South Burnett summer
I'd suggest a 1/2oz spinnerbait, lipless crank bait or a deep diving hard-body if you want to troll, and I'd be doing this around the front of the dam in the deep water, as this is where fish in the thermocline commonly like to hang out. I do a lot of guiding on the dam and I teach my clients how to cast and retrieve.
With this method, you open a few different alternatives when it comes to targeting fish in the lake. I'd start the day by searching the edges of the lake and using 1/2oz spinnerbaits and lipless crankbaits. Look for steeper rocky edges and cast tight into the bank.South Burnett summer
Let your bait sink down the wall and when it hits the bottom, start a steady retrieve back to the boat. Repeat this process all the way along the bank until you get a bite or a fish. If you fish for more than an hour without any luck, change banks.
If that doesn't work, change tactics. If the banks don't fire, another alternative is to look for fish in the thermocline. Use your sounder to locate any fish sitting in 6m, as this time of year is where they are commonly sitting. A good sounder will really make your job a lot easier in this situation.
Search around until you find scattered fish sitting around the thermocline and begin casting 1/2oz jig heads jigged with 3" soft plastics or 20g spoons. Common plastics I use are Ecogear Power Shads in Eel or Rainbow Trout colour or Charlie Brewer Slider Grubs in Baby Bass or Smoke Yellow Core.
The technique is to cast your bait out and let it sink for 10 seconds, this will allow your bait to get down to fish sitting at 6m. Then start a steady and slow retrieve back to the boat. This is usually a technique I'd use later in the day as the water temperature rises, but with summer fishing that can be at any time during the day.South Burnett summer
It's all about spending time to locate the fish first. Bait fishers have been catching decent yellowbelly and bass up in the Boyne River timber on bait. Best bait has been live shrimp, and these can be caught in the dam along the weed edges. Red claw are out there but you'll have to work for them.
Bjelke-Petersen Dam
BP has started to wake up, as the dam had been fishing very slow for most of the year. The dam level is at 11 percent but the warm water has brought fish up into the thermocline and feeding well. BP is a little different to Boondooma in that the thermocline is higher in the water column.
This is due to the dam being a lot shallower. Both dams hold a lot of bait – predominantly bony bream – and it will pay to imitate the bait that exists in the dam, as this is usually the best way of tricking a fish into biting.South Burnett summer
Trollers are catching bass using hard-bodies that dive to 3m, as are the casters. With the thermocline is sitting at 3m, anything swimming in that zone is likely to get attention. When I fish the dam, I commonly start on the steeper rocky edges casting 1/2oz jig heads rigged with a 3" plastic.
I cast in tight, let it hit the bottom and then slowly roll it back to the boat. When fishing a plastic, it pays to be patient because the fish will generally tap at the lure first before eating it whole. I'd recommend not striking when you get a bite, instead lean into the fish with the rod only when you feel the weight of the fish.South Burnett summer
Occasionally they tap the lure a dozen times before eating it. My next approach would be to move out deeper if the steep edges aren't producing. Following the submerged creek bed is a likely area for the fish to be moving through, so I'd use the same bait as I mentioned above. Same as Boondooma, use your sounder to locate fish in the thermocline and cast your plastic at them with a five second count to let it sink.
Fishing Charters
Don't forget that you can book a fishing charter with me on BP and Boondooma dams and many other dams in Queensland. If you'd like a great day out plus all the info and knowledge to catch bass, yellowbelly or saratoga in our great dams, make sure you give me a call on 0408 658 592 and I'll be happy to take you out for a great day of fishing. South Burnett summer
You can also check out our website on australianfreshwaterfishing.com
Until next time, tight lines and bent rods.