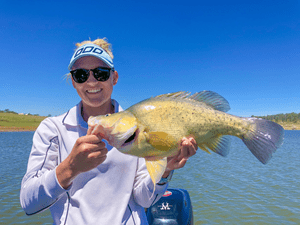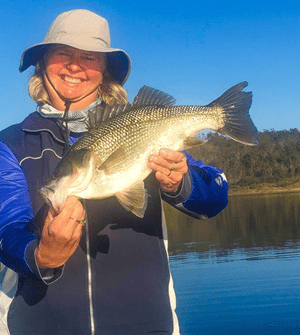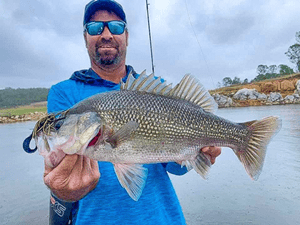 SINCE the lifting of restrictions, the standout dam has been Lake Boondooma. I have the luxury of guiding on most dams in southeast Queensland, and Lake Boondooma has been turning up good numbers of Australian bass and consistent catches of yellowbelly.
We are into early summer and water temperature is above 20C, so we have seen a thermocline develop in 6m throughout the dam. This area is holding good schools of bony bream. Red claw numbers also explode in late spring and early summer. South Burnett consistency
After harbouring their eggs under their tails, they have now dropped them, and a lot of the smaller red claw have become a regular forage for resident bass and yellowbelly. Bonies certainly aren't the only forage species in the lake, and red claw appear to be number one on the menu at present. The great thing about the bait scenario is that we have a few fishing options when it comes to targeting fish in both Bjelke-Petersen Dam and Boondooma.
Lake Boondooma
If you're into trolling, now is the time to dust off the deep divers and troll among the fish hanging in the thermocline. The best hard-bodies are those that have a large bib and will dive anywhere from 4.5-6m. The areas I would focus on are the steep rock walls in the main basin of the dam, and anywhere that has a depth of over 9m through the middle of the dam. South Burnett consistency
The fish are spread out and have not concentrated in one area yet, so it will pay to cover water slowly while trolling. When you do get a bite or a catch, it pays to troll around the area because you may find a concentration of fish that may stay a while and keep biting. For the casters, I would start the day fishing the rocky outcrops and points of the dam with a skirted jig, vibe or spinnerbait.
Earlier I stated that bonies and red claw were the predominant bait in the dam and these presentations represent them well. If you spend time moving between different rocky areas while casting until you find a productive bank, you'll usually catch more than one once you get the first bite. As the water warms, it's a good idea to move to deeper water around the dam wall and start casting 20g silver spoons and 1/2oz jig head rigged soft plastics.
The technique to use here is to let the lure sink for about 10 seconds, so they get down into the thermocline before you start your retrieve. Remember, a steady wind is necessary because you want the bait to stay in the thermocline if possible, as this is where the fish are. Red claw are moving at the moment, so it may pay to drop a couple pots in if you're after a feed. Remember to have your float marked with your name, address and phone number. South Burnett consistency
Bjelke-Petersen Dam
The bait that inhabit BP are identical to Lake Boondooma. Trolling is a viable option because fish are also starting to suspend higher up in the water column. Spinnerbaits and lipless crankbaits are good options here. BP is a shallower water body than Boondooma, so you don't want to use divers that dive too deep.
That's why I like to use the above-mentioned baits if trolling is your go-to. Areas to target are the middle of the dam from the wall up to Bass Point. The edges are where most of the better fish have been caught. Skirted jigs, lipless cranks and spinnerbaits are the best baits to be casting at the edge.
I'd be looking for edges holding a bit of structure because the dam is down, and fish are congregating around edges that have gravel, rock or any timber close to it. Fish prefer natural structure, so it pays to move around and cast at this type of edge. South Burnett consistency
Cast in tight to the edges and start a slow retrieve back to the boat for best results. Skirted jigs are designed to be dragged along the bottom and if you have any, cast them up shallow and slowly drag them down the bank. Do this often enough and a hungry bass or yellowbelly will mistake it for a small red claw.
Don't forget, you can book a fishing charter with me on BP and Boondooma, as well as other dams in Queensland. If you'd like a great day out and all the information and knowledge to catch bass, yellowbelly and saratoga in our great dams, give me a call on 0408 658 592 and I'll take you out for a great day's fishing. South Burnett consistency
You can also check out our website at australianfreshwaterfishing.com
Until next month, tight lines and bent rods!