Tips on water temp and depth for flathead Southern Moreton Bay

The fishing has been going reasonably well, having caught a few nice fish in the shallows around the Moreton Bay islands. When we talk about shallows, we're fishing in water depths of 2-6m for squire or snapper and anything from 0.5-2m for flathead. With bream, most of them are coming out of around 1m of water – at least the better quality fish. Another thing that's definitely noticeable is the surface water temperature throughout winter was around 15.1-16C, which for these islands is rather cold. Southern Moreton Bay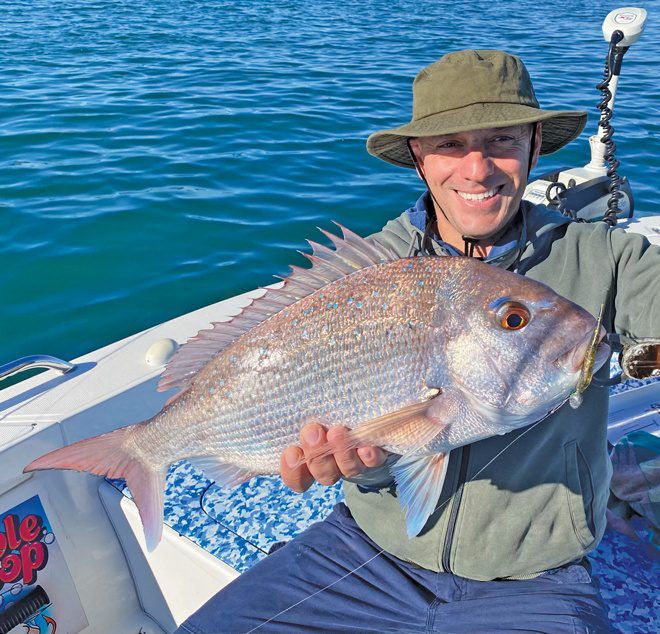 On those days, I found the fishing to be super slow, especially in the early morning when trying to chase flathead in the shallows. Then in the afternoon after lunch when the sun heated the water a little, they came on the bite a bit more. At the time of writing, the water temperature was starting to hit 17-20C and higher on several days, and fishing the shallows early in the morning has been working quite well, so keep your eye on that water temperature. Southern Moreton Bay
I also find as we move into summer that if the water temp gets too high – around 27-29C in the shallows – you might find the only time you can fish is super early in the morning, while it's cool. Then, as the day progresses and gets hotter, those fish move into deeper water where the temperature is a little cooler. Something to think about in the future – keep your eye on water temperature.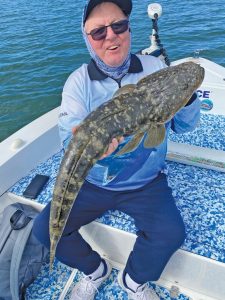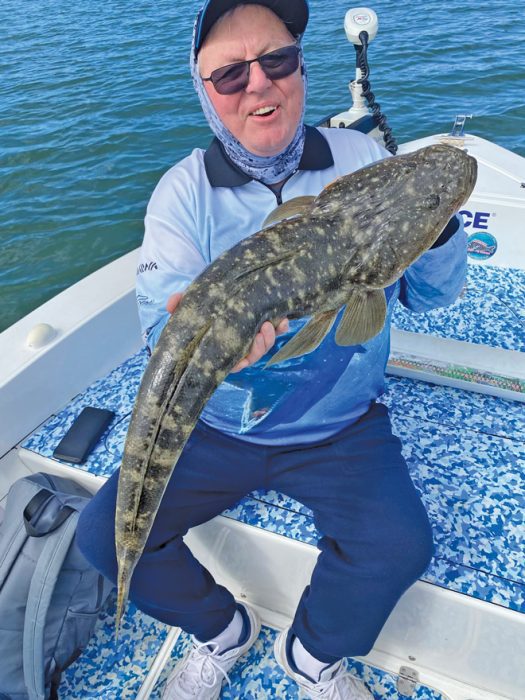 I've noticed that some people say that the colder the water the better it is for snapper. I find in the shallows around the islands that when you start to get down into 15-16C constant surface temp it can be a little too cold and they seem to prefer about 17-20C – I think it's only because they're used to the water being warmer.  I've definitely noticed the bite drop off when it's too cold and then when it does get up to 17-20C those fish become more active.
This is only my opinion and I've only come to this conclusion by watching large schools of fish that won't feed and then with a slight change in temperature you'll get a reaction out of them. On that note, when the water temperature was low, I wasn't catching any flathead by trolling and I was only catching them by casting, so I knew there were fish in the area but trolling wasn't working.
When I felt the fish I caught, their bellies were cold to the touch and my thought was that they were a little sluggish. The first thing I did to counteract this was troll on my electric motor and slow the speed down – straight away we started to catch fish, which indicated to me that they were a bit lethargic. For them to chase or have a go at a trolled lure the speed needed to be super slow for them to catch it.
If you're interested in any off or on-water tuition classes or you want to do a fishing charter, give me a call on 0432 386 307 or send me an email at seanconlonsfishing@hotmail.com Fixated flathead
You can also check out the Seano's Inshore Fishing Charters and Tuition Facebook page.
Until next month, stay safe on the water.