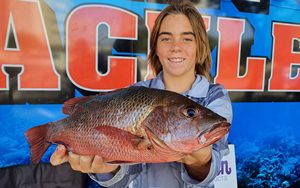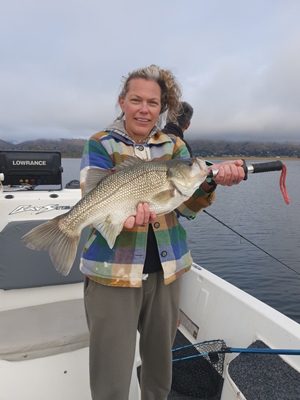 WITH Spanish almost gone, winter is the time when several species are on everyones' lips. For the beach fishos jewfish and tailor are prime targets. In rivers, an influx of golden trevally have made their presence known, and offshore snapper are coming on before their one month seasonal closure starts on July 15 for breeding.
Offshore we are seeing better conditions as far as wind goes and rain events help keep sea conditions calmer. With rain, the inshore reefs have started to fish very well, with chunky sweetlip getting caught. These fish love everything in terms of bait and lures, so try slow jigs, soft plastics and of course a simple paternoster rig with squid or fresh mullet. For those after bigger snapper, North Reef and Chardons Reef are two great areas to start with. Sunshine Coast fishing
The deeper water of the Hards and the Banks has been dishing up the goods for those with bigger long-range boats. Many ways are used to target these old fish and now is the time to break out baitrunner reels and load them up with mono such as Platypus Lo-Stretch for the best floated pilchard presentation. Of course, this is best done during lighter wind and current situations.
Be sure to pick up some berley in the form of a pre-made bomb or pellets and mix it all together with some tuna oil and sand. It is important to send your berley out in small amounts often as opposed to a lot all at once. Too much can attract sharks and once they move in, it is time to move on. Undoubtably, a pilchard floater is not only reserved for snapper, with this time of year producing bigger cobia to 15kg. Sunshine Coast fishing
Soft plastics are one of the most popular ways to target bigger fish and simple jerk shad or curl tail grub styles are the undoing of many fish. When you come in be sure to grab a few colours such as nuked pilchard, nuclear chicken, pink shine, pink pearl and pearl prawn. These are some of my favourite colours and proven performers. Many anglers think the best way to fish these is to leave the rod in the rod holder. I can tell you that I've heard many stories of broken rods and lost gear from doing this.
A big snapper, jew, coral trout and cobia will snap a rod or tear rod holders from boats in the blink of an eye if drags are incorrectly set. Light jigging is becoming more and more popular, and with lighter 20lb gear and matching leaders. Rods like the Storm Gomoku Vanuatu with a polyethylene rating of 2-4 are perfect for many species on our local reefs. Sunshine Coast fishing
Slow fall jigs like Blue Blue SeaRide and Palms Slow Blatt Cast Oval work very well with upgraded 3/0 Decoy twin pike assist hooks. When after these bigger fish it is better to use one set of assists. Running two sets of twin assists often sees the jig lost to the reef or caught in the face of the fish, which makes fighting it much longer and harder.
Areas to target these are Jew Shoal, Sunshine Reef, Chardons and North Reef as well as further afield to Double Island. You can also expect to find pearl perch, sweetlip, amberjack, longnose trevally, jewfish and cobia in the deeper areas north of Noosa. It is possible to stop these fish on lighter PE2-4 gear, but the fight time is extended and any sharks in the area could rob you of your prized catch.
Mack and longtail tuna are still around, so having a 30g Arma Radico lure rigged and ready could see you hook up. The Noosa River is holding solid schools of golden trevally, giant trevally and chopper tailor reaching up to 60cm. When the south or southeast wind blows, Woods Bay is one of my favourite places to fish early morning from the boat. Sunshine Coast fishing
A northeasterly wind is best if land-based fishing here. Surface lures have to be one to try as the sun comes up, with MMD Splash Prawn 95mm a great option. The Bassday Sugapen 95mm is another bigger option sure to get smashed at your feet. From here you can head to the current line and have a shot at the golden trevally and flathead.
These fish will take a wide range of lures, with 3" grub style soft plastics and small micro jigs such as the Major Craft Jigpara in 7 and 10g sizes proving the most popular. Be sure to up leaders to 12-14lb if targeting flatties, and strike the slightest bump on your braid as they often come off the bottom to hit a falling lure. This area holds fish way in excess of 75cm and landing nets should be a mandatory piece of kit regardless of how you fish.
Trying to pull in 7kg of big lizard on 12lb leader will see you with a tale of "it was this big" and no photo to prove it. If chasing after a golden trevally and the water is clear several anglers will drop to a 4lb leader. This is not for the faint-hearted or the land-based angler because they know how to take line and quickly! Sunshine Coast fishing
Last month we saw a great run in the river of solid queenfish. The ski run and toward the mouth of Lake Cooroibah are great places to target them, along with jewies, trevally and flatties, especially around the mouth of the lake.
Mangrove jack will still be about, and live baits are best when fished around any decent rock bar or jetty. Around the river mouth, Frying Pan estuary and along Gympie Terrace smaller bread and butter species can be found, and are great areas to fish when wind blows from the southeast.
Off the beaches, solid bream up to 40cm have been caught on the top of the tide around Peregian, Castaways and Sunshine Beach. Fresh mullet and small pilchards rigged on small sets of fine wire gangs work well. Tailor have been coming from the gutters and mouths of the Noosa and Maroochy rivers with fast retrieved slugs – whole pilchard or bonito fillet on a set of gangs being the best methods. Sunshine Coast fishing
If you are suffering bite offs then look at Tru Turn Strip Bait rigs, which have different sized hooks to help present your bait in the best possible way. Come and check out the new range of Alvey reels and Gary Howard surf rods, sure to match up and get you into serious surf fishing this season.
For best results on big tailor, try fishing around the full moon because they are known to come in to feed with the light making it easier for them to hunt potential prey. During this time, you can expect to find a big jewie or two. These fish – often thought to feed in the black of night – are often caught in the lead up to a full moon too.
If you do hook the big one at night and are using mono, make sure you hook set multiple times as many fish are lost to poorly set hooks. For a great jewie hook, you can't look past the Mustad Penetrator, which is a strong fine wire hook specifically designed for hard-mouthed fish such as jewfish. Sunshine Coast fishing
Lastly, Lake Macdonald and Borumba Dam are still fishing well, with afternoon the prime time for bass. Locating bass with your sounder is important, so pay close attention because they do tend to sit deep down during cooler months. This is the time of year where we often see heavy rainfall with major catchments, particularly Lake MacDonald, reaching over 100 percent capacity.
Taking a range of spinnerbaits, vibes, jigs, blades, smaller grub and paddle tail soft plastics all help on schooled up fish close to the bottom. For those working the edges, suspending hard-bodies similar to the smaller Samaki Redic DS, Jackall Squirrel and Bassday Suga Deep are some options sure to get nailed on the pause. Sunshine Coast fishing
Don't forget, if you're planning a trip to the dams, you will need a Stocked Impoundment Permit – available online or call into Davo's and the team will help you out. A reminder too that there is a closed season on Australian bass from June 1 to August 31 which applies to all Queensland tidal waterways.
This means the Noosa Everglades will be a no fish area. For all the latest information, visit fishingnoosa.com.au for up-to-date bar and fishing reports. Don't forget to drop into Davo's Tackle World, Davo's Boating and Outdoors in Noosa and Davo's Northshore Bait and Tackle in Marcoola for all the right equipment, bait and advice to get you catching. Sunshine Coast fishing
Be sure to follow us on Facebook and remember: tight lines and bent spines.