Stacer Australia has recently launched its consolidated Seasprite range of aluminium boats, making the buying process more streamlined and hassle free for those looking for a small inland tinnie.
The available models include 319, 379 and 399 and are designed with the Australian lifestyle in mind.
This makes these tinnies perfect for fishing inland in dams, lakes and rivers – and getting into those hard-to-reach places among the mangroves!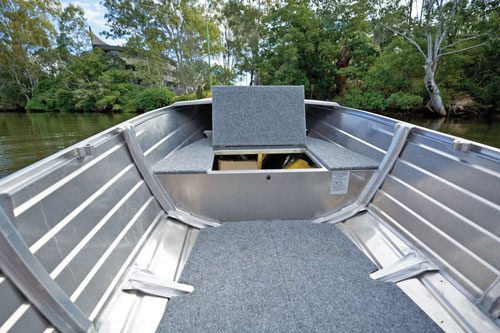 The Seasprite range is proudly Australian made and offers a range of features for easy maintenance and use.
The boats are available packaged with an engine and trailer or are able to be thrown on the roof of your car, so taking your boat on your next fishing adventure is effortless.
Features of the range include 1.6m bottom sides, aluminium bench seats and solid corners.
Additionally, the inclusion of a glove box means you can safely store your valuables while out on the water.
The new 399 Seasprite features a new layout with a single rear bench seat and a large carpeted front-casting platform, making it the perfect spot for avid anglers to cast their line with ease.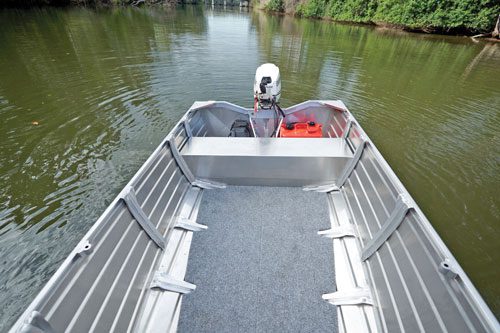 Beneath the casting platform is a large hatch for storage, which is useful for stashing your equipment, food or any other necessities.
To get the most out of their on-water experience, customers can option up their Seasprites with carpet, a painted hull, rod holders and rails to suit their individual needs.
Along with the fishing-inclined, the Seasprite range is also perfect for families and groups of friends who want to spend time on the water enjoying the great outdoors.
With its compact size, the Seasprite can easily navigate shallow water and small spaces, with the 319 able to fit three passengers, while the 379 and 399 can accommodate four.
For more information on the Seasprite range, visit the Stacer website or contact your local dealer.
View the Stacer range at stacer.com.au