Exciting times are coming for the Gold Coast in the next month. Summer snapper and dollies
With great weather and ideal rainfall predicted for the start of 2022, as well as awesome new products being available, great catches will be had on the fishing front for all of February. Summer snapper and dollies
With the release of many new products from well-known companies – including Nomad with their Slipstream Flying Fish lures, Vexed with products such as Bottom Meat and Bottom Sack, and a terrific new range of fishing rods and reels for release in 2022 from the top manufacturers – I'm sure we fishos won't be disappointed this year. Summer snapper and dollies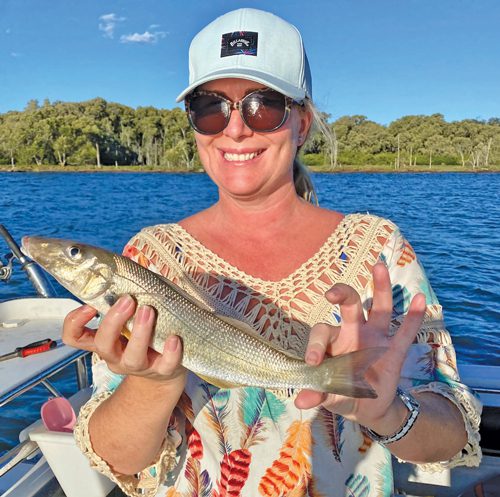 As well as having plenty of new products to try, the fishing has been superb recently too.
With the wider fish aggregating devices starting to work well and the reefs still firing, the start of this year should be one of the best on record – when the weather plays the game.
On a trip prior to Christmas, I took Paul from the Bait Shop Gold Coast out for the day.
We travelled northeast from the Seaway to an area off North Stradbroke Island in around 85m of water and fished the morning bite for snapper.
Fortunately we were able to entice eight good fish to the boat within the first hour of being there.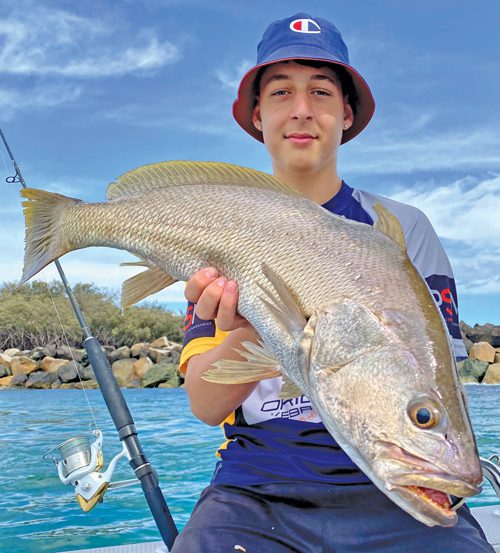 The way we did it was by using some of his great new Australian products.
Paul had decided to take some of the gear he'd stocked in the shop recently from a company called Vexed.
These are weighted jig style lures with assist hooks in a rubber skirt.
They can be baited or unbaited and work unbelievably well with the variety of bottom and reef fish we have off the Gold Coast.
On the other hand, and as per usual, I continued to use a simple rig of running sinker down onto two snelled 5/0 suicide hooks and this accounted for a number good quality of snapper too.
The beauty about the rig that Paul was using was that even after I had lost the bait to pickers, he was able to wind up the lure very quickly, and was getting hit by kingfish or snapper on the retrieve.
This accounted for several good kingfish strikes though unfortunately we lost them because we were a little under gunned for these brutes.
We possibly should have tried some heavier gear but never mind, we'll know for next time.
After we got our limit of snapper, we decided to head down and check out the FADs.
On arrival, the small to medium sized mahi-mahi were visibly jumping around.
We decided to cube up some pilchard and start to berley up the water.
While we were doing this, we tied 30lb fluorocarbon leader to our lines which were on 7' spin sticks with 3000-4000 size spin reels mounted on them.
The spools were loaded with 20lb braid and we attached on a 5/0 Mustad penetrator hook.
As we drifted slowly back towards the FADs, we cast our lines into the trail of berley and watched the dolphinfish as they moved up eating their way through it.
They were in such a frenzy that they swallowed our bait not seeing the hooks.