Open season
Well the snapper season sure kicked off with a bang! We have had two consecutive weekends of perfect weather. Although fishing has been a little quiet some great fish have been caught with many stories of the one that got away. Sunshine Coast Noosa
Offshore
The bar has been kind as of late which has seen more boats crossing and fishing the local and far off reefs. The big charter boats went far and wide and from Double Island reports of snapper, pearl perch, amberjack, tuskies, cod and cobia to name a few. Everybody's friend, the bronze shark has been claiming a few good fish which is now the norm.  To avoid this try fishing only 1 hook vs two hook rigs. Fighting a single fish is going to be far easier to get up especially if it is big. Light jigging is becoming more and more popular and the oceans legacy rods are certainly making their stamp. Come in and check them out as they are super crisp and very powerful. Sunshine Coast Noosa
Local reefs closer to shore feature good sweetlip and of course snapper. Last week was a bit quiet possibly linked to the neap tides and a consistent high pressure sitting over us. With the change in moon phase the spring tides often bring swell and more run so expect better things. While the conditions are excellent and the waters are crystal clear it's important to run light fluorocarbon leaders around the 20-25lb mark or less. For those anglers fishing for snapper why not try going below 20lb and take your time if sharks aren't an issue. It's a great way to fish and huge fish can be caught on light gear.
Beach
Surf fishing has shifted focus to evenings over the last few weeks. The clear waters and neap tides during the daytime sees mainly smaller bream, dart and whiting caught. If after big fish then under the cover of darkness is the better time to chase them. Predators will find it hard to feed in super clear waters where there is no structure to hide behind. Use the tides to your advantage and remember fresh is best when it comes to bait. Come in and grab some live beach worms and let us know what you are chasing for advice on rigging techniques.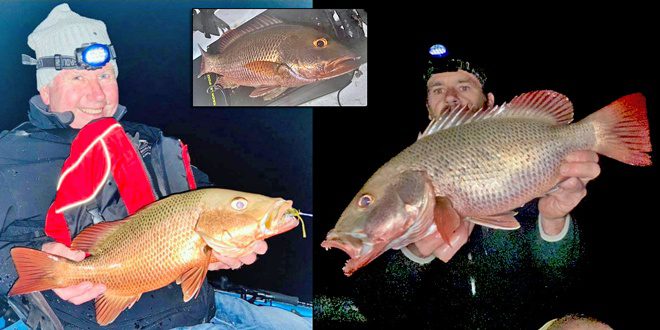 River
The Noosa River feels like it is taking another shift with the winter bream now returning to the structure of the lower estuary. Their spawn appears to have happened so flicking super light curl tail grubs around bridges and jetties is going to reward those making the effort. Look at 6lb and under for leader and keep rods in the 1-3 and 2-4kg range. If on a budget the Abu Garcia Rayrex is a cracker for all styles.
Trevally seem to be on the move but the spring tides should see bait pushing over the bar and into the river. This would make the Frying Pan, Dog Beach trees and Woods Bay some great locations for those on foot and in a boat.
As always try surface in the mornings as water temps are already creeping up. If you haven't seen the new Berkley Bender this lure is a great flathead lure over the flats and grassy weed beds. This lure resembles a wounded baitfish and also appeals to tailor and even mangrove jacks as it sits just below the water line. If after flathead then they are holding around the previously mentioned locations and everything from plastics to baits work well here.
We currently have some amazing looking baby blue pilchards which make great whole bait options when drifted with the current.
Freshwater
Dam fishing is going through a lull and the bass are proving harder to locate and tempt. In previous weeks it has been a case of using sounders in side scan mode to locate the schools as they are spread out. While the fish are hard to tempt try smaller than usual lures and plastics in the 2 inch or 40mm size range. The Ecogear SX40 is a great option for working the edges. The bass's urge to spawn last month may be the reason for their quiet behaviour and as such do not want bigger lure presentations. Try the weed lines and overhanging timber if struggling to find the fish as they may be hiding in the warmth provided from a day's sun beating down.
Now for all the  latest information log onto www.fishingnoosa.com.au for up to date bar and fishing reports, don't forget to drop into Tackle World Noosa, Noosa Boating and Outdoors and Northshore Bait & Tackle in Marcoola for all the right equipment, bait and advice to get you catching. Be sure to follow us on Facebook and remember Tight Lines and Bent Spines!
Click here for more Sunshine Coast fishing reports and tips!