"Kicking off 2022" – Well, here we all are and welcome to 2022. We all hope you are safe and are looking forward to getting out there. Despite the bad offshore conditions, we still have many more options in the local area to choose from.
The Noosa bar has been rough and with the winds only the larger charter boats pushed out. With Sunshine Reef the closest option reports of bulk cobia showed that often the bumpy conditions produce. All too often the overcast days produce the best fishing. If you are looking for cobia they should still be in good numbers once the swell and winds die down. We find that there are so many ways to target them and for lure anglers you can pitch slow jigs and soft plastics at them. If you can pick up some pearl white Berkley Gulp you will do very well with a 3/4oz jig head. You will want 20-30lb rods and braid with 30lb leader on a 5000 or 4500 sized Penn reel. The new Slammer reels are proving more popular than ever as they have a lot of stopping power, something you may need to use when the sharks are present.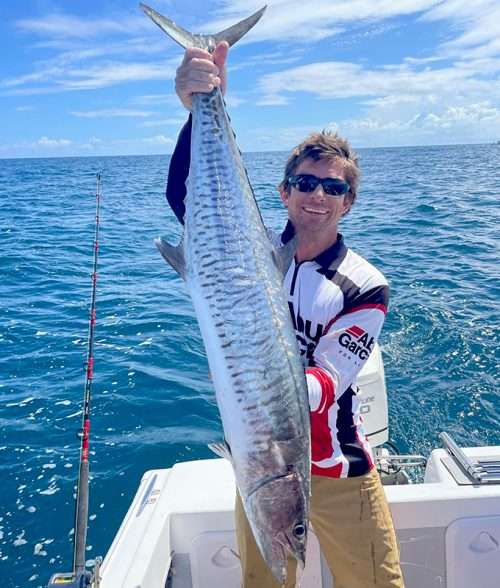 The beaches have been fishing well if you are lucky enough to find a good gutter. Reports of 30-40cm dart have been popular from south of Sunshine Beach. These fish will eat beach worm, prawn and pipi baits. On the lighter surf rods like the 12ft Crucis VXS you will certainly have to test your angling skills while having a blast! Once the swell dies down you can expect some great gutters to form as we are expecting 3 meters to hit the coast in the new year.
The local The Noosa River offers protection from many wind directions making it popular for boat and land based anglers. With east/south easterly winds the most dominant you will find areas like the Sound, Gympie Terrace and pockets of Weyba where the wind will be at your back. With a multitude of species on offer in these areas you can try bait fishing with a whole whitebait drifted in the current for flathead. You can also try small surface poppers like the new Fish Craft range for early morning trevally which dominate around the Sound and Woods Bay.
For those looking to explore you can try heading up toward Tewantin and the Marina area. The bottom here is a mixture of sand, rubble and shale. This attracts different species including different trevally, flathead and jewfish. Although a busy area you can with the aid of a quality sounder expect to locate the schools. Once found try prawn style soft plastics like the Atomic Prong and be sure to use 10lb leader, especially if the river is dirty.
During these times it is wise to stay In the lower system as the rains will be bringing a lot of fresh water downstream making catfish a popular catch. Should you find these and little else you should start heading down river to where the water is saltier.
The fresh water has been overflowing in most dams as of late. You are best to avoid Borumba during heavy falls because the many crossings which you drive over do become totally submerged. You can get text alerts for when this dam spills so you can make the call to fish it or not. During these winder days fishing can be harder but there are options. Firstly, I would use a diving lure with a body size around 50-70mm and go on the troll. This is a deadly method at times and can be done under most conditions. Secondly heavy soft plastics on 3/8th jig heads or spinnerbaits are also suitable for casting on windy days. Should you need help picking a few lures be sure to ask us as we have a huge range of great options to make your trip worthwhile.
Now for all the latest information log onto www.fishingnoosa.com.au for up-to-date bar and fishing reports, don't forget to drop into Tackle World Noosa, Noosa Boating and Outdoors and Northshore Bait & Tackle in Marcoola for all the right equipment, bait and advice to get you catching.
Be sure to follow us on Facebook and remember Tight Lines and Bent Spines!