Hi everyone, hope you have all had a great start to the new year, once again this week there has been no respite from the strong winds, large swell and rain that has been battering the coast for the past two weeks making it very tuff for those that had time off and planned a few fishing trips on their holidays. The good news that at the time of writing my report it looks like the weather is due to ease up by the weekend with a very different forecast on the way for light winds and a much smaller swell giving everyone that's keen a good weather window to get out for a fish. Let's have a look at what's been biting this week.
Chasing a feed of mud crabs during the wild windy weather has been the best option for most fishos keen to brave the conditions up the protected creeks and estuaries of the Tweed and Gold Coast waterways. Ben White (see photo in report) did just that and came up trumps with a nice feed of Muddies. The rain fall has eased up a bit this week which was nice to see as we have had a drenching the past few weeks which has really stirred up the crabs. I would recommend having a look around the Coomera River north and south arms, Nerang River, Brown Island, Pimpama River, Jacobs Well, Cabbage Tree Point, Eden Island, Tiger Mullet Channel, Logan River, Currumbin Creek, Tallebudgera Creek and the Tweed River. It will be worth setting a few pots in varying depths of water to get a gauge on where the better-quality crabs are moving, there has been heaps of little ones around at the moment. Best baits are fresh Mullet, Bonito, Chicken and Fish Frames should all do the trick.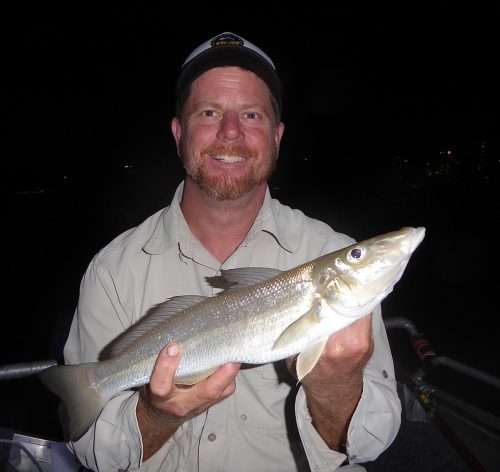 Another good option the past week has been targeting a feed of tasty Whiting up the protected rivers and canal systems of the Gold Coast. Trying to get out the wind can be hard but luckily on the Gold Coast we are blessed with plenty of options to find some shelter. Local anglers Wayne Young and Brett Van Latham (see photo in report) have been braving the wind and rain and managed to score some great feeds from the Nerang River including a big 43cm elbow slapping model seen in this report. Wind and tide always play a big part in choosing a good spot to fish, the best-case scenario is to try to plan your trip when the wind and tide are both running in the same direction this will give you the best fishing conditions available. If the wind is pushing against the tide, I always recommend using a second anchor to limit the amount your boat swings helping to not move the baits around too much making it a lot easier for the fish to eat the bait. A light estuary rod between 7 to 10 foot with a sensitive tip will work well matched with 6 to 9 lb main line and a 6lb fluorocarbon leader and a size 6 short bait keeper hook. The best areas to try are the Currumbin Creek, Tallebudgera Creek, Nerang River, Pimpama River, the Coomera River and the Logan River. Once the wind eases Wave Break Island, Paradise Point, Bedrooms, Jacobs Well and Tiger Mullet Channel should also produce quality fish. Best bait is live bloodworms followed by beach worms and yabbies.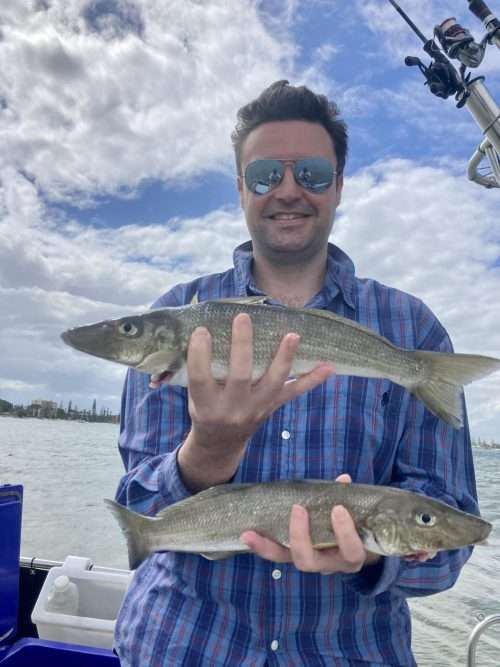 At the time of writing my report the weather forecast was looking pretty good for fishos keen to head offshore on the weekend, just make sure you have the most up to date forecast before heading out. After the big swell and strong southerly winds, the water quality should have cleared up and the water temp would have increased as the warmer water gets pushed in closer to the coast. This is good news for angler's keen to chase Spotted and Spanish Mackerel, before the blow a few fish had started to show up around Mermaid Reef, Palm Beach Reef, The Gravel Patch, The Bait Reef off the Seaway and the closer 18 fathom Reefs off the Seaway. An early start is a must, it will pay to hit the water before first light, once you have found a show on the sounder try to anchor up and start a burly trail and fingers crossed you will attract the fish to your boat. Try floating unweighted half and whole WA pilchards and live Yakka's back into the burley trail. I always recommend casting a metal slug around the area to entice any passing fish towards your boat and waiting baits. When choosing a metal slug matching the hatch is very important, I recommend having a few different weights and sizes to try from 20, 30, 40 and even 60 grams for the larger Spotted and Spanish that are likely to have a crack at them. Bottom fishing should be good current depending after the swell has stirred up the 18 and 24 fathom reef areas, Snapper, Moses Perch, Tusk Fish, Trag Jew, Sliver Jew and Spangled Emperor should make up the bulk of the catch in these areas. Float lining is the best way to increase you catch rates by slowly feeding your baits down at a controlled speed which presents your bait in a much more natural way usually producing a hook up on the drop. Out wider on the 36 and 50 fathom line the fads should be holding some quality pelagic species like Dolphin Fish, Wahoo or even a Marlin. Also try trolling skirted lures around any bait schools you can locate as predators will normally be hunting nearby. Birds are a great sign as they will usually hover over a bait school that is visible from the air giving an extra pair of eyes to help locate a good zone to troll.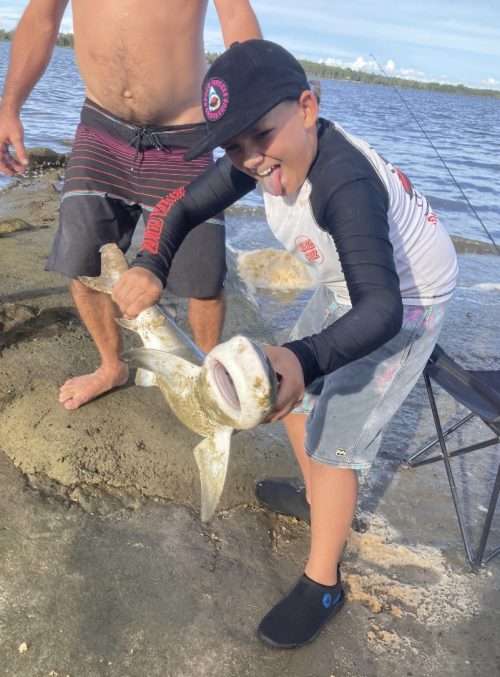 Brad from Brad Smith Fishing Charters reports it was a bit of a rough week with constant high winds from the southerly direction and rain cells cutting in periodically giving us a soaking. Lucky enough the Tweed offers us areas to provide some protection from the wind and some spots to flick some lures. We did not reach our usual quota of variety or size but certainly caught some flatties and a heap of bream. The results came from finding the protected deep holes out of the elements and jigging Ecogear ZX 40 and Samaki vibes while drying ourselves up after being drenched from the rain.
Clint from Brad Smith Fishing Charters reports we have been braving the conditions but catching some very nice fish. Fishing the flats while anchoring and wading has been very successful for good hauls of Sand Whiting, Flathead, and Bream. The fish have been in very shallow water, sometimes only ankle deep with the smaller high tides. We have caught some fish on mmd splash prawns and soft plastics, but the bigger numbers of Whiting have come on live yabbies. It is the best bait in the Broadwater, and we usually catch between 20 to 80 fish a day on them, with many whiting over the 35cm mark and one or two a day close to and over 40cm. These fish are such good sport on ultra-light line, and excellent to eat. They make bream look pretty slack as a fighting fish.
If you have any great catches or photos you would like to share, please email us and let us know how you went. brett@coomerahouseboats.com.au or brett@fishotackle.com.au
Stay up to date with all fishing regulations in Queensland https://www.daf.qld.gov.au/business-priorities/fisheries
Fisho Tackle and Coomera Houseboat Holidays now have Hire Tinnies follow the link to view http://www.coomerahouseboats.com.au/our-fleet-type/hire-tinnies/
Seabreeze is a great website to access a local forecast http://www.seabreeze.com.au/graphs/
Good luck with the Fishing. Brett