Well, this week has certainly seen some wild weather. We have finally started to see some good rainfall across the region with local dams and lakes over 100 percent and spilling, or very close to it. We have been waiting for the rivers to flood again and, though murky, they are very much fishable. Sunshine Coast Noosa
Offshore
Offshore has been quiet because of the weather, with the wind blowing mid-morning. This has meant only bigger boats headed out to fish the local grounds of North and Sunshine reefs. The fishing has been a bit quiet but with the new moon on Saturday, things did improve a little. Sunshine Coast Noosa
Fish on the menu were cobia, snapper, cod, sweetlip and pearl perch. The inshore reef belt including Halls and Sunshine usually fishes well after a rain. For lure anglers, dropping a prawn lure down can work wonders as the rivers get a good empty out with the spring tide. Often not used this way, you can take a Chasebaits prawn and remove the weedless hook and insert a standard jig head around 4/0. This will allow you to drop it deep and quickly, and who knows, you may get to tangle with a big coral trout. Sweetlip love prawns, so this method is worth a try. Soft vibes are also top performers offshore with the bigger Samaki lures proving top of the pick. Be sure you use around 30lb leader, as the larger fish are drawn to these lures. Sunshine Coast Noosa
With pelagics starting to show up, now is a great time to get your rigging done. The first big mahi mahi weighing 12kg was caught around one of the wider fish aggregating devices, so do the preparation now while we're all waiting. With the weather looking to be perfect next week don't get caught out. Sunshine Coast Noosa
Beach
Surf fishing has seen a few good gutters opening up, with bigger the spring tide peaking on Saturday. The water is a bit murky, which bigger fish feel more at home in. The most popular method of fishing is casting small worm, mullet and prawn bait into the wash. After a big rain, big fish will patrol in close, so you can expect to hook into a bigger dart or bream. If you have tried to pull live beachworm and are struggling, we sell Alvey worming pliers, which some anglers swear by.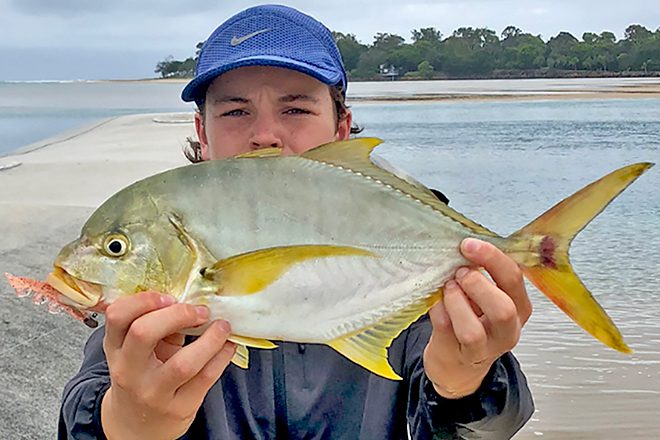 River
The rivers are murky now and carrying a lot of sediment, so fishing with heavy vibration lures is a must. Bigger flesh bait and live bait will be top of the list too. We have mentioned the use of soft vibes in previous reports because they have fish catching capability. If down at the mouth, the smaller Samaki and Berkeley options will work wonders. Flathead and trevally are suckers for these lures when hopped along the bottom. Twin hook snell rigs on whitebait and hardyheads will work very well too. Cast bigger bait upstream and let it drift along in the current to make it look natural. Fishing around the turn in a high tide will see the cleaner water start to run out. This turn is often a great trigger for fish to start feeding, so pay attention to the tide while the waters are dirtier.
Freshwater
Freshwater dams and lakes in the region are very close if not over 100 percent capacity. While the levels are at their highest in a long time, now is a great time to explore these new areas as fish are often doing the same. Go in with stealth and lighter lines around 8-12lb and cycle through surface to sub-surface lures and finish off with jigs, especially on schooled up bass sitting deep. The Hot Bite Gang Banger spoons are deadly on schooled up bass. To fish these you need to bring the lure through the school and let it drop through them, as this is often when the bites come.
Now for all the  latest information log onto www.fishingnoosa.com.au for up to date bar and fishing reports, don't forget to drop into Tackle World Noosa, Noosa Boating and Outdoors and Northshore Bait & Tackle in Marcoola for all the right equipment, bait and advice to get you catching. Be sure to follow us on Facebook and remember tight lines and bent spines!
Click here for more Sunshine Coast fishing reports and tips!