Well, after a long wait we finally saw the first bigger rain event last Thursday night. With some parts of the state in full flood, Noosa certainly got a top up. This is great news because the baitfish and prawns will be pushed down, making finding fish a little easier. While the fresh is moving down river, you may need to adjust your techniques, so read on. Sunshine Coast Noosa
Offshore
Offshore the winds have kept many inside the river, but the charter boats and higher-powered boats made safe bar crossings. With North Reef popular, there appear to be some good-sized pearl perch and good-eating sized snapper. Cobia are also featuring in the 6kg range as well as the occasional tuna from down deep. If you can find the ground, jewfish also frequent this spot and will take bait and lures. For those who enjoy jigging, the Berkley Skid Jig in 100g will give you the bit of flash and flutter that jewies love. Sunshine Coast Noosa
Closer in, anglers are starting their search for an early season spanish or broad-bar mackerel. We may see a few and there have certainly been reports of bite offs. Before we hit the crazy pelagic season, be sure to load up with chrome lures and wire. If you want to make some gang hooks, then grab some Mustad Tarpon hooks and we can show you how to make a gang hook with the correct tools. With the rains you should find some good-sized sweetlip and pearlies. You may find bigger snapper and cobia too. With the rains pushing bait out from the rivers, it's always worth fishing in close. Try smaller 4" curly tail plastics and be sure to load up on scent or even tuna oil. Dipping plastics in tuna oil works wonders, so be sure to try it out. Sunshine Coast Noosa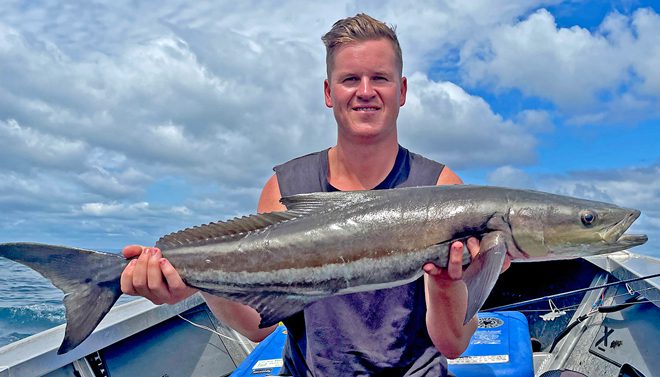 Beach
Surf fishing has seen many new gutters open up and, with the rains, the predatory fish will be making the most of the dirtier water. There are reports of tailor in low light as well as all the usual suspects of bream, dart and whiting. If you usually throw a small running sinker for whiting and bream, why not try a snell-hooked whole whitebait. Let this get washed through the gutter or along in the current if fishing around the river mouth because this can be deadly on flatties lying in wait.
River
Speaking of flatties lying in wait, this method has accounted for some cracking fish inside the river. We now have dirtier conditions which are much needed. A big downpour can push a lot of food and nutrient-rich water down and fish will follow this. As we push toward a full moon next week, fish activity should start to increase, especially as the tide starts to build from Monday onward. Night fishing will be one the better times to fish and mangrove jack and flatties will be on the move. Be sure you grab bigger 4" paddle tail plastics and soft vibes for night fishing as vibration is key to success. The new Berkley Shimma Shrimp is going to be deadly in all areas so make sure you have a couple. The profile and action are sure to make them a hit! Also, the use of scent is a must at night as fish rely on their other senses to locate food. Upriver may be quiet while the everglades spill freshwater, so be sure you move around and keep a watchful eye on your side scan sounders because big schools of small jew and giant trevally could be just out of range of normal sounders.
Freshwater
Freshwater has seen a top up with both Lake Macdonald and Borumba Dam still under 100 percent capacity. With a sudden rise in levels, it's going to be a case of having sounders running and a deep-diving slow-moving lure out the back. If after a great action, the small-diving Rapala Shadow Rap Fat Jack lure will work well around the deeper areas because it gets down to 3m. Quite often bass will school up in deeper water as the temperature can be more stable, so look around the main basin areas.
Now for all the  latest information log onto www.fishingnoosa.com.au for up to date bar and fishing reports, don't forget to drop into Tackle World Noosa, Noosa Boating and Outdoors and Northshore Bait & Tackle in Marcoola for all the right equipment, bait and advice to get you catching. Be sure to follow us on Facebook and remember tight lines and bent spines!
Click here for more Sunshine Coast fishing reports and tips!