Full steam ahead – Finally, the weather gods smiled down upon every angler across the east coast this week! With a light wind, dropping swell and a cloudless sky, it was a case of getting out there. Because the water is still dirty, it took a bit of searching for the bait to find the fish, but they were found in good numbers. Sunshine Coast Noosa
Offshore, spanish mackerel were in close along the Sunshine Beach and Halls Reef stretches. Most fish were taken on slow-trolled bait, including sauri, garfish and extra-large slimy mackerel. Pre-made or ready-made troll rigs – such as the TT Fishing Bait Trolling Rig retro-fitted with a rear treble or stinger – got the job done. Look at Owner ST-66 and BKK Raptor-Z for heavy-duty treble hooks capable of holding big fish. Sunshine Coast Noosa
Reef fishing was also great with pearl perch, coral trout, moses perch, snapper, cobia and tuna from the Sunshine Reef area out wide to North Reef. Out wider beyond the banks, some big snapper around 80-90cm have been showing up in the deep 70-90m plus depth range. These fish are taking soft plastics and big strip bait of tuna and frigate mackerel. Hooking one of these fish will provide you with some massive head shakes and big runs, so ensure your knots are rock solid and you are running 50lb plus leaders. Sunshine Coast Noosa
The fish aggregating devices have had smaller 60cm mahi mahi, but it can be a case of first on the spot gets the fish. Mahi will take a variety of lures, plastics, jigs and bait – try not to drop one because they can go off the bite for a while. Keep gear light and leaders long and use extra sharp hooks. The Owner 2X strong cutting-point trebles will offer you great hook setting and strength on these smaller fish. Sunshine Coast Noosa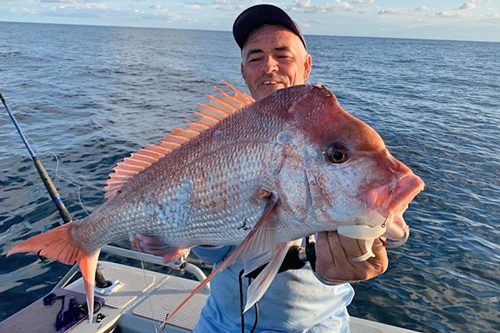 Beach fishing has seen an improvement and snapper have been coming from areas with rocks in the surf zone, such as Yaroomba and Sunshine Beach. Sweetlip have also shown up, with most fish taken on fresh bait and a single paternoster rig. Using bait elastic is a must when casting big bait – to prevent them from coming off. Come in and check out our range of long cast reels to help get you out beyond the breakers.
The Noosa River is still cleaning up, with some cracking trevally and mangrove jack being caught once again. The bulk of the fishing has been in the lower part of the river, from the Marina towards the mouth. Small soft vibes and blades have been claiming a few good fish, including flathead lying in wait. Concentrate your efforts around the mouth, the dog beach and the main channel of Noosa Sound and the river. Soft plastics will also be working well, with a noticeable morning bite period as we push towards the new moon. As the tide builds, you will see more bait being pushed into the river – making for some excellent surface-lure fishing. Small Zipbaits Skinny Pop lures worked across the surface during first light should see you on to some good fish.
Freshwater storages are now open, with a few anglers reporting good bass and a few yellowbelly from Borumba Dam. The dams are still dirty and settling down from the excessive flow that stirred up the bottom. Keeping in mind the water is still dirty, you are best advised to use spinner blades and Ecogear ZX blades so the fish can zone in on the heavy vibration.
Now, for all the latest information log onto www.fishingnoosa.com.au for up-to-date bar and fishing reports, don't forget to drop into Tackle World Noosa, Noosa Boating and Outdoors and Northshore Bait & Tackle in Marcoola for all the right equipment, bait and advice to get you catching.
Be sure to follow us on Facebook and remember tight lines and bent spines!