The big wet – Unless you've been interstate, you will know that southeast Queensland has received record flooding rainfall. The local rivers are flooding, causing major disruptions across the entire state. Sunshine Coast Noosa
So how is this going to impact the fishing for the weeks to come? Sunshine Coast Noosa
Offshore was showing signs of longtail tuna with the occasional spanish mackerel turning up. The usual spots of North Reef and wide from Sunshine Reef were producing the much sought-after pelagics. Right now, the rivers are spewing dirty water out into the oceans. This will push the clean water line out to the 40-60m range, especially as we approach spring tides on Thursday. There is a silver lining for offshore anglers. Reef fish love a heavy flush and often there is an offshore thermocline where dirty water sits as a layer, often leaving a lower cleaner layer. Sunshine Coast Noosa
The big flush will push bait out and as such, reef fish often fire up with grass sweetlip a great target. If you don't have any, Samaki Vibelicious soft vibes in 100mm plus sizes will work exceptionally well. Another great option are large prawns, with the Chasebaits Flick Prawn an excellent choice. You can take the included weedless hook out and use a standard jig head to get it down deep and hop along the bottom. Coral trout will smash both lure styles, often favouring them over bait. Bait anglers will have great success with mullet and pilchard, but try a single-hook paternoster because big reef fish may be very hungry!
Surf fishing is going to see a few changes, with bigger fish stalking the shallows for misplaced baitfish. Jewfish will be prowling along the coastline looking for whiting and mullet, especially after dark. Break out your big 12' rods and long-cast reels as it could be first-rate fishing around the moon. If bait fishing, worm and squid mixes or mullet strips will be the go. Be sure to use some bead elastic to secure bait for better casting distance.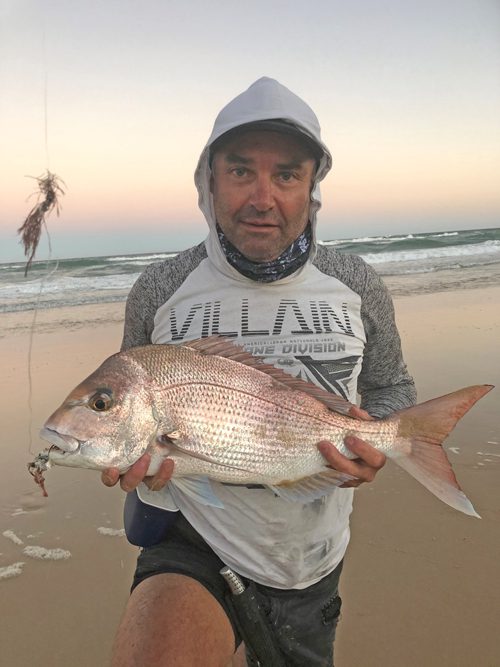 The Noosa River has seen some serious flows, with levels flooding over Hilton Terrace on a high tide. If you are looking to get out on the water, travel slowly, especially if you are crossing the bar. A lot of debris and rubbish has been washed down, which could hole a boat hull. The focus will be around the river mouth, Woods Bay and Noosa Sound. Likely targets will be flathead that are sitting hard on the bottom, away from the cooler dirty rainwater. Mangrove jack will be feeding because they can tolerate anything from fresh to salty water, though these fish may need some time to adjust before they start feeding again. Fishing around the push of a high tide will see the saltiest water coming across the bar, which fish will be chasing.
For bait anglers, larger than usual bait of mullet, pilchard and squid will be the go because they are oily and smell. Lure anglers will want to use soft vibes and big paddle tail plastics loaded with some Squidgies S Factor scent. You can also try the squid-scented Keitech 4" Easy Shiner in Sight Flash, which is a pure white colour and perfect for the current conditions.
If you own a few crab pots, now is the time to put these out. Remember to tie them off or heavily weight them with bricks because from mid-week onwards the currents are going to be the strongest we have ever seen. We carry a wide range of crabbing gear including starter kits that have all you need in one box. If you need mullet frames or heads, we always hold a large supply to kick things off.
Now for all the latest information, log onto www.fishingnoosa.com.au for up-to-date bar and fishing reports, and don't forget to drop into Tackle World Noosa, Noosa Boating and Outdoors and Northshore Bait & Tackle in Marcoola for all the right equipment, bait and advice to get you catching.
Be sure to follow us on Facebook and remember tight lines and bent spines!