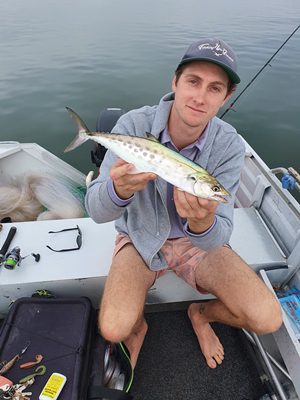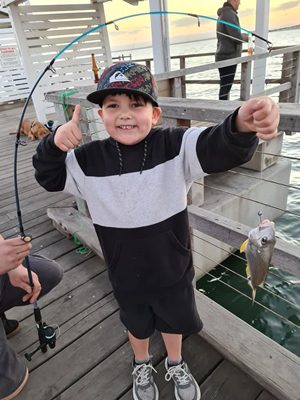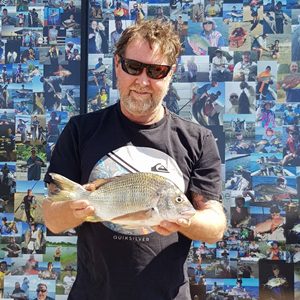 SPRING is an awesome time of the year to be out and about targeting a few Moreton Bay thugs. Mackerel, cobia, longtail tuna are just a few that will be showing up over the next few months in our local waters. You don't have to own a boat to get in on the action – but it helps having a friend with one – and many of these species can be caught in good numbers and size from local piers such as Woody Point Jetty, Redcliffe Jetty and Shorncliffe Pier.
Even walking the foreshore around Brighton, Margate Beach, Pelican Park and Redcliffe can result in a great fight and feed. We have seen great results from both Shorncliffe and Woody Point piers, with people using lures – it doesn't matter if you're using a Halco Twisty, CID Sprat or Nomad Riptide, get it out there and hook into a few freaks. Young Luke scored again, putting out a Nomad 200mm Riptide looking for a spanish mackerel but got second prize when a longtail decided to join the party instead. Moreton spring
Well done Luke, another great score. Plenty of action is to be had in the Bay and most people will start around the beacons, chasing fresh bait and a few mackies. Though don't be surprised if you end up doing battle with a cobia or two as they will strike a livie and be on their way before you know what's hit you. There are three things you should keep a close eye on when spending a day on Moreton Bay – the weather, your fuel gauge and the birds.
People often ask, "How do I find where the mackies are?" Well, the best ways are simple – find bait fish and watch the birds, and when fish are feeding, everything joins in for a feed even if it's the free scraps. When you find a school feeding, the general rule is to stay a little wider and slow down. If you come in all guns blazing, the school will go deep quickly in most cases, and then you have to spend quality time looking for them.Moreton spring
Let them come to you or work the edges and pick off a few before they know what's going on. There are many varied opinions and techniques out there, so go with the one that works best for you. It's now time to give the bream and flathead gear a break for a day or two. Dust off the slightly heavier gear and get into the action from our piers, foreshore, or beaches.
Given a chance at a bait fish school, fish will come within casting distance. For those of you who are new to fishing – it doesn't matter what age – kitting out with a new rod and reel combo, a new tackle box and bait to go is an awesome feeling. We had the pleasure of meeting young Riley in store, and we decked him out with his first combo, taught him a new knot, topped up his enthusiasm and off he went, with mum and dad in tow.Moreton spring
It didn't take long for Riley to bag his first ever tarwhine off Woody Point Jetty. Well done Riley and we hope there are a lot more to come. The Pine River has always been a place that throws up very nice fish and you can often pick up the unexpected. Asher hit the Pine and picked up a very unexpected mackie! So, when you fish places like the Pine, you never know what you'll bring into the boat.Moreton spring
Pat pulled gold out of the Pine with a cracker bream coming in at 41cm – even for the Pine it was a very respectable fish. This month we should see the Brisbane River fire up, particularly with steady rain which will stir up the bait. So, if you want a stretch, grab yourself a supply of live prawns, herring and poddy mullet, throw out a few vibes and chase your personal best threadfin salmon.
The beginning of spring is great fishing, so dust the gear off, check lines and leaders, get out there with your family and friends, and have a great time.Moreton spring
Maintain the passion!