Testing – Ocean Craft Posi Lift Hull – Not all boat tests or in this case boat reviews are the same. The main reason this one is a little different is because I tested the boat with an 18hp Tohatsu, even though the Ocean Craft 5900 is rated to 170hp. Ocean Craft Posi
Why, you ask? Well, the new owner will fit a different engine and the owner of Ocean Craft Mike wanted to prove that the hull design lived up to its branded name of Posi Lift Hull. Surprisingly enough, the Ocean Craft 5900 with two tote tanks of fuel, safety gear and two people on board got up and stayed on the plane relatively easily. Ocean Craft Posi
The length and design of the hull were the reason for this and, even when moving around the boat, there was little impact on the cruising speed – which topped out at around 24-25km/h. Sure, this is not fast but given the horsepower on the back, you must give kudos to the hull. Ocean Craft Posi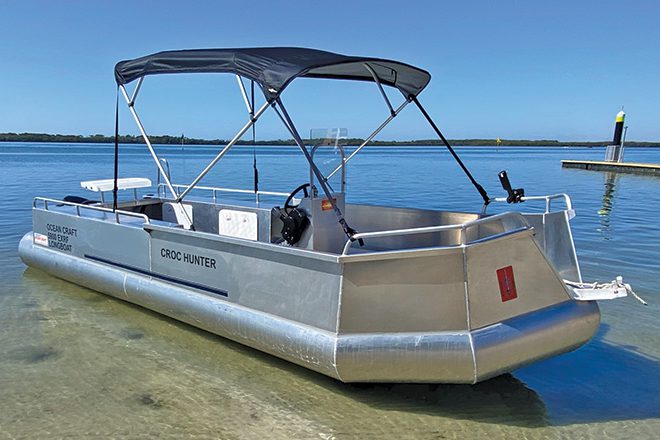 For this test we ducked out through the Caloundra Bar and did a quick lap around the shark baits off the beach. Conditions were very good, so the 5900 LongBoat was not challenged at all. This package was relatively basic, but as for all Ocean Craft boats, they are built to order.
The setup as tested lent itself well to a dive or fishing boat, but if you were going to make it more family friendly, you'd need to add a bench seat at the back. However, it was possible to comfortably sit on the large pontoon sections of the boat around the helm. It would also be possible to add a large front casting platform in front of the helm, making it a good all-rounder.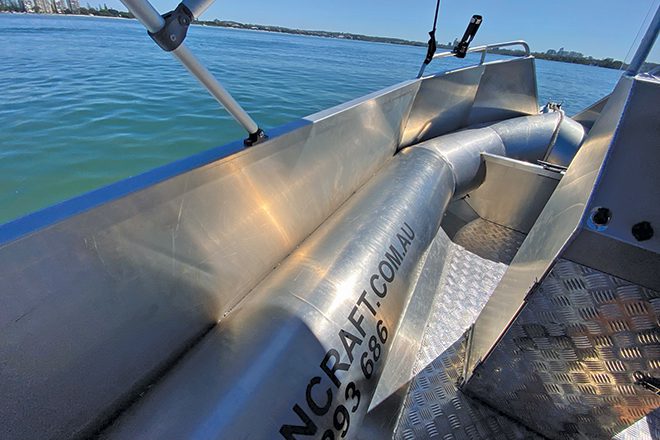 The high sides around the boat from the helm backwards and across the stern provide good protection and lean points for offshore fishing. The lockers at the rear provide a decent amount of dry storage – I could easily fit the Phantom 4 DJI drone backpack in there as well as another separate camera bag.
In fact, there were four large compartments that would be ideal for storing lifejackets and fishing tackle bags. Additional storage was available in the helm, which had a lockable section.
Another feature of the 5900 LongBoat is its beam width measuring 1.94m at the widest point. This is something that has been done deliberately so it can fit down the side of a house or in a garage. The total height of the boat on the trailer is  2.14, which allows it to fit in most garages and carports.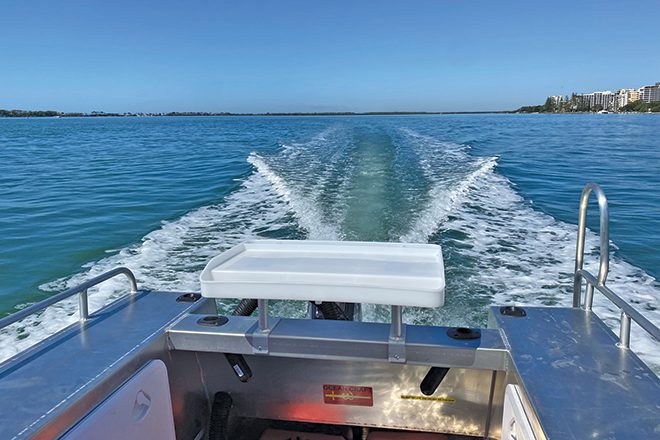 In terms of the horsepower I'd put on the back – I'm not 100 percent sure. Given how well it performed with the little Tohastu, I think one of the new four-stroke outboards around the 70-115hp range would be more than ample and a good combination of speed, power and performance plus very good fuel efficiency. (Depending on how you plan to use the boat and the load you plan to carry will impact what size outboard you will need).
If you are interested in finding out more about this or other Ocean Craft boats, check out oceancraft.com.au
There are a host of models to choose from, all of which can be heavily customised.