Not even a 25 knot southeast trade wind could blow away the fishing fever that infuses the community when the Weipa Fishing Classic weekend comes around! Just as the hugely successful Weipa Bullride that ran two weeks earlier, the event attracted a massive crowd intent on having a great time and possibly catching a few fish or three! This year the Classic venue changed to the town's new showground and from all reports the vibes were very positive. Cape's classic weekend
Even with an attendance of close to 3000 on each of the three nights, there was plenty of room for exhibitors, food outlets, camp chairs and blankets to be accommodated in front of the new stage. The Classic's hard-working committee must be congratulated on what was an extremely smooth and professionally run event. With two boats, a couple of quads, and a host of other fabulous prizes, the value of the goods handed out over the Classic approached $200,000. Cape's classic weekend
Rough conditions on day one saw most of the boating activity limited to the rivers, though a couple of larger craft braved the conditions to target a few reef species. The Parr family managed to find a productive spot early in the day before the wind started pumping, landing some lovely nannygai, fingermark and coral trout in the process. The mackerel, though, were very scarce indeed. Cape's classic weekend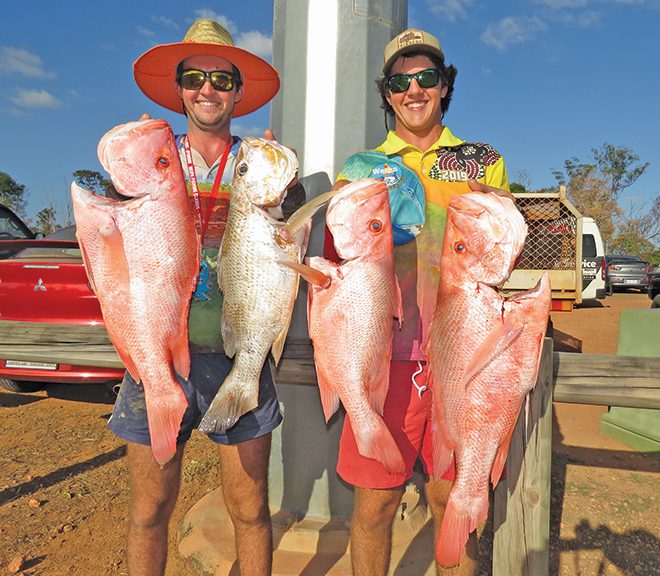 Many families headed up the estuaries and found plenty of pikey bream, grunter and a few blue salmon on the chew. Both the barramundi and king salmon proved to be finicky biters – a common complaint during strong wind gusts – but a couple of honey holes produced fish in the 80cm and early 90cm range for the leaderboard. With the trades easing slightly on day two, Tom Hockey and I headed a long way upstream to try to get out of the wind.
We raised plenty of small barra, a few mangrove jack, cod and queenfish but nothing remotely close to making the leaderboard. Meanwhile, a couple of boats working out of Mapoon finally found a few big mackerel, the best weighing in at over 18kg. All that was needed to have a chance in the major prize draw was a numbered ticket, and the 2200 allocated had all been sold.
On the final evening, 23 lucky individuals lined up on stage as the numbers were drawn down towards the major prize – a 5.2m Aluvan Razor plate hull boat powered by a 115hp Suzuki four-stroke outboard. Also on offer were the Honda SXS700 Pioneer side by side, a Quintrex 370 Outback Explorer with 20hp Yamaha, $7500 cash or a big $5000 diamond, if you happened to be one of the runners up! The excitement for the final draw is always palpable, with Jamie Hutton eventually being the last person standing to win the Aluvan.