G'day everyone!
Well, it seems to have been blowing southeasterly after southeasterly. Time to target tuskfish
Throw in water clarity resembling a chocolate milkshake and the conditions have certainly made fishing a little tricky. Time to target tuskfish
In saying that though, if you can manage to get out and fish the right areas with cleaner water, some good fish are still on the cards. Time to target tuskfish
This time of year is all about tuskfish for me.
Without a doubt, these brutes are my favourite fish to chase in the bay. They fight hard, play dirty, have some amazing colours and in my opinion are some of the best tasting fish around.
When I was first introduced to these brutes of the sea by a good friend, I totally underestimated how dirty they fought.
Time and again I was left standing there with rod in hand wondering what had just happened.
My addiction grew and I was determined to land these elusive fish.
Years down the track, I am still learning and refining my techniques in the hope of getting that magic 10kg model.
The one thing I know for sure is that you can't give these fish an inch.
My tackle of choice these days is a Wilson Venom Overhead 6'6" PE 2-5.
These rods punch well above their weight – they have a sensitive enough tip to feel those bites but plenty of backbone to stop tuskies in their tracks and keep them from heading to the reef and busting off.
I couple this rod with a Shimano Tyrnos 16 Overhead reel, 80lb braid and a good length of 120lb leader.
Schneider Fishing Lines is my go-to – while thicker than many mono brands, its abrasion resistance is exceptional.
Thick gauge hooks along the lines of Mustad Big Gun and PETackle's BFG series are a must.
Match the hook to the size of bait you are using and try to hide it as much as possible, but ensure the point and barb are free for better hook-up rates.
I was lucky enough to recently get two trips in – one with my son and another with a good friend who managed to get his personal best.
As with most of our trips, our process always involves getting fresh bait.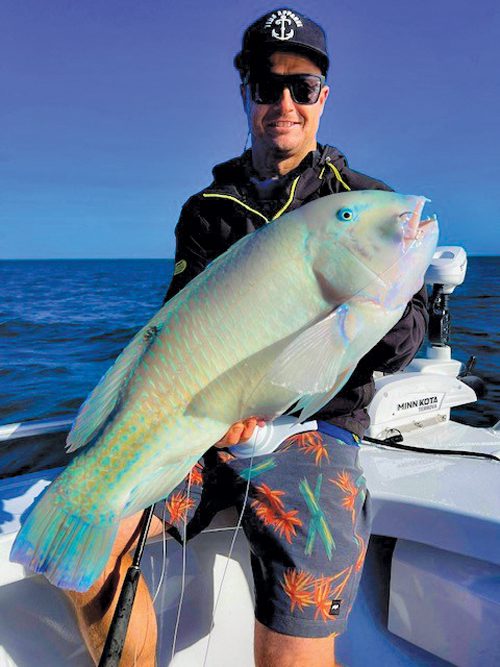 So, it was down to the local foreshore to gather some crabs.
It's always a good laugh trying to navigate around rocks at night with a headlamp to chase down these crawlies.
For the first trip, which was with my son, we set off in less than ideal conditions and a 15-20 knot southeasterly wind.
We dropped some pots and headed to our area of interest.
I dedicated some time searching for new ground in an area I hadn't spent a lot of time in previously, looking for rubble ground, drop-offs and bommies.
After about an hour, I had three spots marked.
It was then time to spot lock on the first mark and send some bait down.
I've found with these fish that they can be very tricky, frustrating and there are usually long waits between bites.
Today was not that day!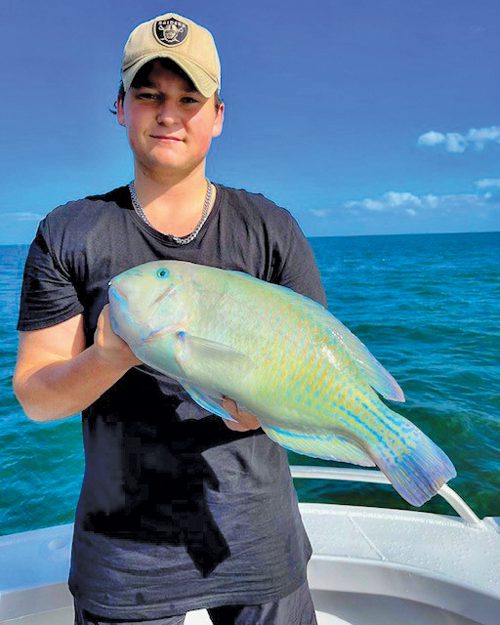 The first bait lasted all of 30 seconds and before long we had a nice bluebone tusky on the deck.
This fish certainly had a story to tell, with battle scars all over it and what I could only assume was an old spear injury.
The next couple of hours produced some crazy fishing, with nine tuskfish landed, three lost to the reef, we kept four for a feed and released the others.
Then as this fish does, they went completely off the chew and shut down, so it was decided to head home to check the pots.
We managed nine sand crabs and mud crabs, so it was well worth the effort.
The second trip was a lot more frustrating, with strong wind, strong currents and the poor Minn Kota struggling to hold position.
The fishing was slow, and the bite period was very short lived.
Through persistence and trying every trick in the book, we managed three tuskies, with Luke landing his personal best of 67cm.
To say he was happy would be an understatement. I can see another tusky addict in the making.
If you want to tackle one of these brutes yourself with plenty of heart-in-mouth moments, I highly recommend it.
Go grab yourself some crabs and fresh prawns, find some likely looking structure and give it a crack – you won't be disappointed.
Enjoy your fishing and fingers crossed for decent weather.