AS part of the brand's newly released Trailer Tips series, Move Boat Trailers looks to simplify common trailering practices and provide an informative means of education to inspire more people to experience the boating lifestyle.
Traversing the great Australian roads with a boat in tow is one of the most thrilling outlets for adventure and now, with Move's newly released Trailer Tips series, the brand looks to debunk the trailering process in providing a tangible means to make commonly considered difficult manoeuvres easier than ever.
With trailering comes some important processes to nail, to not only make for a safe journey on the road, but also a comfortable and efficient one, including reversing down a boat ramp.
With a few key insights and tons of practise, Move is driving towards all Aussie boaters – both new and old – having a simple, stress-free boat ramp experience.
Through simplifying trailering, Move Boat Trailers aspires to encourage more locals into boating – with the lifestyle providing an immeasurable opportunity to explore the Australian backyard and get outdoors with others.
If you are still seeking further assistance after reading this article, contact your local Move dealer for expert knowledge and guidance or work through boat trailering with an experienced friend or family member.
Before you start reversing, you should go through some of the basics.
Preparation
Upon initial arrival to the boat ramp, when undoing tie-down straps and preparing your boat to launch, ensure you do it away from the ramp.
That way when it's your turn at the ramp you'll know everything is ready for a hassle-free launch.
Mirrors
You should try to reverse using your vehicles mirrors rather than turning around to look where you're going.
Yes, there are plenty of people who are good at reversing this way, but it can be difficult to get a complete understanding and view of what's going on if you are only looking out the back window. Some vehicles also have restricted vision if you try to reverse this way.
Using your mirrors is the best way to get the greatest view of what's going on directly behind and on either side of the vehicle.
Position
As much as possible, try to position the vehicle and trailer so your reversing path is as straight as possible.
This usually means making a wide approach to the ramp, so you have room to straighten.
Of course, not all ramps offer this, so reversing around bends and corners is something you will eventually have to learn.
An important thing to remember is that if the trailer is even slightly on an angle behind the car, it will immediately start going out to one side once you begin to reverse, which can be used to your advantage.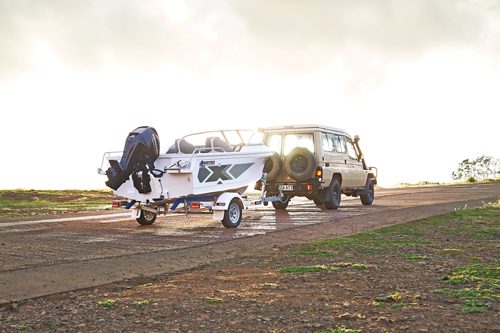 Observation
On approach you should look for things that may cause a problem such as sign posts, trees or tree branches, roadside gutters, potholes or similar.
Once you start reversing, check all mirrors to ensure everything is clear.
Take your time, move slowly, and keep your steering wheel movements nice and smooth. Keep checking both wing mirrors.
Opposite direction
Remember when using your mirrors, you must steer in the opposite direction to how it appears in the reflection.
If the trailer starts to go out to one side, it often only requires a minor but smooth adjustment of the steering wheel in the opposite direction to bring it back. Should the trailer start to drift out to the right side, a 'left hand down' motion on the steering wheel will bring it back.
Obviously use 'right hand down' should the trailer start heading to the left. Don't be afraid to take your time, go back a bit, make some corrections, then go forward and make some more corrections, go back again.
This is quite acceptable in tight situations or certainly while you are learning.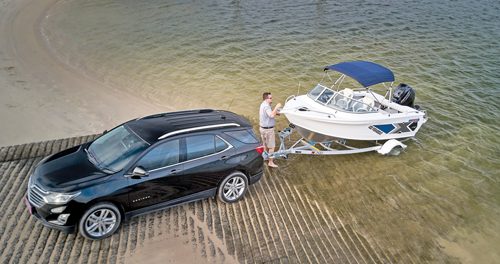 Slow is best
Many newcomers tend to jerk at the steering wheel when they see the trailer moving out to one side to make a quick correction.
This tends to push the trailer too far out the other way and can lead to jack-knifing.
You then have an over-steering situation where you tend to snake down the ramp.
Make your corrections slowly and remember that minor adjustments will usually get the trailer to do what you want.
Jack-knifing happens when the trailer goes too far to one side so that it stops going backwards and locks into a 90-degree angle toward the towing vehicle.
Almost always, if not stopped, this will damage the boat and the car.
Reversing slowly and being aware of what you are doing will avoid jack-knifing.
At night
When reversing at night, turn your headlights off and only leave your park lights on.
This prevents blinding anyone else who might be trying to reverse or getting ready to reverse.
Also make sure that you have either side marker lights that work or reflectors on your trailer, so your trailer can easily be seen at night when reversing.
Overall, the best way to become confident with towing is practise – starting in a secluded open sealed space provides an ideal area to perfect turns, towing awareness and reversing.
One of the most important but overlooked aspects of trailering is taking to the road with a strong, reliable and high-quality trailer such as a MBT.
Following decades of production, Move Boat Trailers released its loose trailer brand in 2021, after identifying a hole in the market for an affordable aluminium boat trailer in Australia.
Built to go the distance, Move trailers are crafted with rolled I-beam frames using marine-grade aluminium to achieve superior strength, flexibility and efficiency by preventing water retention.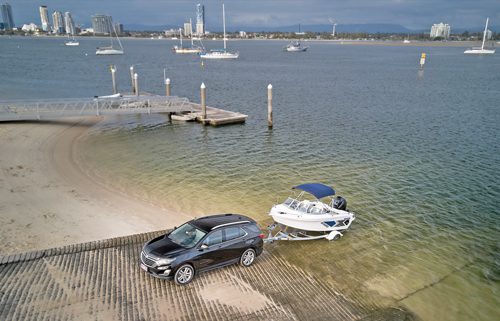 As a result of the aluminium properties, Move trailers are rust resistant and lightweight, meaning they outlive conventional steel builds by three times.
Offering a wide range of trailers, built to suit aluminium, plate and fibreglass boats, MBT is an easy first choice for new and used boats.
With a vast network of dealers, located nation-wide, Move trailers are never too far from reach.
Contact your local dealer today to discuss the range or take the first step in safe boat trailering with a new Move trailer at moveboattrailers.com.au