More horrible weather, lockdowns and tough bites to report, but thankfully the nibbles weren't as hard as last month. Surprisingly, tuna have been the saviours on a few trips – winter fish tend to school deep – pushing light tackle rods to their limits, especially when they're around that 15kg mark. Even sub-10kg longtail tuna will make life difficult on gear that handles similar sized trevally and queenfish with ease.
These fish are mixed in with trevally and queenfish but fortunately tuna need to eat, so if they're in a school, you will probably get a bite from them. Whereas, in my opinion, the other fish are prone to go through long phases of latency. These not so feisty fish might swipe but will not always strike – resulting in foul hook-ups. Tuna flathead
In one session recently, all three queenfish we hooked were jagged – one in the tail, one in the mid-section and one slightly behind the gill. And that was when the weather was good enough to get out a bit wider. When it wasn't, thankfully on the right tide we pulled a few nice flatheads from in the channels and drop-offs. Both dusky and bartail are in good numbers and chewing on ridiculous leaders. Tuna flathead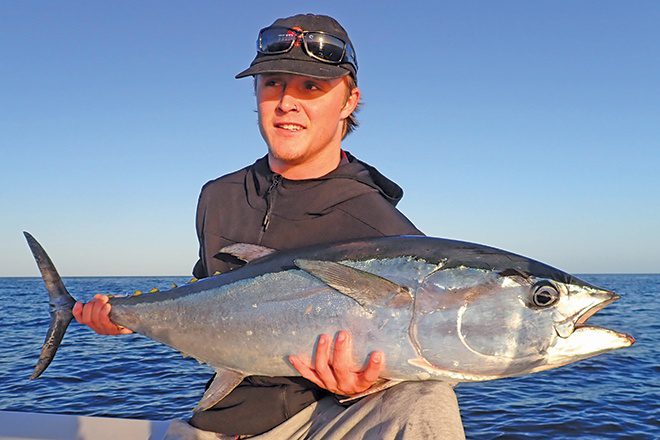 Funnily enough, there was no need to stop using the 30lb leaders that were attached for queenfish and tuna. Why they wouldn't be as fussy as the rest of them was beyond me. Anyhow, there were no bite-offs! Tuna flathead
If you are chasing flatties this winter and spring, look for structures that may harbour ambush predators. And yes, 'think like a fish'.
If you'd like to book a charter with Tri, visit the Fraser Guided Fishing Facebook page or website.