I HOPE everyone has had a cracker of a month and been catching plenty of fish. In this article we are going to cover bass behavior because now is the best time to target Australian bass in impoundments. Bass are currently heading downstream into the widest and deepest parts of Lake Borumba as it's coming into their breeding period, and this is what they would do in their native habitats.
Now, the best thing to do when fishing either Lake MacDonald or Borumba is to locate the main river channel. If you can do that, you can look for large flats or secondary points just off the main channel. This is where bass will sit. Depending on the lake system, bass will sit at different depths. They will try to locate the ideal depth where the temperature is consistent. bass behavior 
I find the best depth at Lake MacDonald is around 5-8m of water, as it is a very shallow lake. This seems to be the ideal depth to find bass. Lake Borumba is a little different however, it is much deeper. I usually find that 6-12m is the ideal depth. At this time of year, bass will typically be quite slow to react to lures, especially early in the morning.
I won't hit the water until around 1.00pm, and the reason is because I find bass are less reactive to lures early, but as the day progresses the water gets warmer and bass start to play the game big time. If you were to hit these lakes early, I'd opt to go vertical rather than cast because these fish prefer something that sits in their face. Ice jigs or small blades work extremely well. The best ice jig I've found is the Smak 12g Glider in Summertime colour – this is by far my favourite colour.bass behavior 
The best blades I've found are the 1/4oz Little Max Blades in copper colour – these slay. However, for the last month or so I have been using the 7g Daiwa Steez Vibes in black. I'm sure these will also perform throughout winter. The key when using these lures is to make small hops just off the bottom. Bass will tend to flat line along the bottom at this time of the year, so it's very hard to see them on your sounders.bass behavior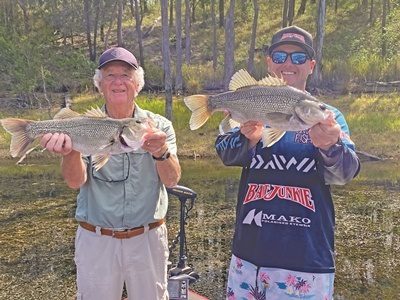 But keep in mind, they will start to become more active and move as the temperature starts to heat throughout the day, and become a lot easier to see on your electronics. As the temperature starts to rise, bass will become more active and this is where casting spoons, plastics or blades comes into play. Nories Wasaby or Halco Twisty are the best spoons I've found.
But when it comes to plastics, I have a new favourite that I've been using on charters and will produce the goods throughout winter. The Daiwa Bait Junkie 2.5" Minnow in Whitebait, Baby Bass or GP Chartreuse matched to a 1/2oz or 5/8th jig head to keep it nice and close to the bottom. When it comes to blades, the previously mentioned brands will work a treat.bass behavior 
Now, if you're a mad keen bass fisher, I've got great news… if you haven't already heard. I've created a Facebook group that you can join for free. In this group, you'll get one-on-one help from myself. You can ask me questions by sending a message and I'll answer them. You can also participate in the monthly photo competition where you could win a Daiwa Prize Pack, plus you can grab my Bass Blueprint which is a 17-page e-book designed to help fellow bass anglers out.
It's got four secret bass techniques and the lures to use for them. I'll also be running Q&As with several great bass anglers. If you'd like to join, click here! – a Facebook messenger chat will open with myself in order for you to access the group.bass behavior 
Also, if you'd like to book a charter with myself on Lake Borumba, call 0412 887 651 or visit my Facebook page and send me a message.
For more winter impoundment bass hints, click here!