HEY legends, you haven't heard from me for a while as I've been super busy with my social media marketing business. However, I have been out heaps – fishing lakes Borumba, MacDonald, Boondooma, Cania and the Noosa River for Australian bass and fishing Lake Monduran for barramundi, which has been awesome.
bass Borumba Macdonald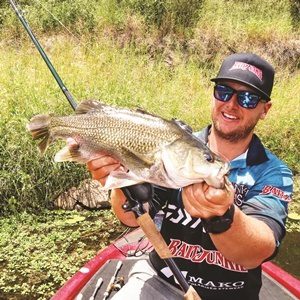 It's great to see the barra lakes down – at least we know if we get a few big floods, it'll be hard to have the lake flood such as back in 2010 and 2013, which resulted in major fish loss. Now in this month's article, I'm going to give you a bit of a 'how to' when it comes to targeting bass at lakes MacDonald and Borumba.
For more bass tips from Callum, click here!
Lake MacDonald
It's had its fair share of rain over the previous month, raising dam levels up to 20 percent, which has made the lake fire. Bass are hanging halfway up the lake and they'll start to get thicker as you move further up the creeks. However, as it's now autumn, the fish will start to move down as they get ready to start their spawning run. bass Borumba Macdonald
The water temperature starts to plummet as well, so they'll move to where the water is more consistent. This is usually where the water is deeper and has a more constant temp. So, my guess will be to start fishing around the three ways area, figuring out where the deep creek channels are.
If you can find the main creek channels, sound them out and look for schooling bass. If you can't find them, they're probably hugging the main weed edges along the main creek beds. Reaction bait types will work a treat at this time of year – targeting the tops of the weed with small blades, spinnerbaits, chatterbaits or even Jackall TN60 lures. bass Borumba Macdonald
Keep in mind, if we get a big cold front – which usually stresses bass out – I'd opt to throw some jerkbaits around, such as a small Daiwa Double Clutch. These lures work really well when you get a cold front. Bass will drop energy levels and you'll need something that will sit in their face longer to make them react.
If you find the fish sitting in the main creek channels around the three ways area, you could throw a variety of lures from spoons, blades, small soft plastics or skirted jigs. I'd be opting to cast lighter lures rather than heavy ones – 1/4oz to 3/8 work brilliantly. At this time of year, bass love something that has a slow sink rate, which gives them plenty of time to hit the lure. bass Borumba Macdonald
Lake Borumba
The lake didn't get too much rain throughout last month, so most of the fish will be in similar areas. Schooling bass will be hanging around the junction area. If you can sound in around 6m of water, you should still find plenty of bass. Plus, if you know how to target suspended bass, you should still be able to catch plenty of decent fish around the tops of the trees at the start of the Kingham Arm.