Hi everyone, we're in peak season for summer species on the Gold Coast – including sand whiting and mangrove jack. I hope you're enjoying time off to get out and fish in the wonderful waterways of southeast Queensland. Wading flats fish
Over the past two years I ran many mangrove jack charters, however this year I have been heavily booked with day charters, especially wading the Broadwater flats for big sand whiting, flathead and bream. It's a great time of year to fish the banks on a run-in tide, either wading or anchored. Wading flats fish
I know I've covered this topic before, but I thought I'd throw in some more tips for those on holiday in the area this month. We'll use the Broadwater Tourist Park as a reference because it's central to the good fishing spots and boat ramps. Wading flats fish
In the accompanying map, I've marked the tourist park and the adjacent boat ramp with a red cross – which has excellent facilities and parking. I have also circled in red the best places to pump for yabbies and fish for whiting, flathead and bream.Yabbies are easily pumped in these areas and, when the tide is high enough, you can anchor on top of banks – preferably near yabby holes as these are where fish feed.
Be prepared to move every half hour to escape pests such as toadfish and until you find decent fish. Use as light a sinker as possible, or no sinker if there's enough wind to help you cast. Then always keep the bait moving after you cast out by slowly winding. Don't keep it stationary too long otherwise stingrays will find it and get hooked. When you do get a decent bite, don't strike too soon or you'll miss bigger fish. Give them slack line to allow time to crush and then swallow the hook.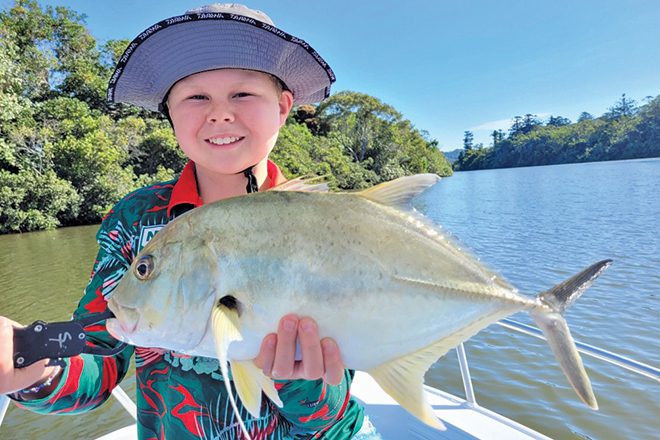 After the tide turns, be sure to move your boat into deeper water so as not to get stuck on the bank. It also helps to cast a yabby in a different direction each time to find the flathead and whiting schools. Flathead have a legal slot length of minimum 40cm and maximum 75cm – any fish outside this slot size must be released. I usually release any flathead over 60cm because they are likely to be breeding females.
Sand whiting have a minimum size in Queensland of 23cm, but they're not worth keeping for fillets until they get to 28cm or more. I prefer to use cheap baitholder hooks such as Jarvis Walker – if a fish swallows a hook it has a better chance of surviving if you cut the line and release it, as these hooks rust and crumble in a few days.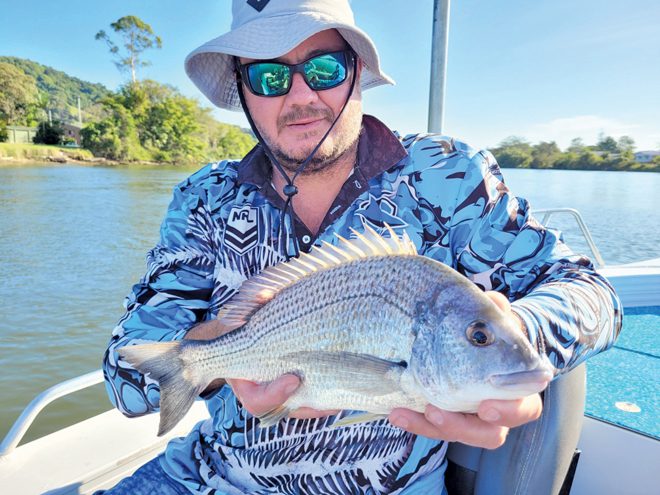 Brad has been lure fishing with Samaki Vibelicious and Ecogear ZX40 blades at both the Tweed River and Gold Coast Broadwater, and has been putting his customers on to quality flathead, trevally, bream and the occasional surprise school mackerel and squid.
To book on a charter with myself or Brad or if you have any fishing related questions, SMS 0432 990 302, email fishingwithclint@gmail.com, find us on Facebook at Brad Smith Fishing Charters or our website goldcoastrivercharters.com