With consistent rain smashing the east coast, it certainly felt as though winter arrived early. Winter species
Offshore fishable days could be counted on one hand, leaving many anglers to fish other locations or do some much needed boat and trailer maintenance.
On the plus side, winter is renowned for light westerly wind and the end of May in to June didn't disappoint.
Though sometimes hampered by surf, the northwesterly and south-southwesterly wind kicked in, making for increased visibility and cleaner conditions offshore.
Winter means two species – the hard-hitting snapper and the elusive jewfish.
Both fish know how to fight, and both are found in shallow and deep water.
These fish suffer barotrauma, so if you are a catch and release angler and sharks aren't an issue, try slowing your retrieve.
The expansion of air in fish is most noticeable in the final 10m, with air doubling in volume.
If you can slow the rate of ascent, fish can expel more air, which means less bloat and a stronger release.
Having a release weight onboard should be part of every catch and release angler's kit, so check them out when in the shop.
If you intend to keep fish, you are best to brain spike and bleed them.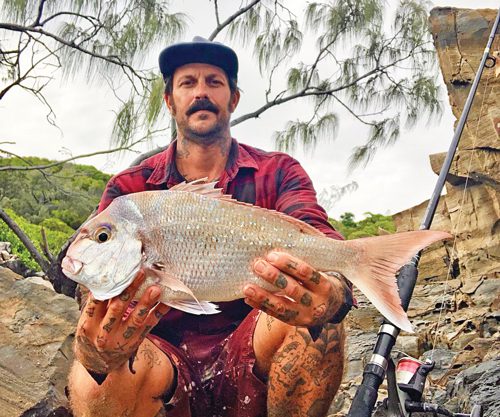 Once bled out, putting the fish into a fresh ice slurry ensures the flesh stays firm and is of the best-eating quality.
So, where to find them? Winter species
Without a doubt, the deeper water of North Reef, Double Island, the Hards and Chardons Reef will hold bigger fish because this is where the cooler water tends to be.
Do not feel you have to venture a long way offshore as shallow-water snapper and jew do exist.
If we see more cold snaps, this will happen sooner rather than later.
There are many ways to target snapper, and owners of baitrunner reels can get excited.
This method is a must as there's always a chance you'll pick up a lone mackerel, tuna and even a big cobia.
Load them up with Shogun Ice Blue Monofilament for the best presentation, because mono sinks slower than braid.
Another option for those who enjoy testing their skill is to use 3-5kg estuary setups.
A single hook and a small chunk of pilchard will often get slammed when dropped in a berley trail.
The current Shimano Nasci spin reel in the 5000 size is a great all-round reel for light offshore angling.
Other great ways to target snapper are with soft plastics, and Chasebaits, Z-Man and Berkley Gulp have many great colours and profiles sure to tempt passing fish.
The two consistent performers are PowerBait Nemesis and Z-Man Streakz Curly Tailz in 4" plus sizes.
It's no secret that snapper love a plastic with a lot of movement and these are a great start, especially if new to plastics for snapper.