AS daylight hours get shorter, the temperature falls and cool breezes blow in from the west, tailor anglers begin to gear up to take on schools of the aggressive feeding and hard fighting tailor that invade our beaches, headlands, river mouths and estuaries.
Large groups of anglers have been found standing shoulder to shoulder on beaches and headlands, while clusters of boats in river mouths and estuaries signal that a tailor school has been located… then everyone tries to get in on the action. Tailor toothy tactics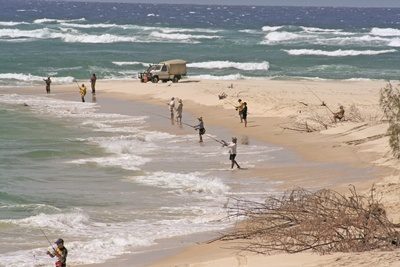 Locating tailor, the three Bs
When it comes to locating schools of tailor, a few signs can assist you in your search. Birds hunting over water and feeding from the surface are an indicator that fish are feeding below, so keep an eye out for birds showing interest in what's below or actively feeding.Tailor toothy tactics
Bait is another key factor when targeting tailor and, as the old saying goes… find the bait find the fish. Tailor will often be attracted to key structure, current lines and eddies within the system, as these areas are where bait tends to focus. You can also keep an eye out for bait that have been forced to the surface, creating 'nervous water' – a shimmering disturbance or bait showering from the surface as predators attack from below.
This brings us to the third 'B'… bust ups. If you see bait showering and fish cutting the surface, busting up as they feed – get a lure or bait in there.Tailor toothy tactics
Another 'B' you could add to the list is boats. When tailor are on, you'll often find a concentration of boats in the key areas these fish feed and travel, or locked onto a school of feeding fish – in a similar way to land-based rock and beach anglers gathering around a school, often bait fishing, and in turn working together to keep the fish fired up with their bait forming berley in the water.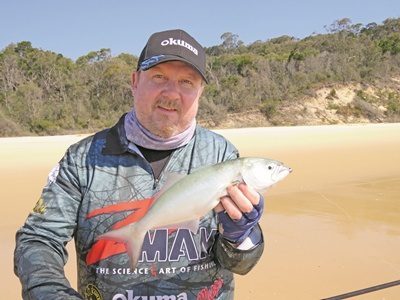 Gearing up
The gear you use to target tailor will often be dictated by the technique and environment you are targeting the fish. If casting distance is required and you are fishing heavy surf, then longer rods are required, with larger reels to hold more line. In this situation, anglers will often arm themselves with a 12-13'6" surf rod and 6500-10,000 size spin reel.Tailor toothy tactics
Line choice will come down to personal preference, with many bait anglers running 20-30lb monofilament line and a 20-40lb leader, while lure anglers generally prefer braided line for less stretch and increased feel, longer casts and more solid hook sets. Commonly 20-30lb braid is selected, with a 20-60lb leader.Tailor toothy tactics
Wire leader is an option, however many prefer to avoid it because it can reduce the number of bites. When boat fishing or spinning areas where there is less boisterous surf, anglers will often downsize the gear – fishing their flathead and snapper combos through to more specialised pelagic spinning combos. This often includes 7-10' spin rods rated anywhere from 3-6kg and 6-12kg, 3000-5000 size reels and braided lines running from 10-20lb with 20-40lb leaders.Tailor toothy tactics
This can make for fun fishing even on 'chopper' tailor – a name given to the smaller fish – while the larger fish are often referred to as 'greenbacks'.
For river tailor tips, click here!