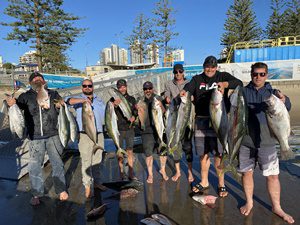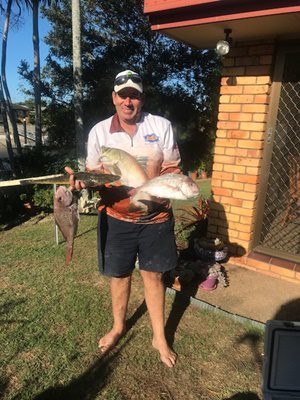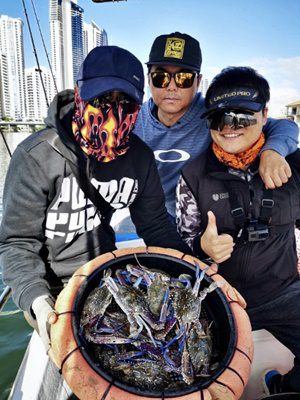 Hi Everyone, hope you have all had a good week, Winter has certainly taken hold on the Tweed and Gold Coast with cold Westerly winds causing the temperature to plummet, especially at night we have been seeing single digit temps. That is a great sign for those Fishos that prefer to target Bream, Tailor and Jew Fish as these species fire up in the cool weather. Let's have a look at what's been on offer for anglers this week.
The winter westerlies are a prime time for keen Bream fishos to get out and chase a feed. Those who are keen to brave the cold nights out on the water should be rewarded with some top-quality Bream.  Some good spots to start looking will be Upper Reaches of the Tweed River, Whalleys Gutter, Tiger Mullet Channel, Perrys Hole, Short Island, Cobby Passage, Kalinga Bank and Marks Rock in the Logan River. Some good land spots are Lands End Biggera Waters, Marine Parade Rock Walls, Gold Coast Seaway, Southport Bridge, Nerang River, Paradise Point, Coomera River and Jacobs Well.  Burley is important when targeting Bream, a lot of fishos will have a secret brew they use. I recommend stimulate burley pellets or Wilson Fishing Pellets are easy and not so messy.  Just keep a regular trail going, don't feed them too much just enough to keep the fish interested. Some the best baits will be Mullet Fillet, Mullet Gut, White Pilchards, Prawns and Yabbies.
Tailor are a great species to target on the Tweed and Gold Coast as our surf beaches are well protected from the winter westerlies which help to calm the surf down and make it much more fishable depending on how much swell is running offshore. The cool snap that comes hand in hand with a Westerly just seems to flick a switch on Tailor and if all lines up they will make there way into the gutters as the tide rises, early morning and late afternoon into the evening are the prime time to catch a feed. During daylight hours casting metal slugs is a good way to find fish. At night I prefer to fish with bait, WA Pilchards are my favourite, I also like using Bonito and Mullet Fillet on a 3-gang hook rig with a mono trace to increase the chance of a getting the bite.
Customers fishing in the winter westerlies have reported a few Flathead in the shallow water on the top of sandbanks throughout the Broadwater and Jumpinpin at high tide.  Try the deeper edges of the sandbanks as the tide starts to fall along with creek and river mouths, Flathead will lay in wait to ambush bait fish as they exit the creeks.  Deep gutters are also a good spot at low tide to look as Flathead are ambush predators as the bait swims off the sandbank on the falling tide they will sit in the gutter waiting to pounce. Casting Zman soft plastics, working TT Switch Blades, Zerek Flat Shads, Zerek Fish Traps and Storm soft vibes are all good methods to target Flathead. Drifting dead baits like White Pilchards, WA Pilchards, Prawns and Yabbies is a very affective way to target Flathead.
Brad from Brad Smith Fishing Charters reports we have been mixing it up a bit this week some shallow water techniques. It is not uncommon through winter for fish to move up into shallow water during the day as the sun warms up the water temperature quicker than in deep water. We have been trolling and casting small minnows like pontoon 21 and slam lures as well as a bit of surface popping with mmd splash prawns for Whiting, Bream and Flathead. With all trips I always take the time to do a bit of deep water jigging in a few of the many deep holes in the Tweed River especially around the tide changes. Flathead, Bream, Whiting and Trevally have been the main takers of our vibe lures as well as the odd Bass. Australian bass move well down the river through winter to spawn so I must mention here that if you accidentally catch one while targeting other species please handle them properly and quickly release them. It is important to note that in NSW that there is a zero bag limit on bass in rivers and estuaries from the 1st of May to the 31st of August. winter westerlies
Clint reports he has been sticking to the Broadwater where light winds in the mornings have made for pleasant conditions. Weekdays are great with less jet skis and big fast boats on the water. The fish have been off the bite with very slow, tentative bites but the Squid and Crabs have made up for it. The Arrow Squid seem to have bite periods when they are very aggressive on blades. I was fishing with regular guest Mick on Wednesday and we had some good success teasing them up to the surface with Ecogear ZX40 blades in 440 colour, then dropping a Daiwa nude squid jig 3.0 in weed shrimp colour. We coated the squid jig in Sax scent UV prawn too. They were grabbing it instantly, so much fun to watch. Fresh arrow squid are delicious to eat. We've been getting over 20 blue swimmer crabs per session in our pots baited with mahi mahi and mullet frames. Keeping just enough legal-size males for a feed for everyone on the boat. The Southern Broadwater in 2-4 metre depth on run out tides has been working best for the Sand Crabs.   winter westerlies
Gavin from Sea Probe Fishing Charters reports 50 fathoms has been firing this week since the water is starting to cool down with nice size Kingys , Amberjack, Samson fish and snapper, live baits like yakkas and slimeys are doing the best with a BKK circle glow hook and a good size sinker to get down to the bottom. 36 fathoms few Dolphin Fish around but the cool water has slowed them up a touch, 24s and 18s Snapper and Cobia around. winter westerlies
Hope you all have a good week and stay healthy and safe. If you have any great catches or photos you would like to share, please email us and let us know how you went.
Stay up to date with all fishing regulations in Queensland https://www.daf.qld.gov.au/business-priorities/fisheries
Fisho Tackle and Coomera Houseboat Holidays now have Hire Tinnies follow the link to view http://www.coomerahouseboats.com.au/our-fleet-type/hire-tinnies/
Seabreeze is a great website to access a local forecast http://www.seabreeze.com.au/graphs/
If you have any great catches to report or fishing photos please email them to  brett@fishotackle.com.au    Good luck with the Fishing.  Brett