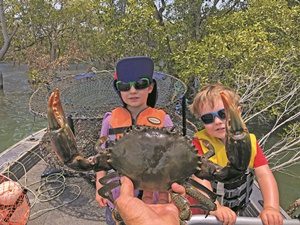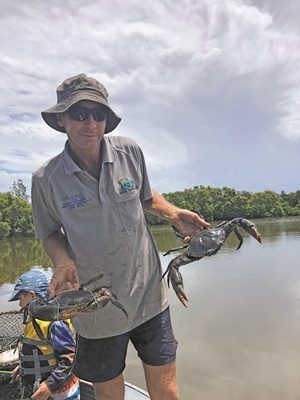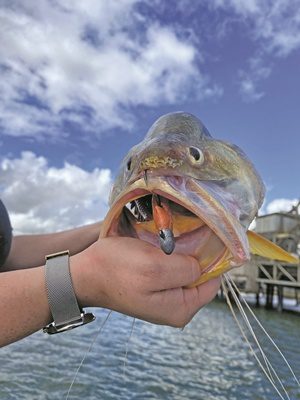 FEBRUARY signals the end of the holiday period, and it's an excellent month for chasing crustaceans around southeast Queensland. Mud crabs are very active, and the banana prawn season will be in full swing over the coming months. Prawns started to get more active in January and will only improve.
Heat Brisbane
There are very few secrets when it comes to finding prawns and social media is a killer, letting everyone know where they are and when they're moving. Do yourself a favour, when you find prawns keep it to yourself. Bragging about throwing a net over prawns on Facebook will ensure there are 50 boats in the system the next morning.
Mud crabs have been about in good numbers. I put a few pots in for a couple of nights before Christmas and scored a good feed in time for Christmas Day. Water temperature is at its peak, which can turn the bait in crab pots stinky overnight. I'm a big believer in fresh bait , so I always ensure I check my pots at least daily.Heat Brisbane
This helps free undersize and female crabs, and also makes room for big bucks. Most of the pots had between 10-15 crabs in them from an overnight soak, with a lot of small crabs and males that were 1-2mm undersize. It's best to get these crabs out of the pot as soon as possible, as they do fight each other.
I wouldn't leave my pots in for more than a night without checking them because of a few undesirable humans who choose to help themselves to your hard-earned crabs and occasionally the whole pot. Sharks are a good option this month. A large number of sharks will be active throughout all reaches of the rivers and creeks around Brisbane. I enjoy chasing sharks and have become very fond of eating them over the past couple of years.Heat Brisbane
When they are bled properly and looked after, they are delicious. They're also a heap of fun to catch, with the strike often being incredibly visual. I do all of my shark fishing with bait under floats. I find this to be the most productive way to catch them and it eliminates most of the vermin by-catch that feed off the bottom, such as stingrays, catfish and pike eels. Several good bait species to try are stingray flaps, freshwater eel and a wide variety of live fish.
Small live catfish work well, along with mullet and whiting. Remember, to use as bait all live varieties need to be legal size. The Brisbane River has been fishing well for threadfin salmon and jewfish. Threadfin have been starting to school up in decent numbers and it should only improve this month. Most anglers drive along the wharves towards the mouth and keeping a close eye on their sounder to find them.Heat Brisbane
Once located, it's just a matter of getting your lure in their face. They don't always eat, and it can be a good idea to mix up your lure selection to entice a bite. These fish see a lot of vibes in front of their face and while they're an excellent lure choice, I like to mix it up a bit and put a few different plastics in front of them as well. Gulp Crazy Legs Jerk Shads are my favourite lure to use in the river for all species.
They catch everything and are excellent at getting a bite from sluggish fish. Jewies have been hanging in the same areas as threadfin. One of the schools along the wharves has been turning up regularly and had around 30 fish in it that were all around 1m. They can be fairly hit and miss though and disappear as quickly as they turn up.Heat Brisbane
Mangrove jack will also be an excellent target this month, with all of the rivers and creeks around Brisbane holding these brawlers. The rain around Christmas put a bit of colour in most systems, which makes it a lot easier to get a bite from a jack. Hopefully afternoon storms and more rain are on the way, it should make for a very productive month.
Hope to see you on the water.Heat Brisbane