Hi everyone, hope you have all had a great week. It's been nice to finally see some long-awaited sunshine and light to moderate wind on the Tweed and Gold Coast. We have had extremely average conditions to contend with for the past few weeks, limiting fishing and crabbing to the most sheltered waterways. The good news as we head towards the weekend is the forecast for Saturday is looking great with light wind and a decrease in swell – a great opportunity to get out on the water. Let's check out what's been happening this week.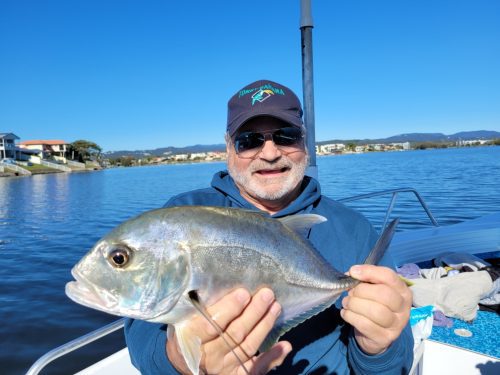 It was great to see some sunshine and lighter wind last Sunday, giving everyone a chance to finally get out on the water and go fishing without all the wind and rain that has been hanging around for weeks. Fishos did wel,l managing to catch a few good eating-sized flathead throughout the Jumpinpin Channel and Broadwater area. Jess Clarke had some fun getting among a few nice-sized flatties at Jumpinpin last Sunday. The water quality – even on the run-in tide – was still very poor as are most areas not adjacent to the open ocean entrances. A lot of fresh is moving through the system at the moment, with plenty of distinct current lines of dirty freshwater meeting the salt. Throwing soft plastics, weedless prawns and soft vibes around creek entrances, the edges of sandbanks and drop-offs in the channels did the trick, producing some decent-sized flathead on both a run-in and run-out tide. When the water is very dirty, try using some brighter coloured plastics – even white is a favourite among anglers because it seems to attract a bite when conditions are less than ideal. When working lures for flathead, the ideal rod is around 7' long and 2-5kg setup rigged with 6-8lb braid and a 12lb fluorocarbon leader will work a treat on most of the fish you will encounter. If you are particularly targeting the deeper water around the Jumpinpin Bar mouth or the Gold Coast Seaway, then stepping up to a 15-20lb outfit would be recommended.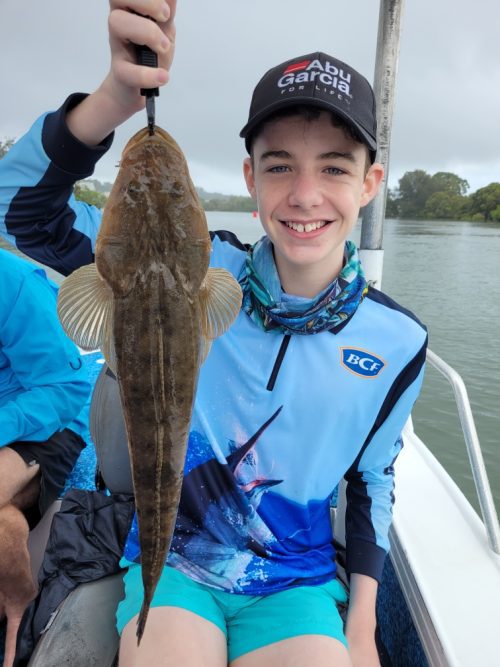 After the big swells of the past weeks, it's good to see that the Gold Coast Seaway is still fishing well for jewfish, for those keen to have a go at landing one of these fantastic fish. Unfortunately, sharks remain a problem for anglers – the best advice is to try to land your fish as soon as possible because a prolonged fight will attract hungry sharks in for a free feed of your hard-earned catch. I do recommend using a heavier outfit of around 30-40lb to help you land your catch quickly. On a run-out tide there is still quite a bit of fresh working its way out of the local rivers. This provides a good situation because baitfish will usually move with this water also – making the current lines between salt and fresh a great spot to target a hungry predator. Anglers have also been lucky enough to be still scoring good solid mangrove jack as by-catch, which I'm sure are a very welcome addition. I find that drifting live bait is a very productive way to target jew and jack. Live yakka, pike, mullet and herring are the pick of bait types. Due to experiencing strong currents while trying to fish, its best to time your trip around a tide change, with the bite time usually around an hour before and an hour after a tide change being the most productive.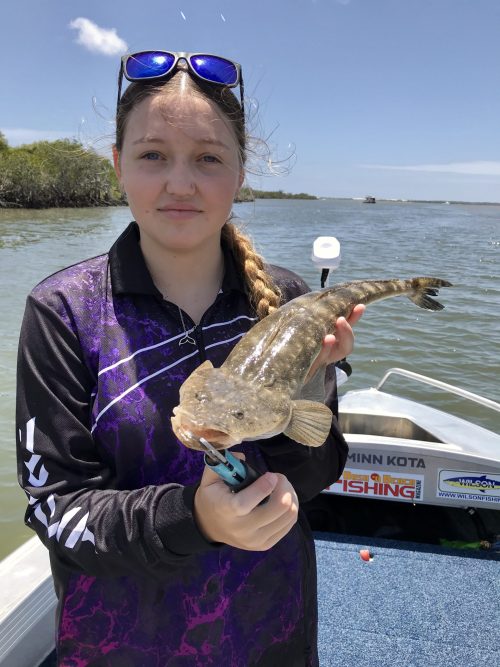 The dirty water has stirred up bull sharks this week and a few nice ones were caught throughout our local canal and river systems. If you are keen to target one either land-based or by boat, the rig to use is fairly basic – consisting of a plastic-coated nylon trace of around 1-1.5m in length of 50-100lb crimped to a suitable sized swivel on one end, then matched with either a size 6-8 circle or octopus hook, depending on whether catching and releasing or wanting to keep a feed. A basic medium to heavy action rod of 8-15kg matched with a spinning reel from 5000-6000 size spooled with 20-30lb mono or braid – depending on your preference – will still handle most sharks encountered. You will find some good land-based spots on the Logan River, the Nerang River, Southport Spit, Paradise Point, the Coomera River and Jacobs Well. If you have a boat, also try the Neverfails, Aldershots, Sovereign Islands, the Tiger Mullet Channel and the Canaipa Passage are all good spots to try your luck. Jumpinpin has also produced a few juvenile hammerhead and small black tip sharks being caught around the bar entrance and Tiger Mullet Channel. For bait, try using a small piece of freshwater eel, pike eel or mullet.
It's been good news for those keen to chase a feed of mud crabs this week, with the big tides and freshwater flush of the previous week doing its job getting the mud crabs active and moving around looking for a feed on both the Gold and Tweed coasts. Joe put in some time and effort this week and came up trumps with a few nice bucks for a tasty feed. Try setting your pots around the Coomera River, Paradise Point, Brown Island, edges of the Aldershots, Pimpama River, Jacobs Well, Cabbage Tree Point, Eden Island, the Tiger Mullet Channel, the Logan River and the Tweed River. Best bait types are fresh mullet, bonito, chicken and fish frames – all should do the trick.
If you have any great catches or photos you would like to share, email us and let us know how you went – brett@coomerahouseboats.com.au or brett@fishotackle.com.au
Stay up to date with all fishing regulations in Queensland https://www.daf.qld.gov.au/business-priorities/fisheries
Fisho Tackle and Coomera Houseboat Holidays now have Hire Tinnies follow the link to view http://www.coomerahouseboats.com.au/our-fleet-type/hire-tinnies/
Seabreeze is a great website to access a local forecast http://www.seabreeze.com.au/graphs/
Good luck with the fishing.
Brett