Hi everyone, I hope you are all having a good week. Unfortunately for offshore fishos, the southerly wind, large swell and showers are making things very difficult for anyone to get out and chase a feed of reef fish and pelagic species. Gold Coast Coomera fishing
This weekend will see no change in the weather until Sunday, when the sky clears and the swell drops – fingers crossed for some nicer weather next week. Let's check out what's been on the bite on the Gold and Tweed coasts. Gold Coast Coomera fishing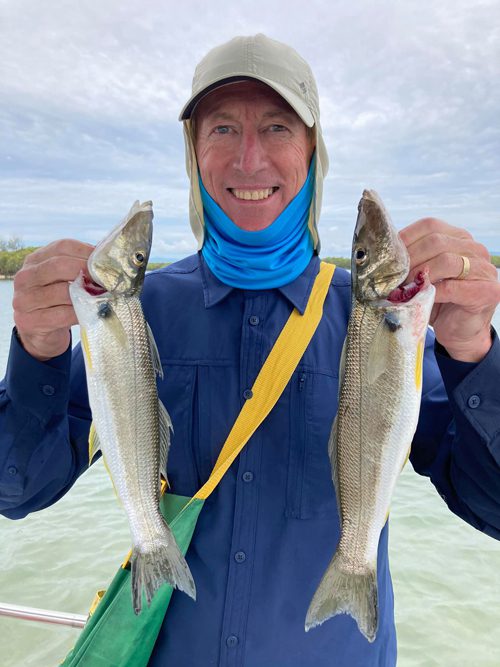 There has been no shortage of good-quality mud crabs on offer for anyone keen enough to get out on the water for a session. Local fisho Brett Van Latham did just that, taking out his friend Wayne Young to set pots for a few hours and managing to come up trumps with a great feed to share between them. The weather was fairly good at the start of the week, with more sunshine on offer and a break in the showers making conditions much nicer for spending time on the water and soaking a few pots. Mud crabs have been very widespread throughout the system on the Gold and Tweed coasts after the big flush over the past week or so. By now they will have started to slowly make their way back into the river and estuary systems – this will take a while considering the amount of freshwater still moving around. It will be worth having a look around the Tweed River, Tallebudgera Creek, Currumbin Creek, the Coomera, Pimpama and Logan rivers, Paradise Point, Brown Island, the Aldershots, the Never Fails, Jacobs Well and Cabbage Tree Point. It is still recommended to set your pots in varying depths of water for the first soak until you can find the preferred depth of water the majority of crabs and more concentrated in. The best bait are whole mullet, chicken pieces and fish frames. When choosing the right bait, the fresher the better – make sure if you are soaking your pots for a couple of days to rotate the old bait out when needed. A bait bag for your pot is a must to stop your bait from disappearing before you have a chance to attract multiple crabs into your pots. If you're new to crabbing, make sure you have all the up-to-date information on rules and regulations – https://www.daf.qld.gov.au/business-priorities/fisheries/recreational/recreational-fishing-rules/crabs-lobsters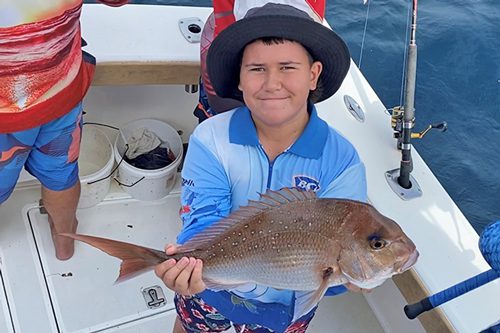 At this stage, the weather forecast looks as though it might be better for heading offshore for a fish from Sunday onwards, but I do recommend to always have a good look at the latest forecast before heading out. The wind is tipped to ease and the swell to decrease. Unfortunately, the Gold Coast Seaway entrance has become extremely shallow on the southern side, causing dangerous breaking waves even when the swell is smaller. Given the condition of the open ocean entrance, trips offshore should only be considered by boaties who have plenty of experience in bar crossings. The close reefs such as Mermaid and Palm Beach may still be a bit dirty after the freshwater flush, so chasing mackerel in close may not be the best option. I would recommend you start looking at your sounder around the 18 to 24-fathom reef areas for signs of baitfish and predators to have a drop on. These areas were holding good numbers of spanish mackerel prior to the rain and will be great places to start having look for them. For spanish, try trolling a mixture of shallow and deep-diving lures or slow trolling live bait. If you spot a school of spanish on the bottom or midwater, try dropping down a weighted bait rigged on wire or fast retrieving a larger metal slug. These areas should also produce a mixed bag of fish including snapper, moses, tuskfish, jewfish, teraglin, tailor and maori cod. If anchoring, I always recommend the use of berley because it will make a big difference when it comes to holding the fish you've sounded up around your boat and also drawing in fish down current. Gold Coast Coomera fishing
Brad from Brad Smith Fishing Charters reports… on behalf of Clint and myself, we put out our best wishes to the communities who live on the Tweed River that have and are still suffering from the horrible flood event. Today was my first day back on the water after volunteering my time and boat to help people along the river, as they desperately needed support in this very tough and saddening period. The client I had recently knew it was going to be tough going but was well rewarded by the challenging conditions and managed to catch some flathead, bream, whiting, moses perch, estuary cod and was unlucky that a nice jewie spat the lure slightly outside of net range. It was great today to be back guiding and I look forward to fishing next week and trying to help as many flood-affected people as I can.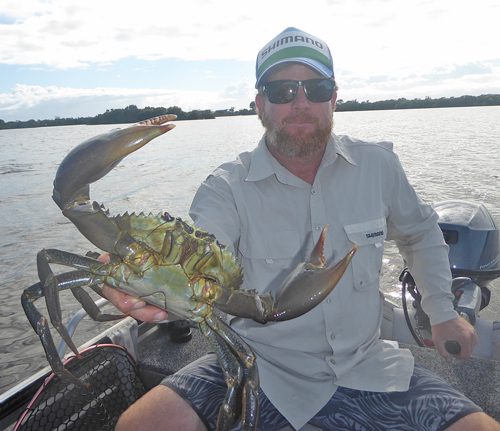 Clint from Brad Smith Fishing Charters reports that on the Broadwater this week, fish were hard to get on lures in the dirty water. Ecogear ZX40s in gold colours worked OK on whiting, but yabbies and Ecogear Marukyu Isome worms were most effective. There are some sand whiting and winter whiting in the southern Broadwater, with bigger tides coming this week, fishing and crabbing action should improve further. Plenty of grunter, bream and tarwhine are around the mid-section of the Nerang River, which are all fun on light tackle. Yabbies, bloodworms and prawns will all work well.
Gavin from Sea Probe Fishing Charters reports the weather has been very ordinary again but get out there and try the fish aggregating devices on the 36 and 50-fathom lines for dolphinfish and bottom fishing for snapper, pearl perch, amberjack and yellowtail kingfish. In close, spanish mackerel are on the 18 and 24-fathom lines and teraglin will also be this week, and big jew leading up to the full moon.
If you have any great catches or photos you would like to share, email us and let us know how you went – brett@coomerahouseboats.com.au or brett@fishotackle.com.au
Stay up to date with all fishing regulations in Queensland https://www.daf.qld.gov.au/business-priorities/fisheries
Fisho Tackle and Coomera Houseboat Holidays now have Hire Tinnies follow the link to view http://www.coomerahouseboats.com.au/our-fleet-type/hire-tinnies/
Seabreeze is a great website to access a local forecast http://www.seabreeze.com.au/graphs/
Good luck with the fishing.
Brett