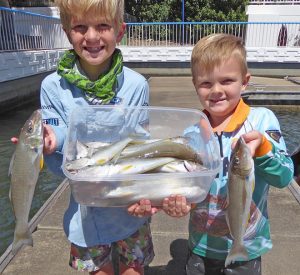 Hi everyone, hope you have all had a good week, we have seen a bit of a mixed bag of weather for the second week of school holidays on the Gold Coast with the wind direction swinging around each day and a few showers thrown in. Looking towards the weekend we should see the wind ease a bit giving us some nicer conditions to get outdoors and find some fishing action. Good luck to everyone fishing in the Flathead Classic held this week, hope you can find plenty of flatties. Let's have a look at some options for this Queen's Birthday long weekend. Gold Coast Coomera fishing
Flathead have been around in fairly good numbers this week with fishos reporting they are finding some nice fish during school holidays. Flathead are a good option for kids to chase, they will tend to lay in wait ready to ambush bait that swims past. Kids will usually score a fish as they tend to wind their rod in and out a lot and that's great to get a flathead to bite. If you're having a go land based, I recommend to move around a bit if you're fishing off the beach or a rock wall so you are targeting a different patch of water as flathead will tend to lay in wait head into the tide. Drift fishing in the boat is a very effective method to keep the bait or lure on the move until you can find where the fish are sitting. My favourite methods for catching flathead are throwing Z-Man 4" StreakZ curl tails and 3" MinnowZ rigged on a 3/8 or 1/4 ounce 3/0 jig heads and also working soft or metal vibes when fishing in deeper water. For the bait fishos try herring, silver biddies, prawns, white pilchard, blue bait and yabbies. Gold Coast Coomera fishing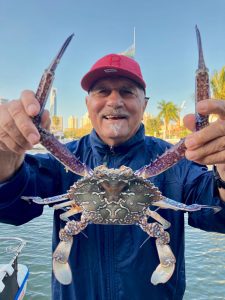 Ben White reported some nice big snapper and solid jewfish coming from the close reefs off the Gold Coast during a weather window last weekend which is good news for local fishos keen to hit the reef for a quality feed. Jewfish will tend to school up so if you find one you have a good chance of landing multiple fish if they are on the bite. Float lining is my preferred method of presenting bait and will often produce a bite on the drop which an exciting way to fish. When targeting snapper or jewfish I recommend using live yakkas, large Western Australian pilchard or squid, mullet fillet and bonito fillet should temp a bite. Large soft plastics are also worth a try with plenty of larger snapper and jewfish falling victim, so a well worked plastic it found irresistible. A good mixed bag of fish has been coming off the 18 and 24-fathoms reefs including teraglin, snapper, jewfish, maori cod, tuskfish, moses perch and the odd cobia. The 36 and 50-fathoms reef current dependent have also produced a mixed bag of pearl perch, snapper, tuskfish, cobia, amberjack, samson and yellowtail kingfish.
Quality whiting are being caught in good numbers throughout the Gold Coast and Jumpinpin as we transition into warmer months. October should see some good schools of fish moving around for anglers to target a tasty feed. Land based fishos can get into to the action with plenty of options to try on Currumbin Creek, Tallebudgera Creek, Gold Coast Broadwater esplanades, Nerang River, Jacobs Well and Logan River all being great spots to catch a whiting from the shore. Live worms and yabbies are the best bait – run-in or run-out tide should not matter too much if the fish are around, they will just be feeding in different depths of water. The most important thing is tidal flow. If the run is too slow the fish will not be biting well, just the right flow and they will usually go into feeding mode. The old saying no run no fun definitely applies to chasing whiting. Fishing light is the key, try using mono as the main line 6-9lb is heaps, 6-8lb trace and make your trace as long as possible for best results. It has been great to see all the kids get out and score some fantastic catches of whiting over holidays.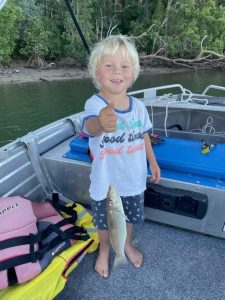 Clint from Brad Smith Fishing Charters reports wonky weather again this week with wind from all directions, fish don't like sudden change too much, so it has been challenging. We always keep trying and moving until we find active fish in their bite window. The snot weed has mostly cleared which is great to see, hopefully it stays away for the Flathead Classic. Flathead have been the main species caught on our boats this week, with sand whiting, winter whiting, flounder, tailor, squid, blue swimmer crabs, mackerel and squire making up the rest of the daily catch. There has been a lot of small male flathead, with the bigger girls harder to find. They'll come on as the water warms again. The Ecogear Marukyu Isome biodegradable worms have been catching heaps of whiting, flathead and squire on my charters this week.
If you have any great catches or photos you would like to share, please email us and let us know how you went. brett@coomerahouseboats.com.au or brett@fishotackle.com.au
Stay up to date with all fishing regulations in Queensland https://www.daf.qld.gov.au/business-priorities/fisheries
Fisho Tackle and Coomera Houseboat Holidays now have Hire Tinnies follow the link to view http://www.coomerahouseboats.com.au/our-fleet-type/hire-tinnies/
Seabreeze is a great website to access a local forecast http://www.seabreeze.com.au/graphs/
Good luck with the Fishing.
Brett