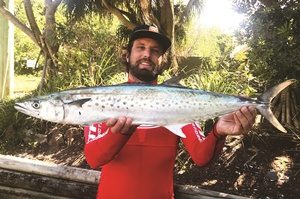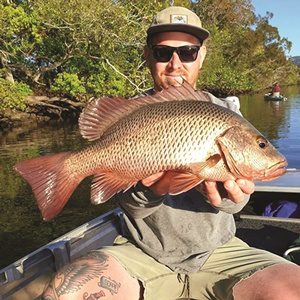 THIS is the time of year when I start to get excited, not for the weather but for the fishing it brings to the coast. The two biggest targets for anglers now are tuna and mackerel, as they start to filter across our bays.
They bring with them stories of being bitten off and the line-burning runs we all dream of. One of the easier ways to target these bigger fish is to troll dead or live bait along the inshore reefs, such as Halls Reef toward Double Island Point. La Nina shines
You can also head south and once over the bar work from Sunshine Reef towards Castaways and Coolum. Dead bait to use includes yellowtail pike, whole bonito, garfish, slimy mackerel and yakka.
For live bait to swim, a stinger rig is best when mackerel are present. If using a dead bait, chin-weighted troll rigs are best, especially when dressed up with a squid skirt or tinsel rig over the lead hook.La Nina shines
Cast net leads add extra weight if you want to troll with any speed, though remember to break the backbone of dead bait to help them swim. For those not using dead or live bait, grab an assortment of Halco Laser Pro, Rapala X-Rap and Nomad Design DTX Minnow lures, as these will all catch spotted and spanish mackerel, tuna and wahoo.
One thing you can try if you're wanting to move quicker is a Black Magic Jet Head or pusher style lure. These lures stay mostly on the surface and leave long bubble trails, which is something mahi mahi and wahoo love.La Nina shines
When tuna and mackerel are hitting the surface, be sure to have a good supply of Halco Twisty, Gillies Baitfish in Blue Mackerel colour and Arma Metalik metal lures in your box.
Do not go out to sea with anything less than half a dozen of these lures because bite-offs are common. Remember, tuna feed into the wind, so always go upwind and let the fish come to you – they're less likely to spook this way.La Nina shines
In the Noosa River, trevally are hitting small surface lures early in the morning during a high tide. Taking a range of 70-90mm walkers and poppers is the best option, with the Bassday Sugapen 95 an excellent lure that even whiting will hit.
Speaking of whiting, they are a great surface target, particularly if fishing 2kg line on super light 1-3kg spin setups. One of my favourite spin rods has to be the Abu Garcia Rayrex 1-3kg. This rod is fully rigged with Fuji Fazlite guides and has a great tip action that anglers will love.
Put this with a new Shimano Vanford 1000 reel and you have a winning ultra-light combo. Other fish in the river currently are mangrove jack and flathead.La Nina shines
For jack anglers, after dark is the better time to chase these prized sportfish. Live baiting is one technique that requires only a cast net, but using lures is by far the most satisfying method. These fish are apex predators and when they hit, it is super aggressive.
Lures to use are weedless rigged soft plastics, soft vibes, hard-bodies and surface poppers. Your lure type will depend on the time of day and the current, but large soft plastics such as Keitech Swing Impact Fat work well at night, with poppers and weedless rigged plastics more useful during the day.
Depending on rainfall, try the snags in the Noosa River between the lakes. The previously mentioned lures also work exceptionally well on flathead, and anywhere from the ski run down to the river mouth are great places to find one.
For your best chance, try drifting and casting the banks and deep-water holes around the river mouth. While you're out, be sure to drop crab pots because rain gets the muddies on the move and they get big.La Nina shines
The freshwater will certainly be warming up, with water temperature around 25C. This only increases the chance of finding schooled up bass in search of cooler water, should it hit 26-28C. The low light bite will be on fire during hot mornings when wind is not a major factor.
I always say one of the best surface lures is the Lucky Craft Sammy 65, as it has the kind of action all fish in the dam love. If you want to try other lures then small poppers work very well –think outside the box when working them, as less is often much more.
When fishing Lake MacDonald, ensure any weed on trailers is removed at the ramp. The weed is highly invasive and has choked many areas. The last thing we need is to see it spread. If you are trolling for deep water bass and yellowbelly, look at OSP Dunk and Rapala Shallow Rap Jack Deep lures – two super small lures that get down deep!La Nina shines
For the latest information, jump onto fishingnoosa.com.au for up-to-date bar and fishing reports, and don't forget to drop into Davo's Tackle World, Davo's Boating and Outdoors in Noosa and Davo's Northshore Bait & Tackle in Marcoola for all the right equipment, bait and advice to get you catching.La Nina shines
Be sure to follow us on Facebook, and remember, tight lines and bent spines!
For more summer tips in Noosa, click here!