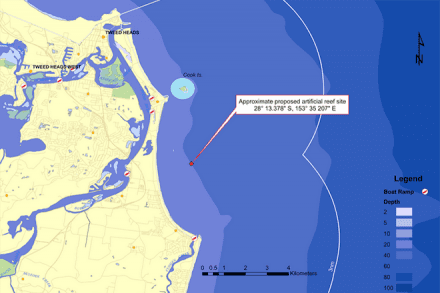 Recreational fishers and local tourism on the far north coast of NSW will be the big winners with an offshore artificial reef to be deployed off the Tweed Heads coast. Minister for Primary Industries Niall Blair said the new offshore artificial reef is great news for Tweed Heads and will be a major drawcard for local fishers and visitors to this spectacular part of the state.
"The NSW government will invest $1.1 million towards the design and construction of this offshore artificial reef," Mr Blair said. "The reef will use an innovative state-of-the-art design which deflects currents to create eddies and upwellings which provide intricate habitats for a variety of fish species and marine life. More than 50 different species of fish have been identified on our current offshore artificial reefs including yellowtail, kingfish, snapper and mulloway, which shows just how effective they are in boosting fish habitats. We have been overwhelmed by the popularity of these reefs – everyone wants one and I can't wait to see more dotted along the NSW coastline."
Currently, artificial reefs are located at Sydney, Shoalhaven and Port Macquarie, while other reefs are due to be installed at Port Hacking in September and Merimbula next year. The NSW government will announce three more in the coming months.
The offshore artificial reef program is a great example of how the NSW government is reinvesting fees from recreational fishing licences back into the sector. The Department of Primary Industries will undertake extensive consultation with relevant stakeholders to ensure the reefs will have minimal impact on existing uses.
Member for Tweed Geoff Provest said the reef will be a great addition to local waters as fishing is one of the far north coast's most popular recreational activities. The reef's location will be discussed and agreed upon by local anglers but will be in close proximity to boat ramps, where there is currently no natural reef.
Specific details, such as the materials to be used and the size and configuration of the artificial reef will be known following public consultation and a tender process. Construction is expected to be completed by the end of 2019.
CLICK HERE for the latest FREE digital edition of BNB Fishing!!