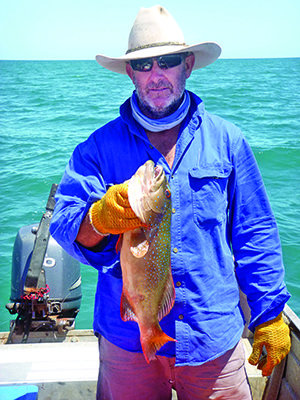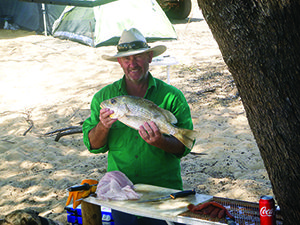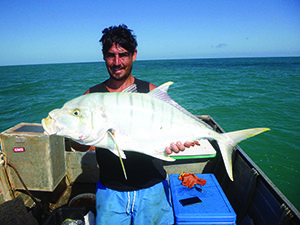 HI, it's Craig Tomkinson here. It had been two years since I last towed my boat to the Pennefather River near Weipa and I was so looking forward to going.
With all the prep work done, I finished work on Friday, packed my gear and was ready to go Saturday. I was waiting for my mate Dave to show up on Sunday arvo but I called him and he said he couldn't make it until Tuesday. I was annoyed because we had planned this for weeks, so I said sorry Dave I am going without you. By 10.30am I had fired up the new GoPro Hero7 Black our family bought to record our trips away, gave my wife a kiss and said see you in a few weeks. With that, I was driving out the gate and heading north.
It took a few days to get to Weipa. The slowest part of the trip was between Musgrave and Coen. I had not seen the Peninsula Development Rd that rough in years. For a 30-40km stretch I had to let all the tyres on the 80 Series LandCruiser and boat trailer down to 25psi and was in first and second gear high range, just poking along so I did not break anything. It took me over two hours to do that section of road. In one other spot I came in a bit too fast because the road had improved so much. I went into a creek crossing and there was a big rock right in the middle of the road about 70cm high. The four-wheel-drive went over it no worries but the boat trailer did a big jump in the air as it went over the rock and it tore off the brake line, so I had no brakes on the boat trailer. Other than that, the road was fantastic.
Later that day I pulled in at Weipa looking for parts but none were available, so I called my mate Darren who was coming up in a few days and he said he'd bring the bits up for me. I got fuel and tucker and headed out to Pennefather River. At the end of the red road I let my tyres down to 10psi because all my friends who had been up and back said it was the softest they had seen the sand on the beach and around Penny. I headed out the track to the beach and did not look like getting stuck anywhere. The old 80 and boat trailer just rolled over the sand like it was not there. I made my way up the 7km of beach and past the locals' huts into the campground at the river mouth.
Man things had changed since I was last there. Cyclones Penny and Trevor had given the place a flogging.  I drove along and found Bob Gentleman and Rod Harris camped where they always do. It was great to see them again. We had a cuppa and then the two old buggers helped me set up my camp in the same spot I have camped in for years. That only took a couple of hours with lots of banter and a few more cuppas.
I set the boat up, hooked up the battery and fuel filter and fitted the sounder and GPS into its box, as I take them out for the road trip up and back. The next day Rod and I went for a fish and caught a few for a feed, so I had fresh fish for lunch. It was great to be back. Over the next few days I took one of the boys fishing with me each day, catching blackspot tuskfish, fingermark, grass sweetlip, stripies and heaps of other fish. We'd just keep a little feed and let the others go. It's only 10m of water at the deepest, so they release well.  Mick Hallet and Troy turned up and camped on the sand near me.  The boys got bogged in Mick's 79 Series LandCruiser towing his 5.2m Quintrex Renegade loaded with gear. The boat trailer's small skinny tires were like a plough, but they finally made it in after a few hours of digging and letting more air out of their tyres. They waited two days for a good shady camp site to free up.
When I drove in I could have camped anywhere as only Bob and Rod were present, but over a few days all the campsites filled up. Eventually the boys moved in and set up their camp 80m from mine. Meanwhile, my mate Matt McCullum had turned up from Cairns. He had driven from the Sunshine Coast to Cairns and then got a lift from Cairns to Weipa with his mate who had bought a charter boat in Weipa. He spent two days fishing around Weipa and then came and camped with me. We fished up Janie Creek way for a few days and caught nice fish including tuskfish, cobia and fingermark, but the fishing was slow compared to other years. Matty fished up the Pennefather River with Bob and they caught mangrove jack and barra. He also flicked lures and soft plastics around the river mouth for trevally and queenfish. He was having a fat time in paradise.
Meanwhile, my mates Darren Thorn and Mark Waters turned up they camped with Mick and Troy. After a week, Matty got a lift back to Weipa with a lovely couple Nick and Jen who were travelling around Australia for two years and heard of Penny after being camped at Bathurst Head for a few days. Rod was having troubles with his 80 Series as it had done the rubber bush on the harmonic balancer. We took it back to the red road and an RACQ tilt tray picked it up and ran it to town. About $850 later it was fixed, so I ran him to town and he picked it up. He was happy it was fixed but was unhappy with the price.
Sitting around the campfire one night with the boys, a plan was hatched because the fishing was slow in close. I said we could take the two 5m boats and do a run up the coast towards the Cottrell River and camp in our swags on the beach for a few nights. We all said great but Mick, Troy and Darren said they couldn't because they were having troubles with their freezers. They did not have enough solar and batteries to run them all properly, so had to run their 2kVA Honda generator and Darren's 80-litre Engel was not working on 12V.
The plan was instead to head up 50km and fish Kerr Reef. On the west coast of Cape York, the wind starts southeasterly and then turns east, then northeasterly. Around midday it drops out and then within 20 minutes it turns 25 knots from the southwest. So if you go north, you have to be home by 1-2pm or you get flogged. Otherwise, you have to wait until dark when it drops off.
Darren and I fished out of my 5m tinnie and Mark, Mick and Troy fished out of Mick's tinnie with a 115hp four-stroke Yamaha on the back and Nick and Jen used their 4.2m tinnie powered by a 30hp motor. On the first day Nick and Jen got away in the dark and we followed them.The boys came up later as they were lots faster than us. We all got there within a few minutes of each other, just after daylight.
Kerr is a big lump of reef, so it took a while to suss it out. I had been there five years ago, so had marks from where I caught fish and we started there. The fishing was slow, with just the od small fish caught at first. We fished right around the reef, but around 11am the tide changed and started running out, so we shifted to the northern end of the reef, which was copping the flow. I anchored in 12m of water with the reef rising just behind us, we put out some berley and things fired up, with good trout, blackspot tuskfish and grass sweetlip coming over the side. We brain spiked and bled them before putting them on ice with a bit of water in it to cover the fish. It was great fishing, the best we had enjoyed all trip.
By midday we pulled the pick, went and saw the others and we all headed back. We got back within a few kilometres of camp and began blowing 25 knots from the southwest. Thank goodness we left when we did.
It took a while to clean all our fish but it was a great day. Nick and Jen had come to Penny to stay a few days but ended up hanging around for nearly two weeks.Penny is that type of place. They said they were going in a couple of days and asked if there was any chance we could all head back to Kerr Reef. We were all keen, so the next day as the weather looked good we headed north again. The fishing was much better right from the first drop but then died for Darren and I by midday. The other two boats had caught great fish and headed back to camp. Darren and I stayed until dark and lucky we did because we got great fish in the arvo session. We got back to camp around 8pm.
The next day we cleaned our fish and then the day after Nick and Jen headed off. A few days later, Darren, Mark, Mick and Troy were leaving, so after 20 days at Penny I packed up too and headed home with the boys. My son has edited my GoPro footage from the trip and you can view Part One on YouTube below. 'Til next month, be safe on the water.