Well, what a week it's been. More rainfall and the conditions are certainly only going to get better from a fishing point of view. It's been a few years since we've seen steady rain, so hoping this keeps up and we can expect to see the Noosa River get a much-needed flush finally. Sunshine Coast Noosa
Offshore
Offshore, the local reef systems will start to fire up as reef fish love heavy rainfall. Combine a serious rain event with a cyclone swell and we can expect to see lots of new gutters for the beach anglers, deeper channels in the river and freshly exposed reefs offshore. Sunshine Coast Noosa
The offshore scene has reported mackerel and even the occasional longtail tuna as well as the usual reef species. For some anglers they made the trip out wide in bigger boats and despite the conditions some were rewarded with big fish from medium sized kingfish, extra large amberjack to red emperor around Double Island. If after a big amberjack, come in and check out our speed jigs, Shimano Ocea jigging braid and various jig rods from Oceans Legacy. There is no better way to feel the power of one of these fish when they hit! Sunshine Coast Noosa
For those in close, Sunshine Reef has been holding a few mackerel and tuna. These fish aren't really chopping up the surface, so trolling is the order of the day, with whole garfish and pilchard bait on troll rigs. If you need to make up rigs, we have all the wire and skirts you need, however if you want a great out of the packet rig the TT troll rigs are perfect for our waters. Bottom bashing yields snapper, pearl perch, grassy sweetlip, maori cod and trout. Bigger rigs will tempt jewfish, cobia and maybe a mackerel, especially if floated out the back for those on anchor. Sunshine Coast Noosa
Beach
Surf fishing has seen a few holes opening up all along the local beaches. As always, the river mouth is a great place to have a try given the range of flats, drop-offs and holes. With tides fading back to neaps this week, you should find fishing can be extended for longer periods of time before the current start to build into next week. Super lightly weighted or unweighted bait allowed to drift in the current is a great way to cover ground. Why not try casting out and walking down with your bait. This gives it a very natural presentation. Check out our whitebait and super small octopus beak hooks which are perfect for this method.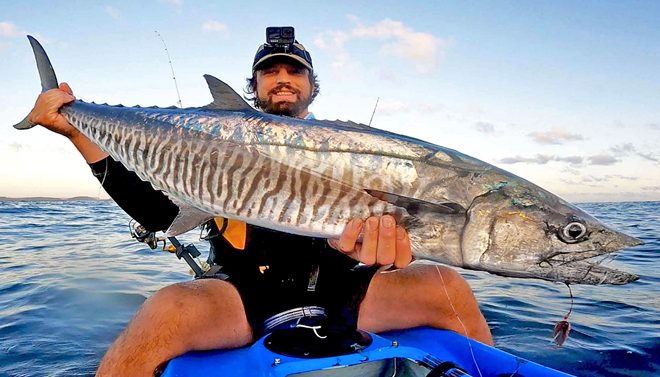 River
The river has been on and off and with the rain, the clarity has faded a little. As I mentioned last week, fish will start to depend on sensing vibration, so use lures that have this. You can use small diving lures or blades and vibes. The Ecogear ZX40 blades are a long-forgotten lure that were dynamite in their day. We still stock these and they are a killer on flathead and trevally and are super easy to work.
Around the structure of bridges and rock bars you can expect to find mangrove jack taking advantage of the dirtier water to prey on smaller baitfish. Fishing the turn in a tide is usually a productive time to find predatory fish out and feeding away from structure. Be sure to use quality fluorocarbon leader like FC Rock and Mustad hooks as jack will expose any weakness in your gear.
Flathead are still on the feed and it looks like the bigger females have moved on, leaving the better mid-50cm sized fish in the lower estuary. These fish are a common capture in Noosa and happen to eat well too. Be sure if fishing from a boat to have a landing net handy. We hold a huge range of nets suited to all budgets and they are a must when fishing lighter gear if you intend on getting big fish into your boat or up rocks.
Freshwater
Freshwater has seen the levels of the dams and lakes rise. Borumba is nearly at 100 percent after several years of sitting around 80 percent and under. Now would be a great time to go and explore and fish areas previously left high and dry and covered in grass. In a few weeks you can expect to see a lot of dead grass floating around, so go and hit these areas as soon as possible because fish will be up high feeding on worms and other insects exposed. This would make using small frogs, worms and grubs a great lure option. Take a look at our range of Finesse weedless hooks and match one up to your favourite soft plastic and go on a stealth mission!
Now for all the  latest information log onto www.fishingnoosa.com.au for up to date bar and fishing reports, don't forget to drop into Tackle World Noosa, Noosa Boating and Outdoors and Northshore Bait & Tackle in Marcoola for all the right equipment, bait and advice to get you catching. Be sure to follow us on Facebook and remember tight lines and bent spines!
Click here for more Sunshine Coast fishing reports and tips!