Well here we are again with amazing conditions and strong winds. This is the time of year unfortunately we can expect more wind as we head toward summer. Sunshine Coast Noosa
Offshore
Early mornings are the best time to head out for a fish before the wind kicks in. Though not ideal, this will see many anglers explore close reef systems to maximise angling time. Sunshine Coast Noosa
From Noosa, Sunshine Reef is great if you have gusts from the south or are southeasterly. This gives you the option to come home with the wind and not get smashed.
This ground is great for drifting and having pilchard floaters out. Anglers who fished this area picked up small cobia and reports of even tuna have showed up. Other fish from the reef are snapper, sweetlip, small tuskfish and cod.
Bigger boats headed out slightly wider to North Reef and north of there. Smaller jewfish are still around and will take just about anything. If you want to test your abilities, try slow pitch jigging. We have a pile of slow pitch rods from Oceans Legacy and a range of suitable jigs from Storm and Black Magic. You can choose to pair these up to a spin or overhead reel for a shot at a silver ghost. For more information on slow pitch styles come in and ask us how.  Sunshine Coast Noosa
Beach
On the surf fishing front, local beaches get some swell and a good stir up. This will see fish feeding better than before the swell as the water is now murkier. Daytime angling opportunities include whiting and bream around the low 30cm range. Night or late in the day is still seeing the occasional tailor and flathead taking medium-sized gang hooked pilchard on light gang hooks. If you need wire trace, we carry many pre-made options with snaps to help you rig up quickly.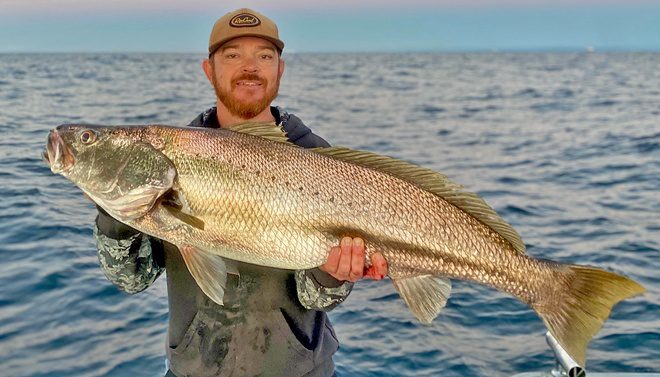 River
The Noosa River has seen a great mix of fish and last week the SCF competition saw various trevally, undersized jewfish, mangrove jack and flathead. Understanding the best times to catch a particular species really helps you tick it off. We know where to go and have what works so feel free to come in and chat. Flathead are still hovering around the smaller 50cm size, but it won't be long until we start seeing the big girls. Once we get some good rain you can expect to see things change and bigger soft plastics and diving lures such as the Samaki Redic shallow and Rapala RipStop will be great options with a big side profile. Working the flats with these is easy because they are heavier and cast very well. We have the new Shimano Raider and Jewel rods in and there's something for everyone if looking for a new rod.
Freshwater
Freshwater systems are very clear at the moment. They are warming up, so leaders may have to be dropped if fishing in the middle of the day. Bass have been hanging out in the timber and along the bank edges. There have been a few fish hitting surface lures but be sure you use small options with lots of pauses. The little Sammy 65 is a great lure with many fish to its name. You can also try unweighted Z-Man soft plastics on weedless hooks as they float. You can walk them like a small stickbait or just let them sit as bass will often sit just under and study a lure before smashing it. Don't forget, barramundi are also waking up making the next few months a great time to go away and target them.
Now for all the  latest information log onto www.fishingnoosa.com.au for up to date bar and fishing reports, don't forget to drop into Tackle World Noosa, Noosa Boating and Outdoors and Northshore Bait & Tackle in Marcoola for all the right equipment, bait and advice to get you catching. Be sure to follow us on Facebook and remember tight lines and bent spines!
Click here for more Sunshine Coast fishing reports and tips!