Hi everyone, after receiving a staggering 4000mm of rain over summer and autumn at upper Springbrook on the Gold Coast, we have never felt more excited about the cold dry weather of winter. Tips for targeting
Though the La Niña weather pattern is forecast to continue through winter and beyond, inland trough systems with associated westerly wind will produce drier weather at times.
We are now fully into our winter fishing season on the Gold Coast, with plenty of tailor, jewfish, flathead, bream and flounder being caught.
After the massive floods we had, fishing is going to be awesome for many months to come.
Throughout winter, I always carry a number of rods rigged with metal spinning lures on the boat.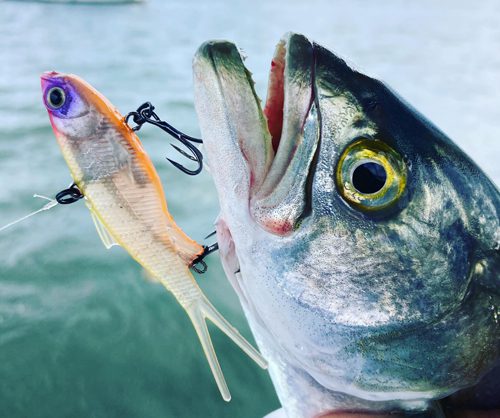 In the Gold Coast Broadwater, we are seeing many tailor and mack tuna busting up on the surface and these fish are great fun to catch.
It is a relatively simple way to fish, but here are a few tips to ensure success.
First, I prefer medium tackle for pelagics – on light tackle it is harder and takes longer to land the bigger fish.
My favourite combination for this is a Samaki Archer 10-17lb 7' rod paired with a 3000 size Shimano Nasci reel, spooled with PE1 8-strand braid and a 20-30lb fluorocarbon leader.
Keep the leader quite short – around 1m is enough – so you can keep the knot past the last rod runner, making it easier to cast a good distance.
I don't use wire traces because this definitely results in less hits.
Metal spinning lures – commonly known as slugs – and sinking stickbaits do the job well and are relatively cheap compared to other lures, making it less painful when they get bitten off by toothy fish.
I prefer the Samaki lure range as they are tough, look good and cast a mile.
It pays to have a few sizes ranging from 20-50g and a few different colours.
When surface spinning, it is very important to match the baitfish as closely as possible.
If you don't get a hit, then downsize the lures.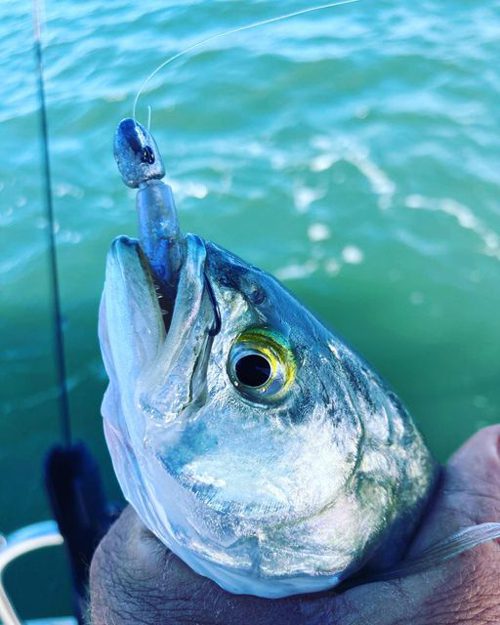 Birds are a giveaway when chasing pelagics – always be on the lookout for them diving into the water to pick up scraps left by attacking tailor and tuna.
One big mistake I see boat anglers make is tearing at full speed into the middle of the bust-ups, dispersing the fish.
Stay outside the school and slow down when in casting range, then peg your lures past the surface bust-up.
Usually the best retrieve is simply winding as fast as you can, but mix it up if you don't get strikes.
Periodically let the lure sink for a few seconds before cranking, and pausing momentarily between cranking can sometimes entice a strike.
Tailor are renowned for throwing hooks with their voracious head shakes – be careful of lures flying at you from the boat side.
Occasionally changing to single hooks on lures can result in better hook-ups.
They are a fish that save their best fight for right near the boat, so be patient with the landing net.
Tuna on the other hand will hit and run very hard then gradually tire.
On medium tackle they take about five minutes to land.
On light tackle it can take 20 minutes, which gets a bit tedious when you want to continue chasing bust-ups.
The best times to fish are definitely mornings and late afternoons, coinciding with the last two hours of a run-in tide.
The Gold Coast Seaway and Jumpinpin mouth are two areas that reliably produce great fishing on the surface.
Look for birds and follow them.
If you are land-based, the same applies – beach gutters and feeding birds are the big clues to finding marauding predators.
At the Tweed River, Brad Smith was catching plenty of flathead, tailor, bream and jewfish on lures for his customers.
To book on a charter with myself or Brad, or if you have any fishing related questions, visit goldcoastrivercharters.com, SMS 0432 990 302 or email fishing
withclint@gmail.com, or find us on Facebook – Brad Smith Fishing Charters.