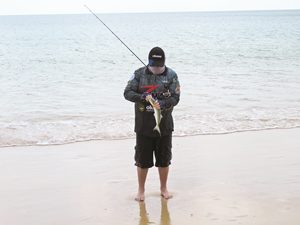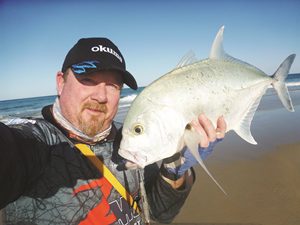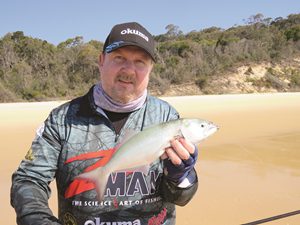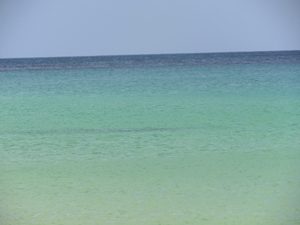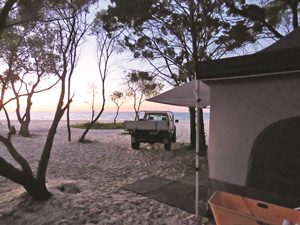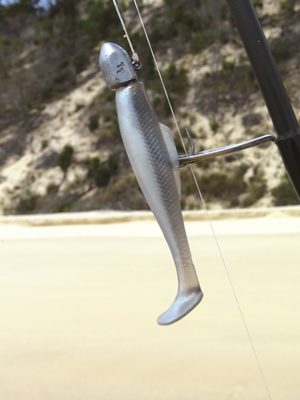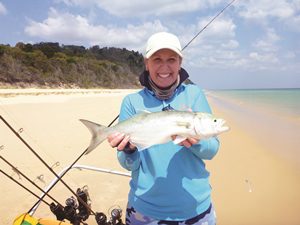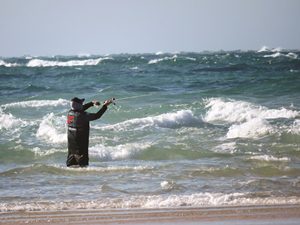 THERE have been plenty of tailor getting caught in recent weeks, both in the estuaries and along the beaches, so I thought it would be the perfect opportunity to run through a few tailor tips, and some of my favourite lures and techniques for catching this aggressive predator.
Finding tailor
The first thing we need to do is find the fish and the 3 'Bs' is often a good starting point. Birds are the first B, and when they are actively diving and feeding, it's a good sign that there are fish in the area. Bait is next, and if you find patches of bait, especially being harassed and spraying out of the water, then this is also a great place to start. Finally, boats attract boats and you will often find that if the tailor are on in an area then the boats will gather, much like anglers gather on the beaches to target tailor schools. Tailor tips
If you are fishing rivers and estuaries then prime areas to start fishing are around the mouths of the systems where they meet the ocean, deeper channels with good flow and areas where the current pushes around structure, such as rock walls and ledges. On the beaches look for deep gutters with breaks out to the ocean and some foamy water. Prime time can often be an incoming tide as the water fills the gutters or clean water enters the estuaries, bringing with it bait and plenty of depth for the fish to feed in and feel less threatened. Tailor tips
Gearing up
When it comes to rods and reels, I generally run three Okuma combos for different applications. My go-to will be a light spin combo to maximise the fun, consisting of a 7' 3-6kg spin rod and 30 size reel, spooled with 10lb braid and 20lb leader. I will use this combo as much as possible when casting lures, even when in the surf. Tailor tips
Once the surf gets too large or the fish are further out, I will step up to a 9' 4-8kg spin rod and 40-50 size reel, loaded with 20lb braid and 20-40lb leader. This combo is still relatively light and fun to fish, however if necessary due to surf size, distance or throwing larger lures or bait fishing, then I will step up to the surf combo, consisting of a 13' 10-15kg spin rod and 8000-1000 size reel. This will be loaded with 30lb braid and 40-60lb leader. Tailor tips
Bait fishing
There is no doubt that the go-to bait for chasing tailor is a whole pilchard on a set of gang hooks, and this is generally rigged with a 50-100cm trace, swivel and running ball sinker of up to a 10 ball, depending on the amount of current and distance required. If there are a lot of pickers around or the bait has remained thawed for a length of time then some anglers will salt their pilchards to firm them up. Other popular baits include whole fish such as gar, mullet or yakka, and flesh strip baits such as bonito, gar and mullet.
Lure fishing
I have three go-to lures for chasing tailor, TT Lures Hard Core metal slugs, Fish Inc. Flanker sinking stickbaits and ZMan 3" MinnowZ on TT Lures HeadlockZ HD jigheads.
The metal slug is a popular option and it is generally fished with a fast wind to represent a fleeing baitfish, or a burn (a few fast winds) and kill (pause) retrieve. I will commonly fish the 20g on the light spin combo, 30g on the 9' combo and 40g on the 13' surf combo, when the surf is larger or more distance is required. Tailor tips
The Fish Inc. Flanker sinking stickbait is available in 85mm 19g, and 115mm 28g, and is an ultra-realistic baitfish profile and it has proven deadly when the bite is tough, while also increasing the by-catch of trevally species, kingfish, queenfish and tuna. It can be fished with a fast wind, burn and kill or a rip-rip and pause. It does cost more than a TT Lures Hard Core slug though, so up your leader size from 20 to 40lb or add a wire bite guard to reduce lure losses.
Finally, the deadliest presentation that we have fished in recent years, when fishing Fraser Island, is a 10X Tough ZMan ElaZtech soft plastic, the ZMan 3" MinnowZ rigged on a 1/2oz 3/0 TT Lures HeadlockZ HD jighead. This presentation casts well on the two lighter spin combos and when the fish are finicky from pressure or being harassed by larger predators, they still can't resist that paddle-tail on a slow roll (slow to medium wind), burn and kill, or hop, hop, pause retrieve. Tailor tips
Stick to natural baitfish colours, such as pearl, pearl blue glimmer, opening night, green lantern, smelt and bad shad for example and you can't go wrong. My advice when chasing tailor, even in big surf, is don't forget ZMan 10X Tough soft plastics, as they are deadly and catch a wide variety of species.
You can up the jighead weight and soft plastic size to suit the conditions, even casting big plastics on 1oz plus jigheads on the larger surf combo. Tailor are aggressive feeders, hard fighters and a pretty good table fish when bled and prepared fresh. Tailor tips
Get out there and get stuck into a few!
See you on the water…