AT this time of the year I probably should be saying get the flathead and snapper gear out but to tell you the truth it's been a real mixed bag lately. So in saying that I've had to use pretty much every trick in the book to put my clients onto fish.
This means that no matter whether we've been chasing flathead, snapper or mackerel, we've been trying to make sure that we use the right technique and the right gear on the right parts of the tide to maximise our chances of catching fish. winter species bay
In this article I'll just do a quick overview of what you should look for with your tackle when targeting a few fish over the coming month. Let's look at flathead. You should be looking at is something around a 7' 2-4 kg medium action rod with a 2500 spin reel spooled with 4-8lb braid and a 8-12lb leader. I have a mixture of jig heads between 1/8oz right up to 3/8oz with a 3/0 hook.winter species bay
You need a few paddle tail and curl tail soft plastics, and then a few different hardbodies that are going to dive anywhere from 1m down to 2.5m. With either soft plastic or hardbody lures, you will need a little bit of variation in colour. I like use bright colours in clean clear water and dark colours in the darker water.winter species bay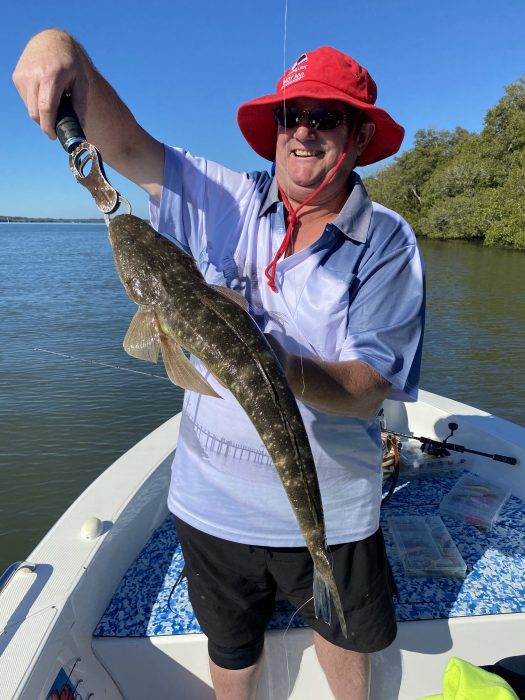 When targeting these fish in the winter months, up against the mangrove lines at high tide and down around the bottom of the mudflats on the low tide is where I'd be concentrating my efforts. One other thing that can help you catch more fish is to fish where there's a concentration of flathead. If you catch one in an area, there will likely be more.winter species bay
If you catch one in the high 60-75cm range, you can take that fish home and there is no problems with that, but just remember that will probably be the big breeding female that's keeping the smaller males in that area. Most of these males will be from legal up to about 55cm, so if you want my advice put the big girl back and then just farm some boys off her.winter species bay
Another species that we will be targeting over the coming month is snapper. I predominantly fish for these a little bit more in the summer than I do in the winter in the southern bay. I get slightly bigger fish in the summer, while in winter I get a lot of little fish. By that I mean a lot of fish in the 30-33cm range.
For more tips for winter in Moreton bay, click here!