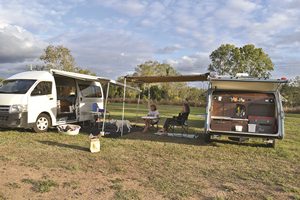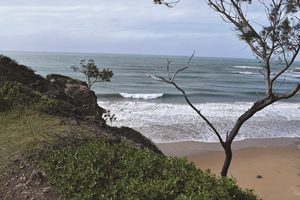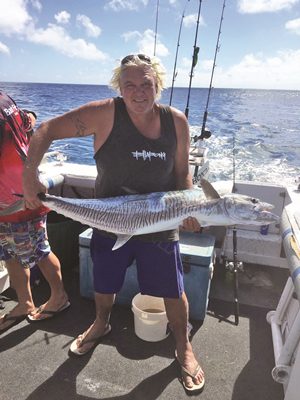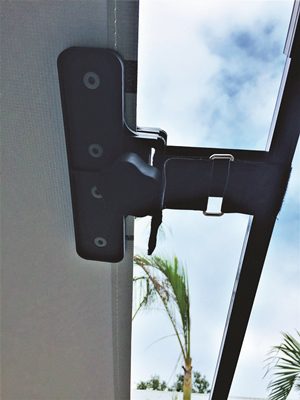 HI all, we've only just started this adventure and already it's had a great impact on my personality and thought patterns. The rigidity of time schedules and limitations have simply disappeared into nothingness. We left our home thinking of all the places we'd discover, but who would have believed the main discoveries would be internal and in such a small window of time.
Caravan Queensland Coast
It's a euphoric feeling to wake up and make the decision to either stay in the one location a bit longer or move on. I feel confident in spending the amount of money we did on the On The Move Vortex Black Edition caravan. If we can pull up at the Agnes Water Beach Holidays park, on power and with water pressure, and live for four days in total comfort, then spend the next four days overnighting and free camping with the living being just as comfortable, we made the right choice.
Recently, all our small country towns have felt the economic pressure due to COVID-19. We have actually been thanked for coming into town to restock a few items and putting money back into the pockets of locals. Over the past few weeks, we've travelled to and camped at Ban Ban Springs, camped at Bucca, spent time at Agnes Water – which coincided with four days of solid swell – stayed out at Cape Palmerston for three days, free camped at Rockhampton, the Leap Hotel in Mackay and at Proserpine, and we're now staying for two weeks at Airlie on a family member's property. Caravan Queensland Coast
Free camping is an important part of our travel and economically should extend the total length of our trip. Who knows, this journey could easily turn into years.  We thought we'd share a few of the free camping gems we have stumbled across so far on our short journey. Just north and out of town at Tairo is Petrie Park.
One could be excused for thinking someone made a mistake with the information on this location because you meander through an area of small properties to a gateway that leads to a secluded little campground right on the banks of the Mary River. This area has limited space with a few hidden bush sites, but fortunately we had the entire park to ourselves except for a local using the concrete boat ramp. Caravan Queensland Coast
There is a picnic shelter set up with an electric barbecue and a toilet facility. Though it doesn't have a shower or dump spot, this excellent little camp is extremely well maintained by the local council. After leaving Brisbane at around midday, this spot provided us with an overnight stay – the perfect way to unwind – and set us up nicely for the beginning of our journey.
With Tonia's father passing, we decided to take a detour to Ban Ban Springs to visit his birthplace, and then travel through to the cane farm he had previously owned at Bucca on the Kolan River. What we did find was the perfect overnight stay location at Riverside Caravan Park in Gayndah. Situated on the Burnett River, it is a drive-in drive-out setup with designated park areas. Caravan Queensland Coast
It does have a well-maintained toilet block, with a dump point available for caravans and RVs.  As you drive along the service road you will find a number of taps on both the left and right sides of the thoroughfare. It makes it so easy to pull over and replenish your tanks with drinking water.  Because of the excellent facilities, you could have numerous vans refilling with water at the same time and no wait times.
A big thank you to Gayndah for providing such an asset. Just remember, most of the free facilities are provided by these towns, so make sure you spend locally while taking advantage. Fuel up and buy a few supplies, and visit the butcher shop and pub. It all helps put money back into the smaller communities. Caravan Queensland Coast
Kershaw Gardens at Rockhampton is another great free park with a 48-hour stay allowed. You need to be totally off-grid and have a grey water tank.  All these sites are ideal stopover locations while you're travelling up the Queensland coast, and in our case were utilised on the way to Cape Palmerston.
We camped at Cape Creek for three days and took advantage of a powered site. We were spoiled with an absolute beach front park and four-wheel-drive access to both the beach and nearby creek. Each day saw a number of regulars find their way to the beach at high water for an opportunity to bag a few summer whiting. Caravan Queensland Coast
The small creek had a variety of fish including mangrove jack, estuary cod, trevally and juvenile queenfish.  It's a beautiful location and well worth visiting. When travelling you meet a high percentage of nomads who have been on the road for years and are always quick to pass on a little knowledge. Tonia's greatest discovery has been using her mobile phone as a travelling tool.
We used it to pre-locate free campsites on WikiCamps and Aircamps, and it also gives distances. Fuel destinations and fuel prices were valuable and the information available at our fingertips and with a simple glance.  One of the best tips I've been given was to use the range of Milenco clamp-on towing mirrors. Caravan Queensland Coast
Milenco offers an excellent product that does the job and it is available at a fantastic price. We purchased the Milenco Grande Aero 3 set and when used in conjunction with the Safety Dave monitor displaying our caravan rear camera, we have all the blind spots covered when on the road. My tip is don't rush out and spend $700 hard-earned cash on permanent slide out mirrors when these mirrors do a fantastic job for under $150.
Another fantastic product we've been put onto is a simple clamp that tensions our awning onto the slide out arms. We use only one of the Explore Caravan Awning Tensioners and wow, what a difference it makes. When you have a howling wind blowing, the extra tension it provides can make the difference between a good night's sleep or being kept awake listening to a flapping awning. Caravan Queensland Coast
Explore Caravan Awning Tensioners are available from BCF and cost about $35. There are so many helpful products on the market but these two have already made a difference to the quality of our trip. We've had some wonderful experiences with people of different backgrounds from backpackers to grey nomads, but what I have noticed is the number of ladies travelling on their own.
More power to you girls for exploring the countryside and stepping out of your comfort zones. Marion and Jane are perfect examples. Marion in her Hiace campervan and Jane in her retro teardrop caravan. The little teardrop van had such a well-planned layout and easy handling, especially when it came to the single traveller. I'm writing as we camp on a family property at Airlie Beach. Caravan Queensland Coast
The weather has been a little ordinary with the wind up and scuds of rain continually passing through, but still, how lucky are we travelling and having such an adventure?
You can follow us on Instagram outback2seaaustralia
Cheers, Chief and Tonia.