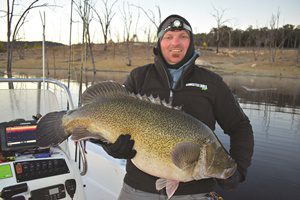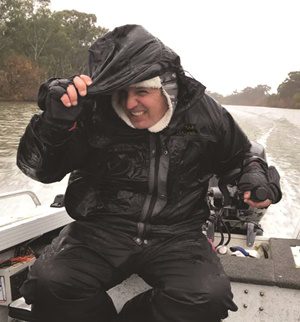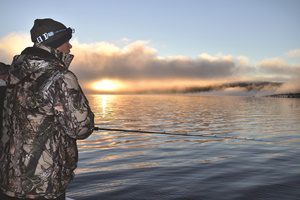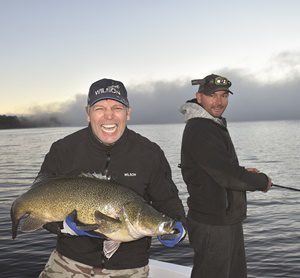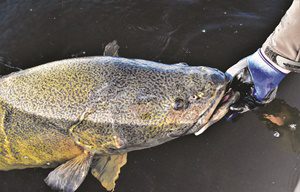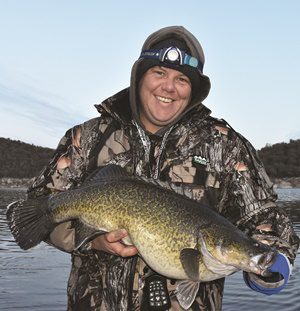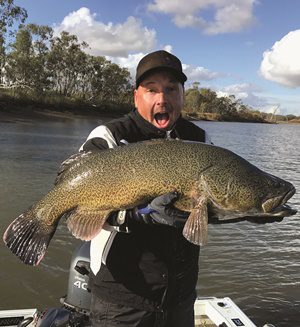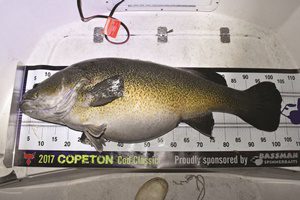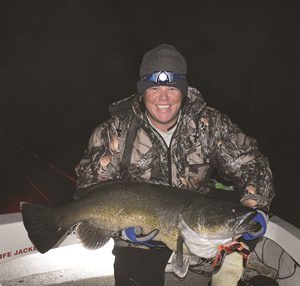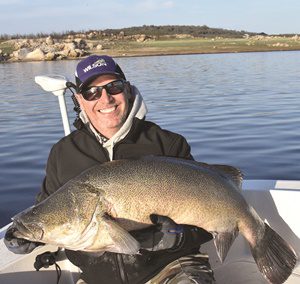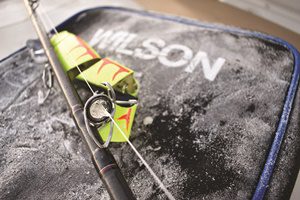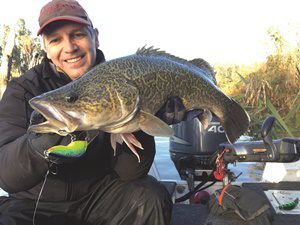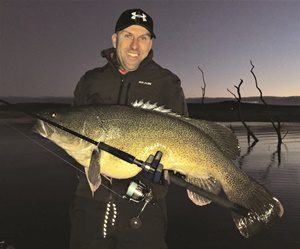 THERE is something a little weird about the anglers who chase big green fish in the freezer, but it's an addictive time as the big fish come out to play.
My first introduction to cold cod fishing was way, way back in about 1995. Let's just say it was so long ago I can't remember the exact year. We planned a trip to the cod mecca of Mulwala in July, just to see what happened to the place in winter.
With me were Adam Royter and Bradley Sissins, and we were wrapped in as many layers as we could find. The water temperature, instead of the usual 28C was hovering around 12C, and we didn't hold out much hope of a catch. You need to remember cold water was the enemy of all cod fishing at that stage. The first day, we landed four fish and all at a better average size than we usually caught at Mulwala, and a further three the next day.
In comparison to a couple of our summer trips, the results were fantastic. But we failed to connect the dots and gave it away as it was seriously cold and, apart from the action, not much was happening in outback NSW in winter. Move ahead to more modern times and cod anglers cannot get enough of fishing in cold weather. The first frost and the big freeze of winter are considered prime times to get your personal best.
In fact, if winter anglers saw 12C for water temperature on their sounder, they may just say it was a bit warm! The purpose of this article is not to tell you how to cold weather cod fish, but to give you some tips and tricks that we have learnt on how to do this comfortably. It's not easy getting out of a warm tent or a heated cabin on a lake's edge for soft, old people like me, when the temperature gauge reads -4C.
It's even harder when it's still dark and you know it's going to get colder as dawn approaches. But still we go, and we go with a passion that makes me question our sanity. I'll talk mainly about lake fishing because for Queenslanders that's the main access to cold weather cod fishing we have.
Dress to impress
Understanding the need to stay warm is the first step to fishing cold weather cod successfully. In the old days, we jammed on as many pieces of clothing as we could and looked more like the Michelin Man than an angler going out to have some fun. But these days, there are heaps of options to cope with the cold. I spoke to Carl Jocumsen about this, as he is forced to fish all sorts of weather in the US and has experience dealing with snow, rain, wild wind and, sometimes, all three in one day.
His biggest piece of advice was to layer properly with quality gear. The emphasis on quality gear was clearly apparent. Most people understand the three layers – a thermal bottom layer, warm middle layer and an outer shell that will allow perspiration to wick away, but as anglers we need to be able to move freely. This means that anglers are looking at specific fishing ranges – rather than snow ranges or hunting ranges – in cold weather clothing.
Why hunting you may ask? It's pretty simple. In Australia, we do not have access to the high-end fishing systems that they have in Japan, Europe and the US. However, hunters who need to be mobile one minute and static the next do have access to high-end clothing in a vast array of brands. Hunting activity is not that far removed from what we do fishing, so it's mostly a good match.
My good mate Adam Royter who lives in New Zealand, advised me to look at hunting gear made from down for the middle layer of the system, and after spending a lazy $550 on a down top, I almost don't want to punch him in nose anymore after the first cold weather foray. It looks a bit like a puffer jacket, and I am not nearly trendy enough to pull that off. Worn underneath a windstopper jacket – I wear one from my work at Wilsons – I was toasty warm, in fact so warm I removed the windstopper when the boat was stationery.
There is also another option for a jacket and this one comes courtesy of Andrew Hart from Hook, Line and Sinker. On a recent filming trip to Copeton, he had a jacket that had a heat source inside it. A simple press of a button turned the carbon elements on, and the jacket warmed itself up. The jacket was from Milwaukee – yes, the tool brand – and is a workplace jacket for tradies, so it's tough and allows movement.
It also reduces the layering need a bit. Harty said it was awesome, but keep in mind this doesn't solve the head and fingers issues, although one option is a hoodie. But the end point is to make sure you layer with quality gear.  We're a funny bunch who will spend $500 on a rod, $500 on a reel and $100 on line plus a box of $80 lures, yet we look for the cheapest clothes we can get.
Good clothing is easily as essential as good gear, especially given you are placing yourself in a situation that could easily lead to trouble. One tip I have discovered when fishing the lakes has been the use of neoprene thigh waders. These have been a revelation for me when launching and retrieving the boat, and for fishing without the bib and brace style – top-end outfits, which I don't own, yet.
Underneath the neoprene thigh waders, I still wear thermal pants and trackie dacks with a couple of pairs of socks, and I am yet to feel the stinging numbness in my toes that standing on a frozen deck gives you. My fishing mates reckon it's a top idea too, as they don't need to go anywhere near the cold water anymore. I know if I fall in, the neo waders will lift my legs up – I don't tie them into a belt so they can be removed if the need arises.
All this extra clothing comes with some responsibility on your behalf too. At higher risk times such as dawn, dusk and through the evening, we find ourselves wearing a self-inflating yoke-style personal flotation device. If you have quality clothing on, you're probably not going to sink as quickly as you would with five jumpers and four pair of pants on, however accidents happen and in some states it's the law given time of day or size of boat.
At worst it's good peace of mind, at best you get to go home to your family and friends. The biggest pain for me has always been my fingers. I hate cold fingers and when you're casting lures in temperatures below 5C, your fingers are going to get really cold. Kris Hickson sold me a pair of SIMMS gloves that are made from windstopper material. They're awesome because they come with a mitten flap that can be pulled over exposed fingertips to warm them up.
The gloves also allow you to place a hot pack on your palm, wrist or in the mitten pouch. The hot packs are the greatest thing ever when your hands are just too cold, and you need to warm them up. I love them. The last area to protect is your head. I wear a thermal beanie and my down jacket comes with a hood. This keeps me toasty warm for the most part, but I have added the Wilson Hooded head sock to this arrangement when the expected temp is approaching zero.
Carl said he sometimes resorts to using heat packs on his head near his ears, and after a couple of super cold Copeton trips I reckon it's not a bad idea and I'll be giving it a swing this year if I can get on the cod lakes. Whatever you do though, absolutely make sure your head is protected and that heat loss from this area is minimised. A cap with a buff simply won't cut it when it gets really cold.
Gear
Let's assume we are warm and can move freely in our winter clothing and all we need to do is fish. While I am not normally a big fish snob, if I am fishing the freezer, I am absolutely a big fish snob. I'm not putting myself through everything to catch a just legal cod – I'm going specifically to catch a big fish, so you need to make sure your gear is set up for the task. I will always get excited catching a cod, regardless of size, but these trips I have a target in mind and fish for that target.
I have two outfits I use when fishing in cold weather. Both are set up for big fish and both offer something different to allow for options while I'm on the water. The first set up is one of my favourite outfits in my quiver. It's a Venom 8kg 7" baitcaster matched to an ATC Combat Plus reel spooled with 50lb braid and a 60lb leader. This rod gets used for throwing things like mid-sized surface lures, Bassman Mumblers, divers and spinnerbaits.
It can also double as a great trolling rod. My second rod is the big bertha. This is the Venom Swimbait rod matched to a 200-300-sized reel such as a Daiwa Zillion HD, Ryoga or Shimano Tranx. The reel is also spooled with 50lb braid and a 60lb leader, and is used for casting the largest swimbaits and surface lures, as well as being used for trolling these larger offering too.
It's a real weapon of an outfit that easily casts the omnipresent Jackall Gigantarel with a chin weight attached to it – all without fatiguing the angler too much. Let's be honest here, casting 150-200g for any length of time is just plain hard work, so don't get a 'maybe' outfit, get one that is built for the job and can handle the lures you're throwing. The fish are not that hard to land when compared to delivering the lures in the right manner, so the important thing is to get the rod that can cast the lures.
Lure wise it's all about being big. There is not a lure made yet a cod will not eat, but there are lures made that are too hard to fish using the gear we have today. While I sometimes go down in size to a Bone Focus 130, that's probably as small as I go and then only if I have too. If you look for subsurface lures in the 20-30cm range, you're in the ballpark.
Subsurface lures I prefer include the Bassman Mumbler, Zerek Live Swimbait, Jackall Gigantarel, and the little Bone Focus just keeps catching. Our Aussie lure makers are starting to produce some really awesome looking swimbaits that are super tough and I can't wait to give some a crack – options are everywhere now. On top, bigger snake-like lures, clattering walkers and paddlers are all the go, but keep in mind you still have to cast them.
I like the Aussie Crawler from Bassman, the Zerek Stalker and best of all, anything from Kuttafurra Lures. There a literally hundreds of awesome offerings out there today and they will all work, so you're not limited for choice as we were only a few years ago. You'll also need an oversized net and a pair of gloves – insert all the cod heroes who love their hands getting ripped up here.
We use a Wilson rubber landing net that is obscenely large, though when you go to pop a 120cm-plus cod in it, all of a sudden it looks a little small. Rod Mackenzie summed it up as good as anyone by saying why would you try and catch an elephant in a butterfly net? Be prepared.
As for the glove part, we use Mustad Landing Gloves and they are fine for the job. I've never understood the status of ripped up thumbs and palms. A heap of my fellow fishos get up me for being a soft office boy, and they're right, I am. I'm a soft office boy with hands that work for the next two weeks, and I am very reluctant to put my hands in cold water and undo all the good work my gloves and heat packs have done to keep my fingers working. Yeah, I guess I am that soft office boy.
Freezer feast
Fishing in the cold can be the most amazing thing you'll do as a cod angler and I can't recommend it enough. Don't spoil your limited opportunities – actual trips and encounters with fish – by not being ready to go when it matters. Pay attention to your comfort and you'll fish better. If you're shivering, something has gone wrong with your system, so you need to upgrade your clothing to gear that is made for the cold conditions.
The cold weather cod are out there, so go hunt them down and get into it – you will never, ever look back.