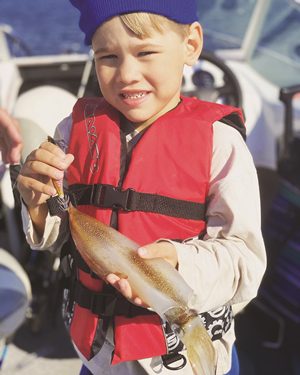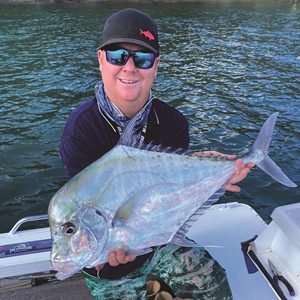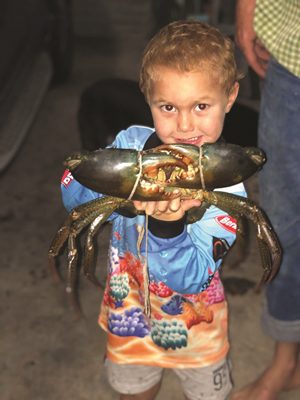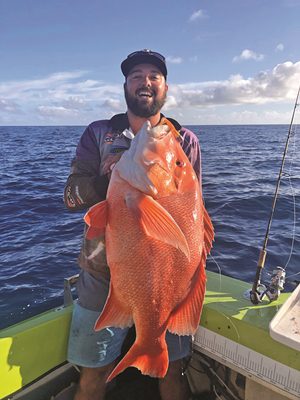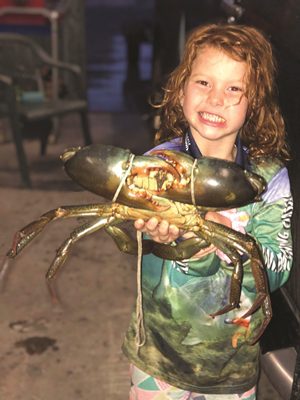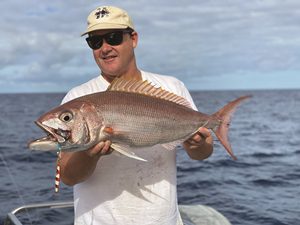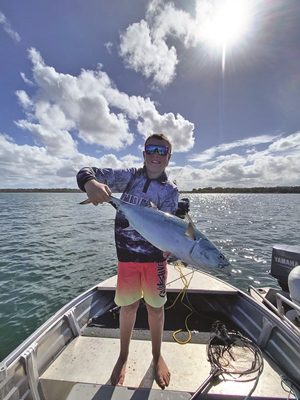 G'DAY guys and gals, I hope everyone has been keeping well and getting out and wetting a line. With the relaxation in the COVID-19 restrictions early in July and the school holidays, we saw an explosion of boats on the local waterways.
This also brought some much-needed tourists back to our region. Now let's have a look at what has been getting caught in our local area.  Winter whiting have been captured in good numbers and size, with mid-20cm fish common. Tin Can Bay fishing
The mouth of Kauri Creek has been the hot spot, as has drifting around the Lady Woodward and the powerlines. Squid have been in plague proportions over the past few weeks and the Yamashita Egi Sutte R jigs in NEB have been popular with most of the TCB Fishing Club members.
Pink and orange colours have also been working a treat on the local cephalopods – no surprises there.  The new Yamashita Egi Oh Live jigs are also proving popular with local anglers.  A few of the more keyed-in anglers have been getting nice tiger squid up in the shallows on the making tides. Tin Can Bay fishing
Fishing the mangrove line on high tide with jigs in the 3 and 3.5 sizes in natural colours has worked well. Bream are around in good numbers and make for great fun on light spin combos. Flicking smaller lures around the mangroves in the creeks or the pylons in Snapper Creek should see you bag a few this time of the year.
For the bait crew, try fresh strips of mullet or small prawns lightly weighted and fished back into structure. Flathead are out in force.  Some of the local guns have been getting great fish stalking the shallows on a rising tide with 60mm and 90mm hard-bodies.  Using a steady retrieve, smacking into the mud and kicking up a puff of dust on the seabed is key. Tin Can Bay fishing
With the water crystal clear, longer leaders, a long cast and stealthy approach are going to be needed to trick them into eating your offerings.  One of the standout plastics lately has been the 4" Biwaa Deus in Pearl White and Pink Ice rigged on either a 2/0 or 3/0 TT 1/4oz jig head.  Those flatties have no hope!
A few squire have started to show up in Tin Can Bay recently. Fresh squid baits and diver whiting have been the baits of choice for most anglers.  Some good size blackall have been caught and a few grass sweetlip are in the mix. The 40 Foot has been fishing well for those anglers. Tin Can Bay fishing
We have also seen solid blackspot tuskfish caught on crabs along Teebar Ledge.  Golden and diamond trevally have been making an appearance along the drop-offs on the run-out tide for anglers vibing.  It may pay to go heavier with your choice of vibe so you can spend more time in the strike zone.
We have seen masses of baitfish turning up in Tin Can Bay and schools of mack tuna and Watson's leaping bonito terrorising the bait balls. We've seen this action throughout the bay, from Inskip Point right down past the powerlines. Fishos have also been picking off nice size school mackerel.
The bigger pelagics are still hunting around Inskip.  Slow-trolled live baits and the trusty Halco Laser Pro in 160DD and XDD are doing the job for those into trolling.  The anglers casting slugs at tuna have found nice spanish mackerel holding deeper under the schools and picking off the scraps. Tin Can Bay fishing
Sinking a Halco Twisty down through the bait schools a good 10-15m will work if you are targeting a feed of mackerel.  Try retro-fitting your slugs with a single hook for a better hook-up.  I like to use the Mustad Tarpon hooks in 5/0 and 6/0 because they are inline hooks. Jewfish have been showing up on the beach, though only a handful of smaller specimens so far.
Chopper tailor are also appearing in good numbers and we have seen lots of schools of smaller fish in the estuaries over the past month too. Surprisingly, a couple of decent mangrove jack were caught off Rainbow Beach by whiting fishos.  I could not believe my eyes when I saw it on a Facebook post. Tin Can Bay fishing
Whiting, dart and bream have been keeping the locals and holiday-makers busy along the beach.  Some stud dart are being caught on fresh worms. Sand crabs are on the march in the bay, so now is the time to get the dillies out and do a little prospecting for blue swimmers in the channel.  Whiting frames would be my pick of baits for these tasty fish.
Mud crabs are also around but a little doughy due to the cooler water. The ones that have been captured have been rather good quality though.  Crabbing at the back of the bay in the shallows and around the full moon has produced better muddies. Tin Can Bay fishing
Well that is it from me this month. One last thing: from me, Emma and the whole crew at The Chandlery Bait & Tackle, we would like to say a massive thank you for the ongoing support you have shown us to help keep the doors open, especially in these trying times.
Find us at the Tin Can Bay Marina, Emperor St for all your boating and fishing needs.
Cheers and tight lines.