AFTER catching my first fish on a soft plastic about 35 years ago, I have been hooked and have fished many styles, types and colours of plastics, learning to rig and fish them a stack of different ways over the years. Soft plastics are relatively inexpensive, look real, feel real and with a squirt of scent they even smell and taste real, making them extremely effective.
There are many makes and models of the same basic styles out there, however every now and then a soft plastic comes along that stands out from the crowd and makes me think: how can I rig and fish that. And what is going to eat it. The new ZMan GOAT family was one of these head-turning plastics that I couldn't wait to try, with its flattened grub body, thin and flat legs and two unique kicking feet that are less aggressive and have a narrower profile than a frog. ZMan GOAT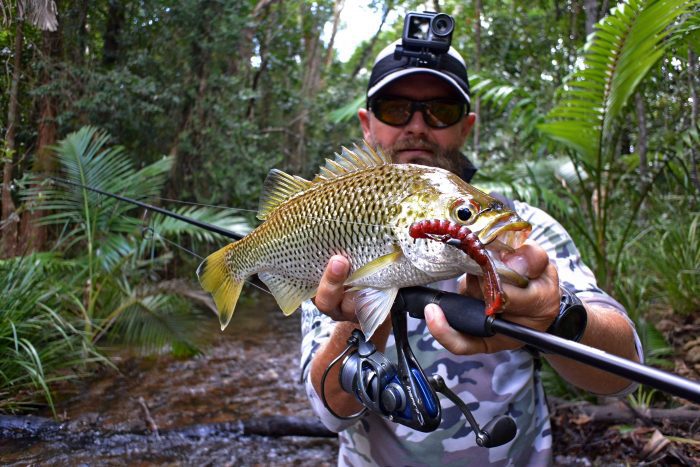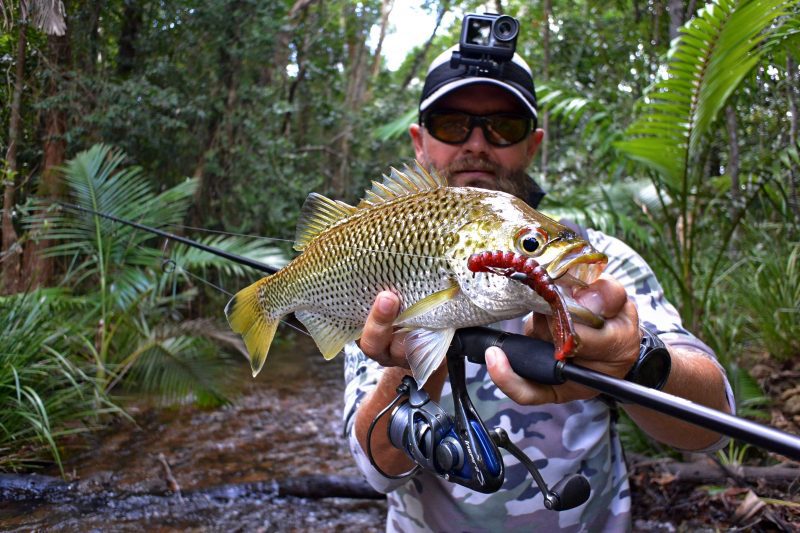 ZMan US has stressed that this is not just a surface plastic, though it is an incredible surface plastic, especially with the 10X Tough construction making weedless rigging quick and easy, while the naturally buoyant ElaZtech material helps it stay on top. It can also be rigged for fishing subsurface, and makes a great trailer for a spinnerbait, chatterbait, buzzbait and skirted jig. Is it a frog, lizard, crab, crayfish, and a baitfish!
Being a creature bait, it represents so many different things that fish prey on and it's available in three sizes: the 3" Baby GOAT, 3.75" GOAT and 4.25" Billy GOAT, so this family has the species list covered from bream, flathead and bass, to mangrove jack, barramundi, mulloway, snapper and other reefies… the opportunities are almost endless.ZMan GOAT
So, how have I fished the GOAT family and what has eaten them? The smallest model was the first to arrive in Australia, and I put it to work rolling it across the flats on a 1/4oz 1/0 TT Lures jig head, nailing bream, flathead, grunter, trevally and a few other random species. On a standard jig head it would carry anything from a size 1 to a 3/0, again increasing its versatility.ZMan GOAT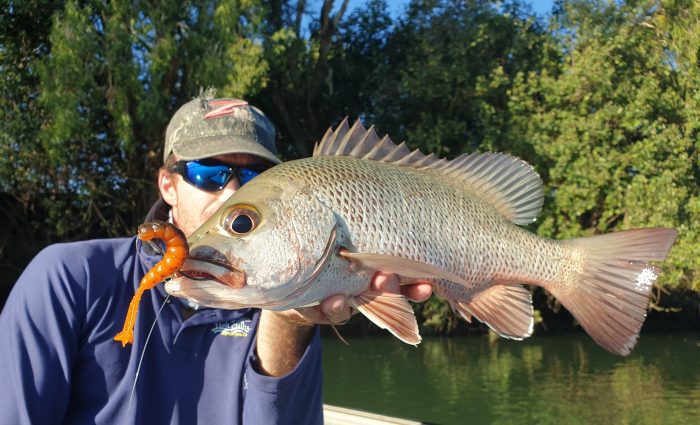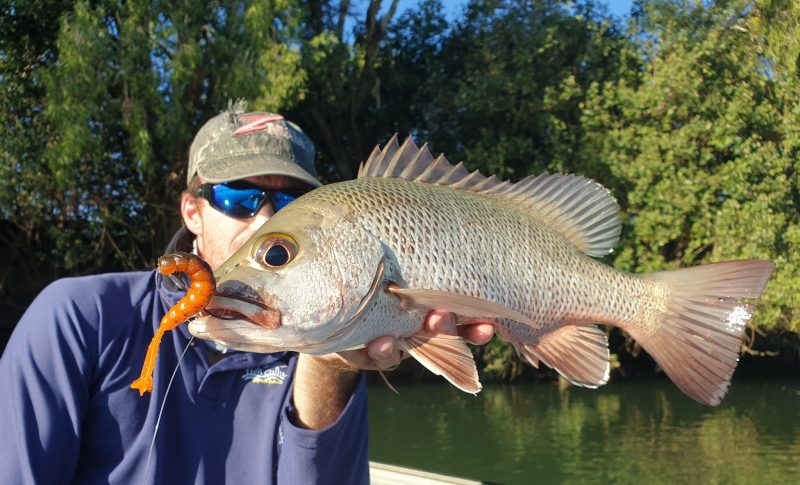 It really came into its own when rigged weedless, with its squashed profile and flatter back profile carrying a weedless hook well and clearing easily on the strike. I hopped the 3" Baby GOAT around the weed beds rigged on a 1/6oz No. 1 TT Lures SnakelockZ Finesse jig head and was amazed at how weedless it was, while still finding a solid hook-up on a bunch of flathead, including a couple of 60cm-plus fish. In terms of a weedless hook, anything from a size 1 to a 2/0 would be a good fit.
The 3" Baby GOAT is also a good Ned rig option, either on a standard TT Lures NedlockZ or a NedlockZ EWG weedless jig head, and I have landed bream and flathead on this setup. There have also been some great photos popping up from Adam Barnes and Camryn Binding on the Gold Coast, with some cracker flathead eating the Baby GOAT on the Ned rig, landed fishing weed edges, drains and mangrove edges.ZMan GOAT
I'm tipping the GOAT family might make an appearance at the upcoming Gold Coast Flathead Classic.