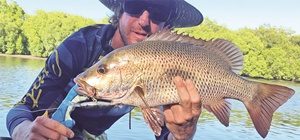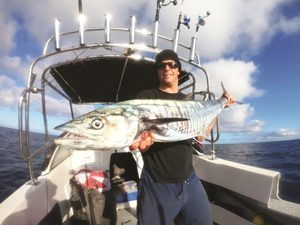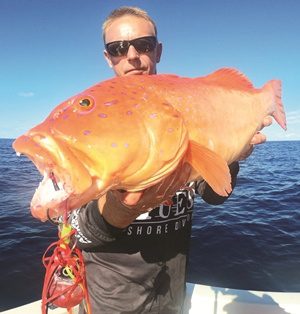 WHAT a great time to go fishing in the the Sunshine Coast region. For the offshore anglers our pelagic season is in full swing, with spotty and spanish mackerel, juvenile black marlin, tuna and cobia all within easy reach. It is often a case of who can get up the earliest to beat the boat ramp traffic.
Offshore the Sunshine Coast and Fraser region has the previously mentioned fish on offer, and they can be caught using a variety of different methods. Trolling has to be one of the most popular and it is also a great way to find new ground. Whole fish baits work best and when downrigged they work even better. Holiday Sunshine Coast
Lures can also be fished on a downrigger. If using bait, the TT Lures Bait Trolling Rigs work great. With deep-diving lures, usually the larger models may deter fish, so try smaller Nomad DTX Minnows. A downrigger will let you troll anything at any depth and works exceptionally well on reef fish like snapper and pelagics.
You can use small barrel sinkers a few meters from your lure to help keep them down, or alternatively you can use a paravane. If you are a bait angler, then you should be using floated pilchards bound with bait wrap at any time of the year. The wrap keeps your bait in the best possible condition during casting and copes with small fish pecking at it.Holiday Sunshine Coast
Be sure to have a look around Sunshine Reef, North Reef, Chardons Reef and down toward Castaways Beach if launching from Noosa. The Coffees, Barwon Banks, Arkwright Shoal, the Blinker, Old Woman Island and Point Cartwright heading south also hold their fair share of fish, with Mooloolaba a safer crossing for the inexperienced. Don't forget to check out the FADs, as they have been holding mahi mahi for months, along with cobia, which frequent this spot.
On occasion, mackerel can also be found down deeper on the FADs. Snapper, pearl perch, cobia and amberjack have been coming from the banks, while the Hards is fishing well for snapper, tuskfish, pearlies and other mixed reefies. Summer is also the time for coral trout, so use big ball sinkers and gang hooks or wide profile jigs like the Hot Bite Raptor with 50-60lb leaders to get stuck into a few of these hard-fighting brutes of the reef!
Lastly, don't forget to have at least one rod rigged with a metal slug like an Arma Brass Twist in 30g size for the tuna and mackerel should they suddenly show up. Off the beaches, whiting, dart, bream and flathead can be found along the coast and around the many river mouths.Holiday Sunshine Coast
Noosa's Northshore beach gutters and heading north to Teewah have been holding some really nice whiting, bream, dart, jewfish, queenfish and the odd mackerel. For those anglers after bigger pelagic fish from the land, slide baiting sees monster sharks, spanish mackerel and even GT caught, especially around Fraser Island.Holiday Sunshine Coast
This method of fishing will let you cast up to and even over 150m with the right reel and rod. For spin anglers the Shimano Speedmaster 14000 XTB is a great option when used in 'baitrunner' mode. An important side note if rock fishing is to fish in pairs and always watch the swell, as random larger sets do roll through from time to time.
Check out our range of self or auto-inflate lifejackets to help protect you should you fall in. The Noosa River often fishes really well during this time of year, as things are heating up. Daytime anglers can go out and get a good feed of whiting or tangle with flathead and trevally.
Early morning anglers will find jewfish and mangrove jacks, and throwing a pot or two for crabs is also worth a try. The most popular areas to fish the Noosa River are the mouth, the dog beach, Gympie Terrace and around the marina. Simple running sinker rigs are all that is needed for most species if using bait.Holiday Sunshine Coast
We always have a good supply of live beachworms, so be sure to come and pick some of these up when in the store. If you are not bait fishing, then my favourite method of fishing Gympie Terrace, Woods Bay, Noosa Sound and the dog beach is with surface lures. First light is a great time to catch a trevally, especially before the heat kicks in.
Flicking a Bassday Sugapen 70mm on 6lb gear is the most fun you can have. Once the sun comes up, you can wade out into waste deep water and flick the sand banks around Gympie Terrace for whiting. If you have a boat, then the Frying Pan has awesome fishing opportunities too!
If you are looking to get into kayak fishing, then we hold a range of Viking kayaks instore and these are built to last with a 30-year warranty. If you own a kayak, then head to Noosa Everglades for magical scenery and fishing for wild bass. Be sure to use small frogs, surface lures and unweighted soft plastics.Holiday Sunshine Coast
The MMD Splash Prawn would be great for working the tight overhanging areas that litter this area as well. Lastly, don't forget to take a trip out to Lake MacDonald and Borumba Dam. The summer months can provide some of the most explosive surface fishing you will ever experience.
The saratoga and bass will be feeding, but stealth is the name of the game. Working the edges can see you land either of these fish, so be prepared. Having a bigger landing net is important, and the Berkley Catch N Release Silicon Landing Net is a personal favourite, as they protect the fish and hooks don't get stuck.Holiday Sunshine Coast
If you catch a saratoga, please keep it in the net to recover and calm down upon capture. After a minute they relax and can be removed from the water for an easy photo and release. Be sure to have your stocked impoundment permit (SIP) with you and remember to use the wash down facilities at Lake MacDonald to prevent the spread of any problem weed.
Now for all the latest information log onto www.fishingnoosa.com.au for up to date bar and fishing reports, don't forget to drop into Davo's Tackle World, Davo's Boating and Outdoors in Noosa and Davo's Northshore Bait & Tackle at Marcoola for all the right equipment, bait and advice to get you catching.Holiday Sunshine Coast
Be sure to follow us on Facebook and remember, tight lines and bent spines!