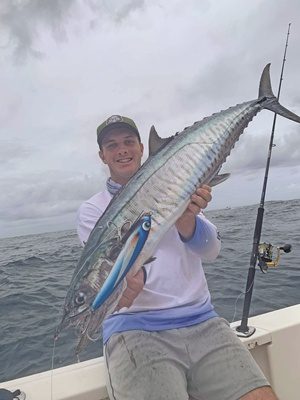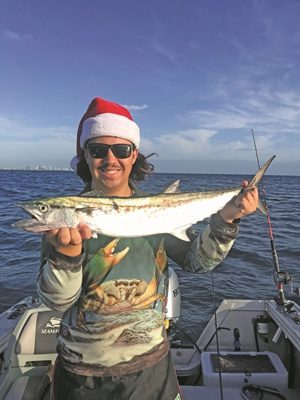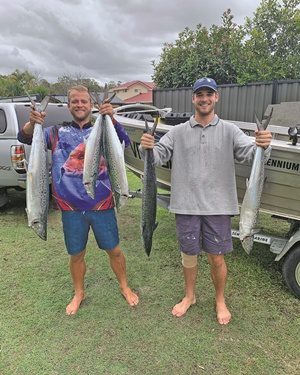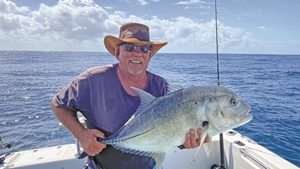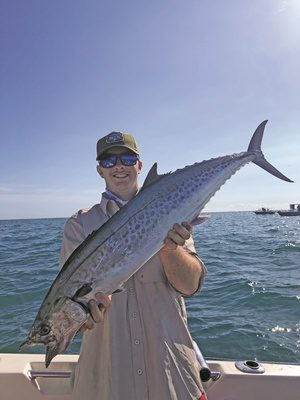 IS it me or is 2021 heading down the same path as 2020? Either way, the only thing that may keep fishers sane is fishing, and plenty of it is happening. With horrid weather in December, fish came out firing soon after the rain had cleared and much sooner than I thought they would. Usually when we get a deluge, fish turn off for a few weeks as the fresh knocks the water temperature down and things resemble muddy coffee.
post-flood pelagics
This wasn't the case however, with fish hitting their straps as soon as the rain and wind had stopped. The local reefs produced spectacular catches of mackerel for locals and tourists. You had to be well prepared though because their appetite changed frequently. A good selection of metals slugs, hard-bodies, skirts and bait on hand ensured you were catering for the preference of the day.post-flood pelagics
With the fish so finicky, anglers who came prepared were well rewarded and many headed in with their bag before 6am – great going by any standards. The fish weren't massive because it's still early in the season, but they'll fatten up over time. One regular catch was undersize spanish mackerel. In plague proportions on local grounds and being one of the fastest growing fish in the sea, we're hopefully in for a great season heading into April and May.post-flood pelagics
Bigger spaniards were also being caught. Sharks have been a nuisance this season. Having fished the local reefs for more than 20 years, I can count on one hand the number of times I've been sharked, but with the amount of fish being mauled or lost recently, sharks seem to be going nuts. In dirty water, solid giant trevally have been hooked by those chasing mackerel – the murky water seems to turn these fish on.
I'm still chasing the elusive GT and you'll certainly know about it when I land one. Out wider, excellent mahi mahi are being caught on the fish aggregating devices and by those trolling for marlin. A welcome by-catch for most anglers, as they are one of, if not the best eating fish in the ocean. Be aware, they make an absolute mess of your boat when you land them because they go ballistic once inside the boat.post-flood pelagics
With decent conditions in early to mid-January there were great marlin captures out wider, with several boats tagging a few in one session. Mangrove jack are in full swing in creeks and estuaries. Solid red dogs were caught when the creeks started to clear up, with live bait and hard-bodies accounting for most catches. Nice whiting and flathead were caught after creeks and rivers had a good wash out.post-flood pelagics
It'll be well worth targeting these species while the water is still a bit murky. The local bars had a good flush and with that came a heap of debris – trees, tyres and the odd dead cow. We narrowly missed a massive tree trunk heading out at first light one morning, so be vigilant. Tweed Bar still has the big bank out the back which seems to have gotten bigger, with me sitting in 4m of water for ages.
Be wary of this bank in any swell. Currumbin Bar got a good wash out and it has opened the mouth to a degree. The bar changes daily, so keep an eye on it, as well as on the surfers – the place is packed during summer. Tallebudgera has remained relatively unchanged and is still shallow and narrow at the entrance. A heap of debris was being pushed out by the tide in the Gold Coast Seaway, so keep an eye out there, especially at low light or in the dark.post-flood pelagics
Hitting a big tree truck will surely ruin your fishing trip. Until next month, screaming reels to you all.