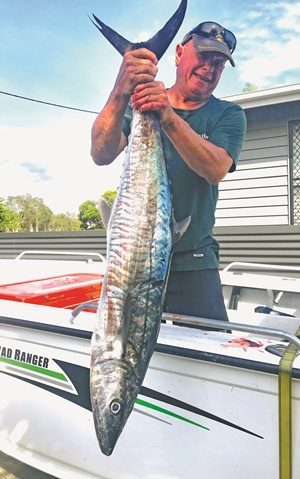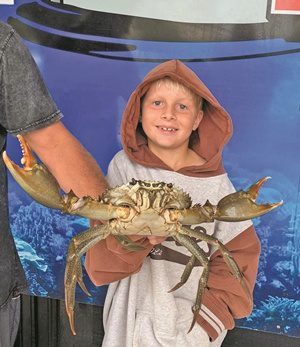 WITH the new year in full swing, the fishing has also changed for the better along the coast. February is often a wet month and with big swell hitting the coastal bars and beaches, it is going to be a case of adjusting your style and approach according to the conditions. Fortunately, the coast offers so many options – if offshore is blown out, you can still fish the estuaries or freshwater.
A great thing about February is that the school holidays are over and hire boats, jet skis, kayaks and swimmers are out in fewer numbers. The speed restrictions in the Noosa River are lifted, making getting offshore a lot faster.  Off Noosa, Halls, North, Sunshine and Chardons reefs are considered mackerel and tuna hotspots. Noosa February
When you decide to chase mackerel and tuna, you are best advised to have a minimum of two rods rigged up with metal slugs. Keep an eye out for bird activity and be on the lookout for bait breaking the surface, as something big could be just underneath it. When you do spot the fish, remember that tuna feed into the wind, so travel upwind and wait for the fish to come to you.
If you can tell the difference between tuna and mackerel from a distance, mackerel often tolerate boats better. Target the fish by throwing slugs around 20-40g and use spin rods rated to around 10-20lb with 20lb braid, 20lb leader and a 5000-size spin reel. At this time of year, North Reef can hold pearl perch, maori cod, mahi mahi, snapper, cobia, jewfish, tuna, mackerel and sweetlip.Noosa February
Sunshine Reef will hold quality coral trout, snapper, sweetlip, and a variety of tuna and mackerel. Troll bait species of garfish, slimy and saury work very well when rigged with a Citer Lures chin guard. If you are not trolling, sitting on anchor with a steady flow of berley and unweighted pilchard with bait elastic floated in the current can reap exceptional rewards.Noosa February
On beaches, good whiting and dart feature all along the coast and around the various river mouths. Worms and pipis work well on dart and bream, with trevally taking smaller soft plastics cast into the surf. If you have a light setup then look at profiles such as the Berkley PowerBait 3" Minnow that mimic small baitfish. These can be jigged up and left to fall again, and this method is successful on flathead, especially around any deeper gutters.
You can also cast slugs out and let them sink before retrieving. Yaroomba and Noosa National Park headlands, depending on rainfall, often hold small snapper and sweetlip, with bait of fresh mullet or squid getting the bites. Wearing a decent pair of polarised sunglasses, you can often sight cast to tuna and mackerel as they swim along.Noosa February
Teewah Beach is a great spot for whiting, bream and dart if using pipis and beachworms for bait with light surf outfits. This is also a great launch area for a kayak, where you can troll for mackerel, especially as you head north and pass over small reefs. The Noosa River has seen large catches of whiting and flathead taken from the Frying Pan, the dog beach, Munna Point and the river mouth.
Live worms and yabbies have been the choice of bait for whiting, with whole whitebait on light gauge gang hooks great for flatties. After dark, fishing a 2-hook snelled rig for mangrove jack works well, especially with a mullet strip or a live bait. Woods Bay holds a mix of trevally, bream and bigger flathead toward the intersection of the main river channel.Noosa February
Trevally are best targeted during an incoming tide and low light. These fish will feed in packs and push bait against the banks, and if you see birds sitting around then you are probably in luck because they tend to wait for trevally. The best lure for this style of casting has to be the Bassday Sugapen. This lure can be skipped quickly, which fires the fish up.
You can drop this lure into the Frying Pan and clean up on whiting and bream too. If headed upriver, be sure to throw a few crab pots in, as rain brings the crabs out. Check the tide and if it's building, tie the pots off securely or use extra weight because they do drag.  Freshwater areas are now improving, and February is a great time to go chasing a wide range of species.Noosa February
The dams should see saratoga starting to feed, as they continue to hold their young throughout January. Bass will be taking shelter in lilies during the morning and sitting in the shade as the sun rises. The DStyle Reserve 70mm is a great creature-style surface lure for this type of fishing. It can be lightly twitched, which sends out small vibrations and sounds like a struggling bug, which drives bass nuts.
Cast the lure under overhanging trees and branches for the best presentation. Options include taking a trip into the Noosa everglades or going for a paddle down the Mary River. Both of these locations are personal favourites and let you enjoy a more relaxed approach while enjoying Mary River cod, bass, saratoga and sooty grunter.Noosa February
Now for all the latest information log onto www.fishingnoosa.com.au for up to date bar and fishing reports, don't forget to drop into Davo's Tackle World, Davo's Boating and Outdoor in Noosa and Davo's Northshore Bait & Tackle at Marcoola for all the right equipment, bait and advice to get you catching.
Be sure to follow us on Facebook, and remember, tight lines and bent spines!