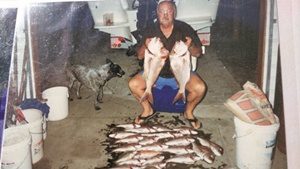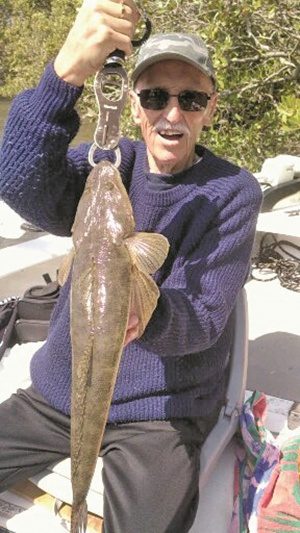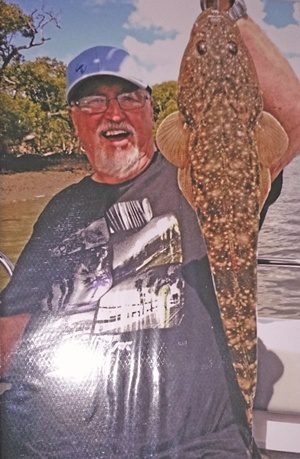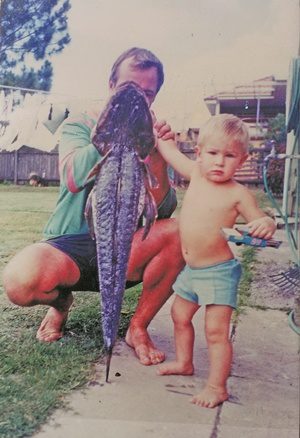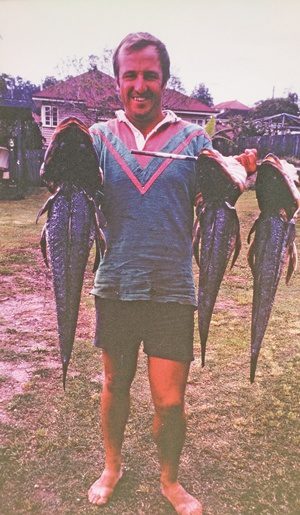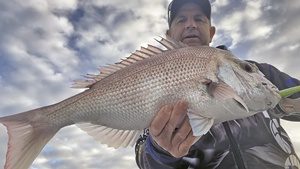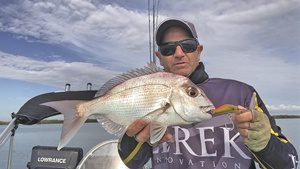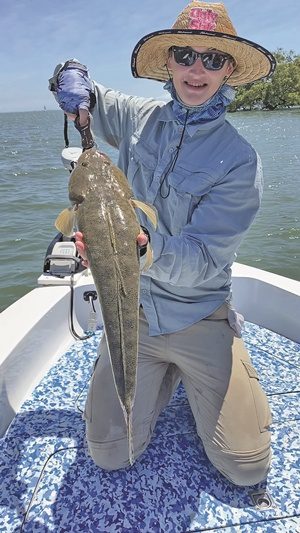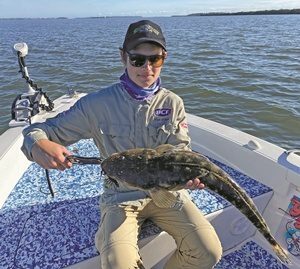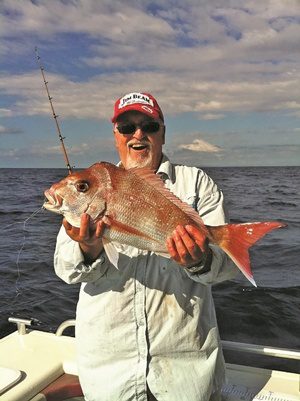 WOW, unfortunately another month of interesting weather, with no work done trying to line up conditions and days clients could go out. I did manage a couple of days on the water myself where I basically did a little bit of trolling for snapper, which is a technique I usually do in summer.
Peter Conlon
I picked up a few nice fish ranging from those just legal around 35-40cm to nice squire around the 60cm mark, and all of those were caught trolling Zerek hard-bodies on rubble ground. Nothing too technical and nowhere special – just sticking around the bay islands.
So, it's been a pretty quiet month for me. On a more sombre note, I unfortunately lost my father in February. Anyone who knew him would know he battled a heart condition for many years. Sadly, it got the better of him and he is no longer with us. So, I thought I might write a little bit of an article on him, as he's definitely my fishing mentor.Peter Conlon
He taught me everything I needed to know about how fish behave, how they feed, where fish would sit in the river system, how to read the beach and gutters for catching fish such as tailor and dart, and taught me a lot about offshore fishing too.
We chased species such as snapper, teraglin, jewfish and all sorts of different reef fish. The list of things he told me are endless, including how to catch beachworms, how to find pipis, areas baitfish congregate, how to use a cast net, how to tie knots and rigs for all different types of fishing.Peter Conlon
He even taught me in my younger days how to make fishing rods out of Rangoon cane… all that sort of stuff and much more. This is the knowledge he passed down to me, which has allowed me to evolve my fishing into what it has become today and is my career.
I know my dad was proud with what I've done with his knowledge, but he said one of the proudest things was that I was prepared to pass the information on – not only to my son but also to my friends and clients, and people who wish to learn about fishing.Peter Conlon
He would also say to anyone prepared to listen, to talk to me about fishing because I loved it so much it's all I talk about. The reason he said this was because when his father taught him, it was very hard to get fishing information out of people, as everything was a little bit secret.
It doesn't mean he handed me all his knowledge on a silver platter. Occasionally he was rather secretive too. I remember a time when I was growing up, we were bream fishing down at Tweed and he held the sinker in his hand to hide it from me, and I had to work out what sinker size I needed to put on my line to catch the fish he was catching.
This might not seem much, but these are the things that make you think about why you're catching fish. There were times he would hide the way he was preparing his bait and the way he was putting it on his hooks, so I would have to think about how I was going to prepare mine.
People may feel this was a bit petty, but these things made me a better fisher – they made me think. He used to say fishing is just not about driving out there and chucking a line over the side beside five other boats – you need to think about what you're doing.Peter Conlon
That's why I love what I'm doing now… there's a thought process behind going fishing and being successful at it, and my dad taught me this in his way with a few lessons. My dad was into jewfish in his day and many people ask me how to catch one. I tell them, 'with a lot of patience and perseverance' and about the times my dad went out to catch jew at night.
Sometimes he was back in an hour or two because he didn't catch the correct size live bait he wanted – if he didn't get the right bait, he didn't go jew fishing, simple as that. To me that's dedication. Then he might go out the next night and wouldn't come home until the early hours of the morning, with the back of the four-wheel-drive full of jew, simply because he got the right live bait to target these fish.
My father told me stories of how he'd put me high up on the rocks at Bongar near Cabarita Beach in my bassinet, and he would head down and catch tailor one after the other with his fisho friends. He said I would just sit in the bassinet watching them. He always said there was something a little bit different in me, because no matter when he was going fishing, I wanted to go – rain, hail or shine.Peter Conlon
He liked all forms of fishing, and it didn't matter if it was in the boat in the Tweed River chasing bream or heading offshore around Cook Island to chase snapper, jew and reef fish. The multiple trips we had to Fraser Island as kids catching beachworms and pipis, chasing tailor and dart… all the memories I have of my father revolve around fishing and the angling lifestyle.
In his later years, he still loved fishing and I was able to pass on a bit of knowledge to him about lure fishing, which is something he didn't do earlier because we just used bait. So, I was lucky enough to teach him how to catch a few squire or snapper trolling hard-bodies, catching mackerel on surface lures and soft plastics, but Dad's true love was the same as mine – for whatever reason, we both loved catching flathead.
When I brought the element of lures in and targeting these fish on light line and light rods, it was a totally new ball game, and he loved it. I was lucky enough to get a fair few trips in and was able to watch him enjoy catching these magnificent fish using a technique he never knew existed.Peter Conlon
Ironically, the last fishing trip we all did was with my brother, my son and my dad chasing flatties in the Broadwater. We had a cracking little session and it's something I'll remember for the rest of my life. Unfortunately, not long after that his health deteriorated quite rapidly and we didn't get out on the water again, but we got to have a few good chats about fishing… basically that's what he and I always talked about.
My fondest memories of my dad will be of our fishing and camping adventures. I could go on and on about this man and could probably fill this whole magazine with the crazy things we did. Heading across the Nullarbor Plain when it was 1000km of corrugated dirt road, with no water or fuel stations on it, and seeing the last whales dispatched at the whaling station in Western Australia.Peter Conlon
Leaving Darwin a couple of days before Cyclone Tracy devastated the area. Holding onto the outboard engine and keeping it in gear as we punched our way across the Tallebudgera Bar through 1.5-2m waves because the engine kept jumping out of gear. With my dad, no matter what we did, everything revolved around the water, adventure and fishing.Peter Conlon
That's a small snippet of what he taught me, and the things we did together that helped me become the fisher and person I am today. Rest in peace Dad. I will always remember you, as my father, my mentor and my best friend.
Peter Conlon – January 1, 1944 to February 21, 2021.